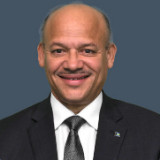 Remarks by
Michael A. Foulkes, MP
Executive Chairman, BAIC
Press Conference
BAIC Boardroom, Old Trail Road
18th January, 2019


Re-Opening 2019 Pop-Up Farmers Market




Mr. Benjamin Rahming, General Manager
Ms. Debbie Strachan, Sr. Deputy General Manager
Mr. Kervan Culmer, Financial Controller
Ms. Vernita Rhodenwalt, Sr. Assistant General Manager
Bishop Gregory Collie, Deputy Chairman
BAIC Management and Staff



Members of the Press




Good morning.

We are pleased to announce the re-opening of our Pop-Up Farmers Market, this coming Saturday, 19th January, 2019. We are excited about this as it is the beginning of our second Season, and it will be at Gladstone Road from 8am to 3pm.





We know that many of our customers have been eagerly awaiting our return to our main location, Gladstone Road. However, given that many of our staff gave almost all of their Saturdays during 2018, after working a full week, we thought it was only fair to give them a break for several weeks and have them return in 2019, fully refreshed. And, they are!





In fact, the staff here at BAIC are looking forward to our second year of the Pop-Up Farmers Market, seeing so many of our regular customers for the first time in the New Year and continuing to provide families with high quality, fresh produce that are always Bahamian grown, affordably priced and very accessible. They feel good and warm about what we are doing for Bahamian families at the Farmers Market.





We started 2018, with just under 100 active farmers in the program and we were most fortunate, as we ended the year 2018, with about 220 farmers in the program. And we are pleased to state that about 73% of all the expenses last year were payments directly to our farmer-partners!





Every month last year they received a check from BAIC: in total almost $200,000 in 2018. We anticipate that those payments will increase by about $60,000 in 2019. For the most part those would be direct payments to our Family Island farmers and their families.





In fact, there is one farmer in Eleuthera to whom we paid almost $45,000 between January, 2018 and December, 2018. Imagine that! And, let us not forget, there was a time when the Department of Agriculture, at most, paid each Bahamian farmer a subsidy of $9,000 per annum and that was it.





In fact, our Family Island farmers are so excited about the Pop-Up Farmers Market and the marketing possibilities of their produce that some have planted winter crop seeds just to supply us in 2019. We are undoubtedly increasing the capacity of farming in the Bahamas, directly contributing to our self-sufficiency and most importantly, creating a reliable market for our farmers.





As we indicated previously, we have truly established a mutually beneficial relationship with Abaco Big Bird in terms of sourcing winter avocados and we are able and are, in fact, increasing our sourcing from them.




It is our hope and our plan to continue to Pop-Up in 15 different areas all over New Providence, as we did in 2018, taking the always Bahamian-grown, mostly by Family Island farmers, high quality produce, at affordable prices directly to neighbourhoods.



Last year, we Popped-Up in Grand Bahama twice, in July and September. This year, we are very pleased to announce that Saturday, 26th January, 2019, will be our first Pop-Up in Grand Bahama. God willing, we will return to Grand Bahama at least once per quarter this year.





More importantly, we expect that by the last quarter of the year, the Pop-Up in Grand Bahama will not be owned nor operated by BAIC but instead, a Grand Bahama group. We will only source the produce thereby doing our part to empower the local community to own and operate the Farmers Market there.





We cannot thank our Board of Directors enough for their commitment and dedication to the Pop-Up Framers Market and what the Corporation has achieved. We thank each of them: Deputy Chairman Bishop Gregory Collie, Board members Scottie Pinder, Keith Carroll, Vernal Martinborough, Jameel Lightbourn, and our two former Board members: Bernard Adderley and Mark Turnquest. We warmly thank the management and staff for doing a splendid job last year!





We hope by March of this year to make a major change to our operation that would cause us to be more efficient, offer better service to our valued customers and drastically reduce our wait times, which has been a concern for our customers.





We note that our Facebook page more than doubled in 2018 from 2,503 to 5,025 and we look forward to even more success in that regard in 2019. We invite you to visit our Facebook page at www.facebook.com/mybaic and witness for yourself, taking the time to view and listen to the many interviews by well-known Bahamians and others.




Last year, we had our first ever Pop-Up Farmers Market on a Sunday, 9th December, at the Seventh Day Adventist Church's old Bahamas Academy School on Wulff Road. We are looking forward to having at least one Pop-Up per month at that location during 2019.




As we always do, we thank our partners, the Family Island farmers.




We thank Almighty God for his continued blessings at BAIC and the Commonwealth of The Bahamas.




Thank you.