Last Updated:

Feb 14, 2017 - 7:35:51 PM
---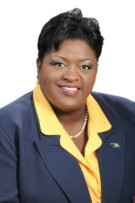 Nassau, Bahamas - Remarks By The Hon. Melanie S. Griffin, M.P. Minister Of Social Services & Community Development & Member Of parliament for The Yamacraw Constituency at Joint Open Air Branch Meeting; Thelma Gibson Primary School, Commonwealth Boulevard, Elizabeth Estates Monday, February 13th, 2017 7:30 P.M.

Jeremiah 29:11 (New King James Version) says:

For I know the thoughts that I think toward you, says the Lord, thoughts of peace and not of evil, to give you a future and a hope.

We have come together tonight at a crossroads in our national development; at a time when the country is finally moving forward. We have worked so hard, all of us, my Bahamian brothers and sisters, to get to this moment. We have known long days and dark nights. We have had a lot of obstacles in our path. Yet we ARE turning the corner, we are seeing light. More Bahamians are finding the work they need to sustain their families. More of our young people are finding the opportunities they need to be their best selves. But the changes haven't happened quickly enough – there are too many homes and too many communities where things are still too hard.

But the answer is not to turn back! The answer is to keep moving forward, to work even harder, to bring change to every home!

At this crossroads our choice is very clear - do we continue to build on our successes and move our beloved country forward with a strong, experienced leader and a united team that knows the way? Or do we go backwards, and throw away the advancements of the last five years with a weak, divided FNM?

If the FNM Parliamentary Caucus did not have confidence in its leadership, how can the Bahamian people be expected to trust them? If you cannot lead and get your own house in order, how can you lead an entire country, given the complexity of challenges facing our country? Why would you place your future and that of your children in the hands of that crew?

So, the choice is clear! There is a lot of noise out there – because they can't present themselves as a united, strong party, they are choosing to muddy the waters with attack after attack, one wild allegation after another. But at the end of the day, they are who they are: unfit to lead, smiling for their photos but fighting as soon as the cameras go away.

Our party is different – we work together, and we focus on you, not on fighting each other.

Let's look at the facts, because facts do matter:

When we came to office in 2012, your PLP Government met a country on the brink of social and economic collapse; our economy was in shambles with no new investment in sight. The poorly managed road works was not only over budget by $100 million, but shut down scores of businesses, putting many Bahamians out of work. The infamous and harmful STOP, REVIEW AND CANCEL policy stalled the economy and hurt many families and businesses.

The FNM had abandoned important and empowering programs on national training, poverty reduction and national health insurance, setting our country back years. Our police force and public school system were underfunded; our judiciary was overwhelmed with huge caseload backlogs, and in their last five years in government they refused to continue the work left in place to provide national health insurance for everyone.

So first we had to get the house in order. We have built a strong foundation for change and progress by making the tough decisions necessary to stabilize and grow our economy. Doing that has allowed us to take important steps forward to improve national security, reduce poverty and provide better healthcare for all through NHI. Now you know, and I know, the work is not done. We have a lot of work to do. But finally, brothers and sisters, finally finally we are on the right path forward!

I ENCOURAGE ALL OF YOU TO SELECT YOUR PRIMARY HEALTHCARE PROVIDER IN PREPARATION FOR NATIONAL HEALTH INSURANCE!

Let us continue on this forward path of progress!

Consider education – a priority for us, always. We have doubled our investment in scholarships, made the largest-ever investment in technology in our public schools, and established the University of The Bahamas. These are major changes, major success stories – just ask the children who are going to college, the first in their families. But of course, there is more to do – let's build on what we've started, by expanding scholarships, expanding training opportunities for our teachers, improving our curricula and the resources in our schools.

Nearly 3000 young people have received training at the National Training Agency – we want to reach more, and to continue to assist with job placement. We want to help young people find not just jobs but careers, where they are making the most of their talents and not just feeding their families but giving their best selves.

BAMSI has been extraordinary – where there was nothing, now, thanks to the vision of the Prime Minister, there is now a school, and training, and a network of relationships and entrepreneurial opportunities. BAMSI is not just for farmers and marine scientists – it's for all of us – it means for the first time in our history, we are tackling food security, and at the same time, strengthening our economy, building our agribusiness sector, and creating Bahamian agribusiness professionals, scientists and entrepreneurs. This is a success story that needs to continue, and we must not allow it to be stopped in its tracks.

The RISE programme is well on its way and the prepaid card is in place throughout the country, with the final island scheduled to receive the card by the end of March. We've worked so hard, to bring not just convenience and flexibility but dignity to those who participate. Improving social services needs to continue. Can you imagine social services going back to where it was – the devil is indeed a liar!

Brothers and sisters, did you know that The Bahamas has negotiated to gain control of our airspace? That Bahamian-owned and operated airlines will no longer have to pay to fly in our own airspace! Another big deal – another marker in history, thanks to the Prime Minister and to my colleague Minister Hanna-Martin. This is something the FNM said could never be done. They lacked vision, they lacked courage! But we didn't.

Brothers and sisters, we are on the right path. We are tackling some of our most difficult and complex challenges: the foundation for a more secure nation has been laid with the recruitment of hundreds of new police, correctional, immigration and defence force officers. Our investment in a new fleet, new bases, and new technology for the Royal Bahamas Defense Force provides better protection of our borders and marine resources.

While we have come a long way in less than five years, there is an enormous amount of work still to do. Too many people are hurting, and while people are hurting, we will never rest.


Fellow Bahamians, hear my voice - our work continues!

We will continue to make our communities stronger, and safer. We need to break the cycle of generational poverty, and provide greater access to healthcare. Every citizen across this family of islands must be touched by real opportunities of empowerment, ensuring that no Bahamian is left behind.

As we forge ahead together Bahamas, now is not the time for uncertainty and in-fighting and weak leadership; now is the time for strength, for an agenda for change, unity and vision.

We must and will move forward with our trusted leader – the change agent – the Rt. Hon. Perry G. Christie at the helm and his ever ready dynamic team with all hands on deck. Big changes are not easy and they take time. We have had our share of challenges, but one thing is always true: the PLP is on the side of the people – that has never changed. In all our battles, we are fighting for you.

The PLP came out of the belly of the people and their cry for social justice and equality. You know our heart. We are ordinary people, just like you, trying to continue the work started by our founding fathers "to wipe every tear from every eye."

Yamacraw! Elizabeth! Bahamas! Believe you me, we know the struggle is real; we are affected by it as well. We must continue to move our country forward, together, as Bahamians.

Elizabeth, we bring to you a son of the East. A man with a strong PLP foundation who has walked these streets for many years working with me to address the challenges you faced over the years whether it was in Yamacraw, in the Elizabeth Bye-election or working along with the community association to positively impact the lives of residents in the east. His reach and that of his philanthropic family extends well beyond the east. We give you, in Alex Storr, a man who is not afraid of hard work, whether it is taking on the role of Vice-Chairman of the Party or carrying the Party's banner in Long Island in the last election, Alex does not shirk from his responsibility and his service to country is well-known. Elizabeth, I can assure you, when you give us Alex in the next election, we will have the most formidable working team the East New Providence has ever known. You can rest assured, you will indeed "Be Sure with Storr!"

"Yamacraw, Oh My Yamacraw!" I have walked your streets, sat with you in your homes, seen your children grow into adults, shared in your good times and comforted you in time of sorrow and natural disasters. We have had some good times and we have had some rough times, but through it all together we have made Yamacraw a community of which we can be proud. Yamacraw we need to stay on course, we have no reason to turn back. So don't forget, "Stay with Mel, when we ring the Bell!"

It is now my distinct pleasure to present our keynote speaker for tonight's joint meeting. He is an agent of change, who is progressive in his vision and charismatic and transformational in his leadership, undergirded with compassion so you know he cares deeply for his people. He is a nation builder. I present to you a loving father, a doting grandfather and a devoted husband and above all a man who has exhibited the utmost of integrity in public life.

Ladies and gentlemen stand with me and welcome the next Prime Minister of the Commonwealth of The Bahamas, the Rt. Hon. Perry Gladstone Christie!







© Copyright 2017 by thebahamasweekly.com

Top of Page