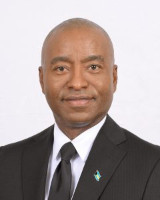 ADDRESS BY THE HON. DARREN A. HENFIELD, MP
MINISTER OF FOREIGN AFFAIRS
AT THE ANNUAL HONORARY CONSULAR CORPS LUNCHEON IN HIS HONOUR 13TH DECEMBER, 2018, BREEZES RESORT, NEW PROVIDENCE





Dean of the Diplomatic Corps (Her Excellency Ismara Vargas, Cuba),

Dean of the Honorary Consular Corps (Mr Patrick Hanlan, Jamaica),

Excellencies,

Members of the Diplomatic Corps,

Excellencies, Emissaries of The Bahamas,


Members of the Honorary Consular Corps,

Special Guests,

Ladies and Gentlemen, Friends,

Good afternoon.

It is my distinct pleasure to join you once again for this annual tradition of addressing the Honorary Consular Corps Luncheon, thus affording me the opportunity to outline the Minist and our goals for the year ahead.

Bahamas has with countries in the region and by extension, the world.

Excellencies, Ladies and Gentlemen,

In February 2018, near the close of my initial year as Foreign Minister, I outlined the goals of the new Administration with respect to the Foreign Affairs of The Bahamas.

I would be remiss if I did not take this opportunity to publicly thank the team of dedicated public servants at as Missions and Passport and Consular Offices, namely: Former Acting Permanent Secretary Rhoda Jackson and Permanent Secretary Jack Thompson Director-General Sharon Brennen-Haylock our High Commissioner to CARICOM, H. E. Reuben Rahming our non-resident Ambassadors, our Overseas Heads of Mission, Senior Managers, and all Members of Staff at the Ministry. I have and continue to lean on their expertise. Likewise, I am inspired by their commitment to public service.

In 2018, we held the fort most ably and in some areas, we made gains. These gains emanated from the fact that we, as a Ministry and as a Nation, availed ourselves to many new opportunities placed before us. Some of these took several of us to new and distant destinations. What we found there was enlightening as we gained a fuller appreciation of what might be advantageous for our benefit and development. This paves the way for us to do even more in 2019.

Headquarters

Permit to me to touch on a few highlights, which in no way represent the sum-total of achievements in the Foreign Service.


Bahamian Emissaries In our quest to develop friendly relations with the countries of Latin America, H.E. Cornelius A. Smith was appointed as Non-Resident Ambassador to the Central American countries namely, Costa Rica, El Salvador, Guatemala, Honduras, Nicaragua and Panama. Ambassador Smith has since presented Letters of Credentials to Panama (August 2018) and Costa Rica (5 December, 2018). Also confirmed in their assignments were His Excellency Basil Barnett as non-resident Ambassador to the Holy See, who presented his Letters to His Holiness was granted by the Government of Belgium and, closer to home at the Mi , Her Excellency Dr Kenya Ward as Ambassador-at-Large
Illegal Fishing As you all know, the matter of illegal fishing in Bahamian waters is an ongoing problem. I am pleased to say that I recently chaired a meeting with senior Government Officials and Her Excellency Marjorie Espinoza, Vice-Minister of Consular Affairs and Dominicans Abroad...
To view full Remarks by Minister Henfield - Honorary Consular Corps Luncheon 2018 see attached