Last Updated:

Feb 13, 2017 - 1:45:37 AM
---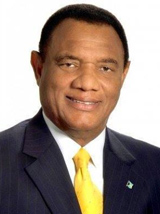 Freeport, Grand Bahama - Remarks By The Rt. Hon. Perry G. Christie, M.P., Prime Minister And Minister Of Finance At The Opening Of The Sir Jack Hayward Bridge
Monday, 2nd May, 2016 At 10:00 A.M:

Salutations,

Ladies and gentlemen,

Let me take this opportunity to thank the senior executives of the Grand Bahama Port Authority and representatives of the Grand Bahama Development Company for honouring Sir Jack's commitment to the tenets of the Hawksbill Creek Agreement, particularly with respect to advancing infrastructural development in Freeport by way of the design and construction of this bridge which, for all intents and purposes, will serve to attract further development in Eastern Grand Bahama.

This very significant investment in Grand Bahama's infrastructure will improve the quality and accessibility of travel for its residents and for students attending the College of The Bahamas' northern campus, facilitate ecotourism and urban renewal efforts of the Government and make the enjoyment of travel around Grand Bahama more pleasurable for all of its residents and visitors alike.

The bridge is also symbolic of the future dispensation that is on the horizon for Grand Bahama and will certainly provide a stimulus to several initiatives which are currently under discussion with parties interested in investing here.

I look forward to sharing with you and the entire nation more on the Government's plans for Grand Bahama when I make within the next several days an important communication to Parliament with respect to the expiring concessions under the Hawksbill Creek Agreement, following on the recommendations of the Hawksbill Creek Review Committee and the negotiations of the HCA Cabinet Committee.

These new arrangements, geared to present realities and best international best practices, I believe will usher in a new era of growth and development in a revitalized Freeport and prosperity for the people of Grand Bahama, and indeed, The Bahamas.

My Government has been vigorously pursuing initiatives and policies to not only stimulate the economy of Freeport, but to bring about more even and greater economic opportunities for East and West Grand Bahama. The objective is that all of Grand Bahama may grow and prosper uniformly so that all of its residents may enjoy the same quality of life.

This bridge, which has been built at the behest of Sir Jack Hayward and suitably named in his honour, is an important addition to Grand Bahama's infrastructure, and an enabler toward realizing Grand Bahama's full potential. I look forward to returning to Grand Bahama in the not too distant future to participate in some suitable infrastructural memorials to Sir Jack's late visionary partners, Edward St. George and Sir Albert Miller, who together fostered the last era of economic growth in our second city.

The potential of Grand Bahama is enormous. Let us together build upon its well laid infrastructure with the resources of both the private and public sector and the skills of the great people of Grand Bahama.

Thank you.








© Copyright 2016 by thebahamasweekly.com

Top of Page