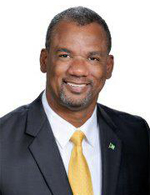 NASSAU, The Bahamas -- A revitalized Nassau Botanical Gardens can serve as the 'Central Park' of New Providence, Minister of the Environment and Housing the Hon. Kenred Dorsett said.
"Those of us of a certain age surely can recall when the Nassau Botanical Gardens was a breathtaking sight to behold," Mr. Dorsett said. "Many of us would have attended weddings or other events there when the waterfalls were operational and the pathways were in better condition. The Gardens are still a tranquil oasis in the middle of the city but it is not in the operational state that it used to be.
"Given its position next to Clifford Park, the entire space could become a magnificent spot for recreation, education and entertainment on the island. This park could offer residents and visitors a place to relax, congregate and commune with nature. It could be a place where concerts and theatrical shows can be held with an amphitheater and concession areas. It could also continue to be the place where indigenous trees and flowering plants are grown and displayed. These plants could be transplanted to beautify other spaces and verges around the island."
The restoration or "revitalization" of the Nassau Botanical Gardens is expected to be the forerunner for the establishment of Urban Botanical Parks in a number of the islands of the Commonwealth of The Bahamas in order to ensure easy access to green spaces and natural areas for recreation and enjoyment
Mr. Dorsett said the establishment of the Bahamas Public Parks and Public Beaches Authority will change the way the country has operated and managed parks and beaches prior to the new legislation.
"It will ensure that the Bahamian people have access to well- kept beaches and recreational spaces across the nation. There will be an organized approach through the establishment of the Public Parks and Public Beaches Authority to the management and upkeep of our beaches and parks.
"When enacted, it will enhance the quality of life of Bahamians and will aid in the mitigation of climate change and green house gas emissions. It will also create new green jobs for our people, with the introduction of a trained workforce of park wardens to properly manage these facilities. They will ensure that our parks and beaches become family-oriented for recreational, commercial and touristic use," Mr. Dorsett added.
Mr. Dorsett said he was given the mandate by Prime Minister, the Rt. Hon. Perry Gladstone Christie to ensure that Clifford Park be transformed into a space reminiscent of New York City's Central Park. The National Botanical Gardens can take on that role.
Mr. Dorsett said the Prime Minister further requested that officials from the Ministry of the Environment and Housing seek support from the Bahamas National Trust, Members of Parliament and NGOs to identify and create a system of Botanical Gardens within, or adjacent to, communities on the Family Islands to ensure easy access to green spaces and natural areas for recreation and enjoyment.
He said many local settlements on the Family Islands lack a city centre and that Urban Botanical Parks could act as a central area for community activities and tourism information as well as a staging area for national events such as independence celebrations.
"Urban Botanical Gardens can also encourage development of complementary businesses to the outdoor space such as Ice Cream Shops, Coffee shops, bakeries and other similar establishments; the promotion of healthy lifestyles and access to a safe area for walking and running would be a valuable contribution to community life.
"Well-planned and planted urban botanical parks can become a wildlife oasis in developed areas. These areas become not only important for local birds but essential areas for migratory birds who need food, water and tree cover as they make their annual migrations. The Parks then become areas that support urban birding programmes for youth and adults and will become key areas for youth activities in urban renewal programmes."
Minister Dorsett said Urban Botanical Parks can further strengthen communities by providing opportunities for corporate and NGO partnerships. Community Parks, he said, can provide staging places for special interest groups to accomplish educational outreach, advocacy and public funding for special projects.
"The development of these urban botanical areas is ideal for providing summer employment for youth in communities. The young people can receive training in landscape design and implementation as well as learning basic construction skills. Additionally their involvement in the development of the parks will give them ownership and discourage vandalism and inappropriate activities in these community parks.
"Urban Botanical Areas provide a staging place for a number of educational opportunities. Educators can use the areas to organize educational activities on plants, insects and birds. These parks, with proper infrastructure, can also become staging areas for community school concerts and theatrical performances," Minister Dorsett added.
Mr. Dorsett said it is the Government's responsibility to ensure that "we do our part to better the position of our country on the world's stage and more importantly, to create an environment of prosperity that will provide opportunities for the advancement for our people."
"This administration takes this responsibility seriously. Thus we have done what we have to do to ensure that The Bahamas continues to progress in the best interest of Bahamians through legislation and policy."