Last Updated:

Feb 13, 2017 - 1:45:37 AM
---
NASSAU, The Bahamas – One of the country's most outstanding athletes has been recognized in a significant way. Mychal "Sweet Bells" Thompson's name is now permanently etched on the main road leading to the Queen Elizabeth Sports Center. That road has been named 'Mychal Thompson Boulevard.' In addition, a ceremony featuring the unveiling of portraits of Bahamian Athletic legends was also held on the occasion. Both events were held on the evening of Thursday, July 23, on the grounds of the sports center.

Prime Minister, the Right Hon. Perry G. Christie was in attendance and delivered remarks. Mr. Christie thanked Mr. Thompson for his contributions in basketball (as a former member of the National Basketball Association [NBA]) and said that Mr. Thompson was one of the country's 'top ambassadors.'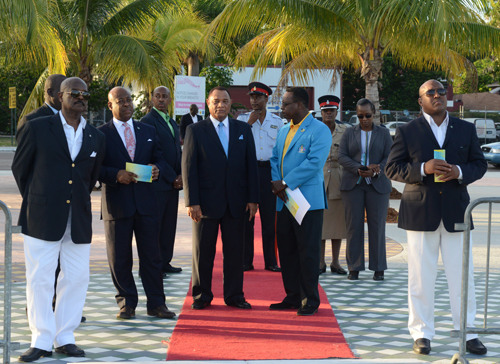 "On this occasion and speaking for all Bahamians, we've had an opportunity to see a wonderful play right in front of our eyes in the person of Mychal Thompson whose contributions both here and abroad have made our country very proud," he said. Noting that the country has much to celebrate in athletics, Mr. Christie said that people like Mr. Thompson are a great inspiration to the youth of the nation.

Deputy Prime Minister and Minister of Works and Urban Development, the Hon. Philip Davis delivered welcome remarks and spoke of his pride as a Bahamian.

Minister of Youth, Sports and Culture, the Hon. Dr. Daniel Johnson said that it is important that Bahamians celebrate the lives and accomplishments of great men and women who make contributions to the country. Mr. Johnson said that Mr. Thompson, to date, is the greatest basketball player in the history of the University of Minnesota. Such a feat, he believes, is especially noteworthy given that Mr. Thompson is a 'native son' of the Bahamas.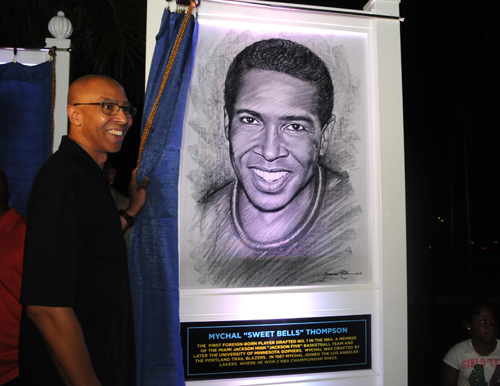 In an emotional response, Mr. Thompson said he was humbled by the love and admiration he has received from the Bahamian people over the years. He also thanked his fellow basketball mates, family and friends for their support and said that he was never alone in this journey.

"Over the years, people have asked me how come I was never honoured for anything in The Bahamas and I always replied that for every time I visited home, I always felt honoured because of the love and support that I have always received, so I am very humbled by this gesture," he said.

Mychal George Thompson was born in Nassau, The Bahamas, on 30th January, l955. As a youth, he moved to the United States and lived in Miami, Florida, where he attended Miami Jackson Senior High School. He, along with Bahamians, the late Cecil Rose Jr., Charles Thompson and Osborne 'Goose' Lockhart became part of a group known as the Jackson Five due to their athletic prowess in basketball.

Mr. Thompson went on to study at the University of Minnesota where his talent in basketball led him to become the first non-American to be the first overall pick in the 1978 NBA draft. The University also retired his #43 making history as the one of only nine players to enjoy such a distinction.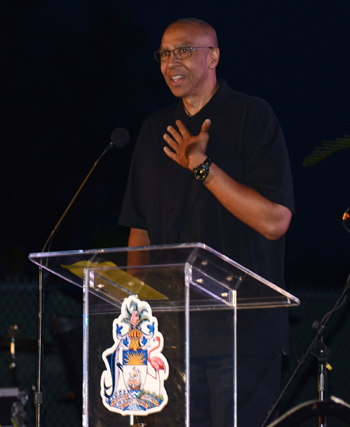 He played for Portland for eight years and received several honors including being named in the l979 All-Rookie team and received his best statistical year during the l981-82 season averaging 20 points and 11 rebounds per game. In the l986 off-season, he was traded to the San Antonio Spurs in exchange for centre/forward Steve Johnson.

Half of a season later, he was approached by the Los Angeles Lakers to become a member of their team. Mr. Thompson started with the Lakers in February, l987 and helped to win two consecutive world titles in 1987 and l988.

Mr. Thompson retired from professional basketball in l991. Currently, he works as a radio personality and colour commentator for Lakers radio. He and his wife, Julie live in Los Angeles and the couple has three children, Mychel, Klay and Trayce. His oldest son, Mychel, a graduate of Pepperdine University, made his NBA debut with the Cleveland Cavaliers in 2012. His middle son, Klay, played his college basketball at Washington State, was selected as the 11th pick in the 2011 NBA draft by the Golden State Warriors, and won the 2015 NBA title. His youngest son, Trayce, is currently in the minor league system of the Chicago White Sox.

Mr. Thompson's portrait was included in the Hall of Sporting Legends erected at the sports centre. The other 27 athletes are: Thomas Augustus "Tommy" Robinson, Osborne "The Wizard" Lockhart, Sir Durward Knowles, Cecil Cooke, Andre Rodgers, Everette "Elisha Obed" Ferguson, William "Yama Bahama" Butler, Jr., Captain Rolly Gray, Wenty Ford, Ed Armbrister, Anthony Caroll, Frank Rutherford, Rick Fox, Mark Knowles, Pauline Davis-Thompson, Debbie Ferguson, Eldece Clarke, Savatheda Fynes, Chandra Sturrup, Chris "Fireman" Brown, Tonique Williams, Leevan Sands, Michael Mathieu, Demetrius Pinder, Ramon Miller, Arianna Vanderpool-Wallace and Tureano Johnson.

NBA champion Klay Thompson receives portrait by Jamaal Rolle





© Copyright 2015 by thebahamasweekly.com

Top of Page