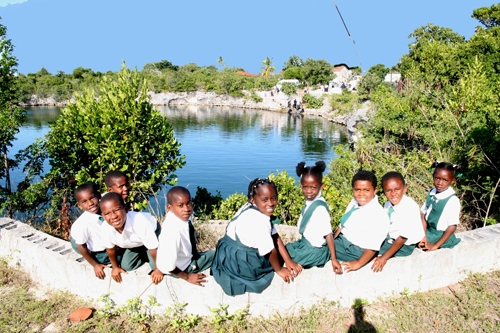 Rock Sound Primary School students helped to give their blue hole a facelift. (BIS Photo/Derek Smith)


ROCK SOUND, Eleuthera - The legendary blue hole here, once the centerpiece of delight of this community is being restored – thanks to southern Eleutherans, their friends and the Ministry of Tourism.

Reputed to have healing powers, the waters of the 300 feet wide limestone structure has become polluted over the years by illicit dumping and run-offs during heavy rainfall.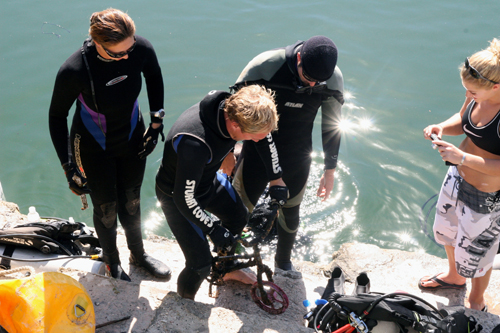 Divers kid around with a child's cycle taken from the Rock Sound blue hole. (BIS Photo/Derek Smith)


Divers from Stuart Cove's Dive Bahamas in New Providence and the Island School at Cape Eleuthera were on hand Tuesday to assist in removing truck loads of rubbish in and around the hole.

They were joined by central government departments, local government, community organizations, students and residents who brought a facelift to what has been described as "a national treasure."

Dedicated to "the freedom loving people of South Eleuthera" the Rock Sound Ocean Hole Park was opened by former Prime Minister, the late Sir Lynden Pindling on January 10, 1970.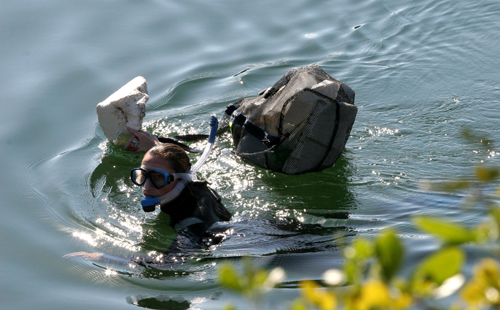 Divers remove rubbish from Rock Sound's blue hole. (BIS Photo/Derek Smith)


The blue hole remains a must trip for visitors. Expecting to be thrown tidbits, schools of tamed grey snappers rush to the surface whenever anyone comes along.

Although Cove's divers estimated the bottom to be 150 feet, Eleutherans swear that the blue hole has no bottom and connects directly to the ocean via underground ducts. Hence the appearance of groupers, turtles and other marine species at times.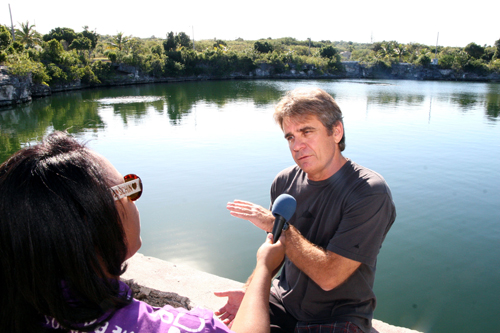 Veteran diver Stuart Cove, with Rock Sound's famous blue hole in the background. (BIS Photo/Derek Smith)


A community committee headed by former softball star Ronald 'Ronnie' Horton plans to have a walkway constructed around the blue hole, regulations for its use drawn up, kiosks provided for vendors and park wardens posted.

"This is the first step towards a bigger development," said Horton. "Eventually, we want to build a pavilion and have live entertainment."

The committee discussed its vision with residents, hotel operators, business persons, tour operators and others.

Rock Sound Primary School students helped to give their blue hole a facelift. (BIS Photo/Derek Smith)


"Everybody we spoke to gave it all positive talk," he said. "The community is high on it. I see the enthusiasm. We have some people who are involved in such a big way this initiative will not die."

There has been debate about closing ocean hole to swimming.

"I think it's important (to allow swimming)," said Horton. "Tourists and residents enjoy boasting that they swam in ocean hole. At one point, I am told, people use to drink this water for medicinal purposes.

"We do not know how many tourists come here, but I come here almost every day and almost every day I find tourists here. People come from all over the world asking for ocean hole.

"That being the case, we can turn this into a tourism magnet…and it would contribute to the local economy."

Cove, a veteran diver, underscored the need for Bahamians to understand the importance of "these treasures."

"We have this incredible natural resource here that has been used by a few people as a dumping ground," he said.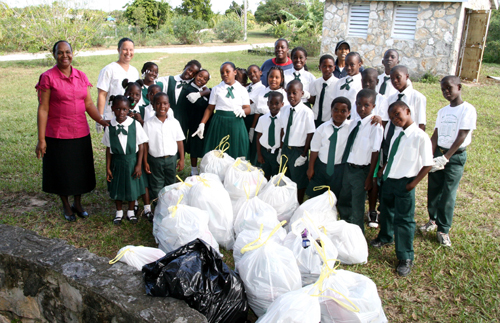 Students and teachers of the Rock Sound Primary School joined in cleaning the environs of their blue hole. (BIS Photo/Derek Smith)


Fifty-five-gallon drums that contained oil were found at the bottom of the blue hole.

"My understanding is that this blue hole was crystal clear from top to the bottom," said Cove.

"Now, the top ten to twenty feet is very murky with layers of oil like stratus clouds, and when you get below that, it is crystal clear again."

He suggested consultation with the scientists to determine the impact of pumping off the polluted surface, thereby returning clarity to the water.

"We want to bring awareness about the importance of this and maintaining it in its pristine state."

Ministry of Tourism's Director of Sustainable Tourism, Earleston McPhee highlighted the importance of partnership between the public and private sectors in this venture.

"We all benefit from these treasures and we all have to take responsibility in terms of ensuring the integrity of them," he said.

Cove had no objections to swimming being allowed in the blue hole.

"The impact of human swimming there would be minimal," he said. "You have to balance…your national preserves and parks. Are we going to close them off so nobody can enjoy them or are we going to use them in a sustainable way?"