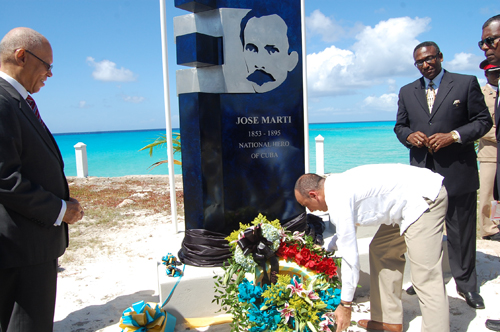 Ambassador of the Republic of Cuba to The Bahamas, Ernesto Soberon Guzman, places a wreath following the February 23 unveiling of the monument in Mathew Town, Inagua, commemorating the 1895 visit of Cuban Freedom Fighter Jose Marti. Pictured at left is Governor General Sir Arthur Foulkes and at right, Minister of Agriculture, Marine Resources and Local Government the Hon. V. Alfred Gray and Minister of Foreign Affairs and Immigration the Hon Fred Mitchell. (BIS Photo/Ulric Woodside)


Matthew Town, Inagua, Bahamas -- Characterising liberty throughout the Caribbean and the Americas, Gover nor General Sir Arthur Foulkes returned to his birthplace in Matthew Town, Inagua, "in a spirit of gratitude" to memorialise a regional freedom fighter, Jose Marti, who lost his life about 118 years ago, battling the injustice of racial inequity and Cuban Independence from Spanish imperialism.

"We are here today to celebrate the history of Inagua and to pay tribute to the memory of an extraordinary son of the Caribbean, a citizen of the world, a man who in his short life span was a journalist, poet, lawyer, philosopher and liberator -- a monumental figure in the history of the Caribbean and the Americas," said Sir Arthur Foulkes.

He called it a special privilege and pleasure to unveil a monument to the memory of Jose Marti and the events surrounding his historic visit to Inagua in April 1895.

Sir Arthur described Jose Marti as a revolutionary leader, who became a hunted man after he was labelled an exile, which forced him to become a fugitive. He also said that after writing his historic "Manifesto of Montecristi", Marti was on his way from the Dominican Republic to join his generals, Maximo Gomez and Antonio Maceo to engage in war with Spain for Cuba's Independence.

"Marti and five comrades walked on this very ground and were, fortuitously, right here in Mathew Town, Inagua, assisted and enabled to continue on his fateful mission," said Sir Arthur.

"It was a mission that was to cost him his life, but eventually bring independence to Cuba and inspiration to millions in the Caribbean and the Americas. It has long been my hope to memorialise, in a suitable way, these dramatic events, and at long last we are here to unveil a monument to the memory of Jose Marti."

Sir Arthur extended his gratitude to the teamwork of national and regional leaders, business leaders, and the Cuban sculptor, Tomas Lara, who made the ceremonial recognition of Marti's contribution to The Bahamas a reality.

"As you know, there are many monuments to Marti including the magnificent ones in Havana, New York City and Washington DC. Ours is not nearly so grand in dimensions, but it is an elegant work by the internationally-celebrated Cuban sculptor Tomas Lara. I am grateful to Mr. Lara for agreeing to create this monument for Inagua and, indeed, for all Bahamians, and I thank him for his commitment to the completion of this project," said the Governor General.

"I am grateful to Mr. Glen Bannister and Morton Salt Company, whose generosity made it possible to undertake this project. I am grateful to Prime Minister Christie and to former Prime Minister Ingraham for their assistance, and to Minister [Alfred] Gray for his enthusiastic support from the very beginning.

I am also grateful to Ambassador Soberon and to his distinguished predecessor Ambassador Luis Ponce for their active support."

Sir Arthur also remembered the Antiquities and Monuments Authority of The Bahamas, the Secretariat of the 40th Independence Celebrations, the Administrator and the Local Government Council of Inagua.

"I am also grateful to all others who helped to bring the project to fruition, especially Mrs. Irene Stubbs, the hard-working Secretary to the Governor General, who coordinated this entire event, the staff of Government House, and the Royal Bahamas Defence Force. Thank you all," said the Governor General.

Sir Arthur described his bond to his native island home and said that the precious soil of Inagua is known for its natural resources and virgin environment. He also mentioned that his hometown is the original industrial site of Morton Salt, the home of the flamingo, which is The Bahamas' national bird, as well as being a veritable paradise for eco-tourism that attracts bird watchers and nature lovers worldwide.