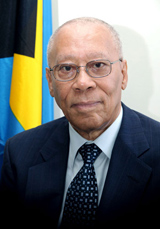 GOVERNMENT HOUSE
Nassau, Bahamas
27 December 2011
Statement by the Governor General
It is with great sadness that Joan I learned of the death of Sir Clifford Darling today. Along with all the Bahamian people we mourn the death of an outstanding Bahamian leader and nation-builder. Sir Clifford's passing is also a personal loss as he was for years a colleague and for decades a good friend.
Sir Clifford was among those extraordinary Bahamian leaders who commanded the Bahamian stage during the history-making years of the Fifties and Sixties, and he played his considerable role with dedication and with his characteristic dignity.
Sir Clifford served his beloved Bahamas in many ways since his birth in Chester's, Acklins. He was President of the Taxi-cab Union during the general strike of 1958, served in both Houses of Parliament, as a Cabinet Minister, as Speaker of the House of Assembly and as the fourth Bahamian Governor General. Even as we mourn his loss we also thank God for a life that was well-lived and wonderfully fruitful.
On behalf of a grateful nation I extend sincere condolences to Lady Darling, Sir Clifford's children and other family members. Joan and our entire family join me in extending deepest sympathy to Lady Darling and the family during this their time of bereavement.

Sir Arthur Foulkes
Governor General