Last Updated:

Jul 30, 2020 - 3:51:17 PM
---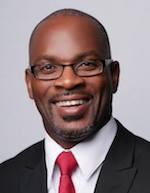 FREEPORT, Grand Bahama – With the shift of the projected path of now Tropical Storm Isaias, Minister of Disaster Preparedness, Management and Reconstruction, the Hon. Iram Lewis on Thursday, July 30, assured residents that plans are in place and shelters ready.

During a press briefing at the Ministry's office in the Star General building, Freeport, Minister Lewis encouraged residents of the country to prepare for the tropical storm but do with existing protocols in place due to the coronavirus pandemic.

The Ministry, he said, is closely monitoring the trek of the storm, which is expected to impact the southern Bahamas as early as Friday morning, the central Bahamas by Friday afternoon and the northern islands by Saturday.

"We are encouraging all Bahamians to make the necessary preparations as we brace for the potential impact of Isaias. However, these preparations must be completed in congruence with the regulations outlined in the COVID-19 Emergency Orders.

"The Ministry is conscious of the fact that we are indeed living in a multi-hazard context. With that being said, we must prepare for Mother Nature's unwelcomed fury; while examining the other side of this conundrum, we cannot magnify the battle against COVID-19.

"So please, practice social distancing at the grocery stores and hardware stores and only leave your home if absolutely necessary. If we all follow these simple steps now, we will not struggle as much later."

Arrangements will be made to evacuate residents of Sweeting's Cay, said Minister Lewis, if necessary. This decision will be made on Friday morning.

Residents should only go to the four identified shelters if they absolutely must. Shelters will open at 8am on Friday and those identified for Grand Bahama are Maurice Moore Primary School, St. George's Gymnasium, Bethel Deliverance Center, and Central Zion Church.

Also present for the press briefing were Orson Nixon of the Met Department who urged residents to batten up due to the amount of debris still on island from Hurricane Dorian. Philcher Grant from the Grand Bahama Utility Company and Nikita Mullings from the Grand Bahama Power Company both noted there are no plans to cut off the utilities for the approaching storm.








© Copyright 2020 by thebahamasweekly.com

Top of Page