NASSAU, The Bahamas – The former St. Bede's Catholic Primary School has undergone a name change to become the Sister Annie Thompson Pre-School, which honors well-known Nun and Educator, Sister Annie Thompson. During the official ceremony held on the school grounds on Thursday, May 7, Prime Minister, the Rt. Hon. Perry G. Christie said that he deemed it an honor to recognize Sister Annie in this special way.
"Given the rich life that Sister Annie continues to live, I cannot think of one more fitting to bestow this honor upon," said Mr. Christie. "Sister Annie Thompson has had a positive influence on the lives of so many Bahamians. What many people do not know is that Sister Annie Thompson has a Bachelor's degree and a Master's degree in Education and began teaching in classrooms across the United States during the l960's."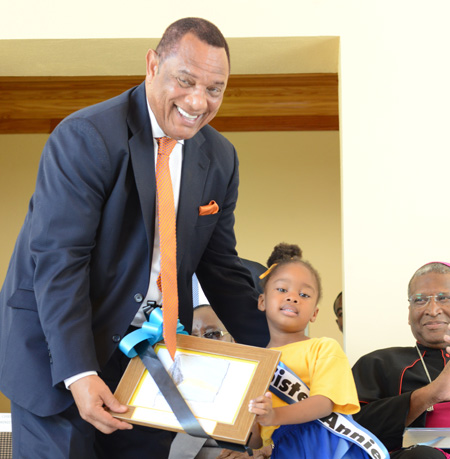 Prime Minister, the Rt. Hon. Perry G. Christie officially opened the newly-established Sister Annie Thompson Pre-School on Thursday, May 7. In this photo, he is being presented with a gift from a student. (BIS Photo/Peter Ramsay)


Minister of Education, Science and Technology the Hon. Jerome Fitzgerald said the new pre-school would play a major role for generations to come.

"The pre-school that is being opened on these grounds, where Sister Annie was principal, is critical to the future of our country," said Mr. Fitzgerald. "Greater emphasis is being placed to ensure that our children receive the tools and skills necessary to provide them with the foundation needed for their future educational success."

Annie Eliza Thompson was born in 1933 in Gregory Town, Eleuthera, to parents John Alexander and Muriel Joyce (Johnson) Thompson. She attended university in Albany, New York and became a nun during the l960's. In l970, she became the Principal of St. Bede's Roman Catholic School. Sister is an avid sportsman, especially in the game of basketball.

The new government pre-school is located on the compound of the former St. Bede's Roman Catholic Primary school on Sutton Street off Kemp Road. The state-of-the-art school was established in 2013 after the government purchased the property from the Catholic Board.