Last Updated:

Feb 13, 2017 - 1:45:37 AM
---
CDEMA deploys response teams to Haiti and The Bahamas following impact of Hurricane Matthew


By Caribbean Disaster Emergency Management Agency (CDEMA)
Oct 6, 2016 - 10:49:44 PM


Email this article
Mobile friendly page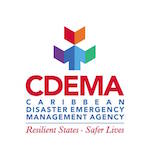 Barbados, October 6, 2016 – The islands of The Bahamas and Haiti suffered severe impact from the passage of Hurricane Matthew. In efforts to assist these countries in dealing with the aftermath of the hurricane, the Caribbean Disaster Emergency Management Agency (CDEMA) has deployed 2 sets of specialized response teams to Haiti and The Bahamas.

At the request of the Government of Haiti and based on priority needs identified, CDEMA will deploy a 6 member CARICOM Operational Support Team (COST) to Haiti on Friday, October 7, 2016. This team will support Emergency Operation Centre (EOC) coordination in Jérémie and Les Cayes, two settlements most affected by Hurricane Matthew. The team will be led by Brigadier General (Ret'd) Earl Arthurs and supported by technical personnel from CDEMA Participating States.

Three (3) Rapid Needs Assessment Teams (RNATs) will also be deployed to The Bahamas on Friday October 7, 2016. The teams will facilitate damage assessments and needs analysis in Andros, Grand Bahama and New Providence Islands.

Matthew continues to strengthen as a category 4 Hurricane as it passes over The Bahamas and heads for the East Coast of Florida. A Hurricane Warning remains in effect for North-Western Bahamas, including the Abacos, Andros Island, Berry Islands, Bimini, Eleuthera, Grand Bahama Island, and New Providence. The Government of The Bahamas has discontinued the Hurricane Warning for Central Bahamas.

The Civil Protection Directorate (CPD) in Haiti has reported that after preliminary assessments, 23 fatalities, 3 persons missing and 27 injured. Up to 12 noon today, Thursday October 6, 2016, a total of 21, 102 persons remain in shelters and over 2516 houses were severely damaged.
The Regional Coordination Plan (RCP) remains activated and the Regional Coordination Centre (RCC) at the CDEMA Coordinating Unit has been activated. The CU has placed on standby other support arrangements for Haiti including the CARICOM Disaster Relief Unit (CDRU). Additional actions will be guided by Damage Assessments and Needs Analysis (DANA).






© Copyright 2016 by thebahamasweekly.com

Top of Page