Last Updated:

Jan 13, 2020 - 11:31:49 AM
---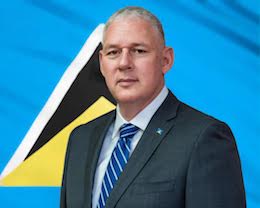 "Now is the Time"


2020 New Year's Address by

Prime Minister Honourable Allen M. Chastanet

Sunday 12th January 2020

Good evening, fellow Saint Lucians, at home and abroad. A Happy New Year to you all. I pray that 2020 will bring you good health, peace, happiness and prosperity.

I thank you all for the spirit of giving and love which flowed throughout our island in December. It was a joy for my family and I to share in the festivities, especially in my constituency of Micoud South.

Saint Lucia, 2019 was a year of continuing on our journey to bring empowerment to all our people and to build a new Saint Lucia.

You will recall that on assuming office in 2016, and on other occasions thereafter, I indicated that our government would need about three years before we would really start seeing tangible results. Our task was not easy, in fact what we found was rather daunting - unemployment was at an alarming high of 25 percent, our country had gone through five years of zero or negative growth, we were facing crippling levels of debt and there was severe deterioration in our physical infrastructure, social services, particularly in health, education and in community services.

Most of our institutions, economic and social sectors were either in disarray or dysfunctional, from the police to the judiciary, from agriculture to education. Many projects which should have been completed by the former government such as the two hospitals, the desilting of the John Compton Dam, all critical projects, had either not started or were far from complete. In short, the fiscal and economic situation was dire and there was a general sense of hopelessness all over the country. This is the backdrop against which my party was elected.

Immediately, our team of workers rolled up our sleeves and got down to the business of turning this situation around.

There is little question that the visible improvements in the economy and new direction has restored our country's hope and confidence. Our policies are working and we are moving in the right direction.

One of our first actions was to fulfill our general election promise to ease the burdens on the entire population.

We immediately implemented Five to Stay Alive:


We reduced the 15% Value Added Tax (VAT)
Put a freeze on property taxes
Introduced an amnesty on hospital bills
Reduced the vehicle licensing costs
Doubled the allocations for the school feeding and transportation programmes.

Other measures included:


Doubling the budgetary allocation for agriculture.
Addressing deficiencies in the security and justice system.
Starting the phased transition to the Owen King-EU Hospital.
We have spent millions on improving infrastructure in almost every constituency creating economic benefits and employment - roads, community centres, sports facilities, primary healthcare services.
We have improved water supply systems in the north and the south.

Today, 3 ½ years into our administration, Saint Lucians can see and feel the positive signs that we are moving in the right direction.

The most recent IMF assessment on Saint Lucia described our growth prospects in the near term as favourable and projected that the commencement of our imminent infrastructural projects will substantially boost growth in the 2020-2022 period.

Unemployment which was at 25 percent when we came in, has been reduced to 17 percent according to the most recent reports from the Statistics Department, and we anticipate a further reduction this year.

The undisputed fact is that our economy has recorded growth in every single year since we took office.

I make this point to emphasize the fact that history shows that Saint Lucia always prospers under a United Workers Party administration. We have a track record laid down by our founding father Sir John Compton of consistently developing this country.

When I addressed you at the start of 2019, I spoke to the implementation of a number our Government's plans. Several of our signature projects are underway especially in the southern part of the island.

We are excited about the airport redevelopment project, our first FBO Private Jet Facility is now operational and the rebuilding of St. Jude's Hospital continues at a rapid pace.

The Pearl of the Caribbean project had quite an auspicious start on National Day with our island's first international horse racing event which attracted media, investors and visitors from all over the world and has created an unprecedented buzz about Saint Lucia, regionally and internationally. The public showed their overwhelming support for the project by coming out in spectacular fashion for this day at the races – attendance was in excess of 7,500. Many had flown in from New York, Toronto, London and all over the Caribbean region to participate in the rebirth of the South. The next race is scheduled for mid-February just in time for our 41st Independence Anniversary.

Does anyone remember the 1970s when Vieux Fort was humming with industrial and manufacturing activity? It started with an event on May 1, 1970 that was billed as D-Day, - "D" for development, when Hewanorra International Airport was commissioned, Halcyon Days hotel was opened, as was Windward Island Packaging Company (WINERA). The United Workers Party government's plan back then was to make Vieux Fort the industrial capital of Saint Lucia -creating an industrial estate that attracted a host of manufacturers.

Apart from WINERA, Windward and Leeward Brewery came, along with some unforgettable names like Milton Bradley, CARIMAN, Manumatics, Marstan Mills. For nearly two decades, Vieux Fort was booming, providing jobs for people not only from the town but from Laborie, Soufriere, Choiseul and Micoud. Many businesses in Castries opened branches in Vieux Fort. Regrettably, under the Labour Party much of what was achieved during that time was lost.

Today, salvation is coming to the south. Added to the Pearl of the Caribbean project, we have the airport, the cruise ship terminal, the redevelopment of Anse Des Sables and the Cannelles project. The free zone at Hewanorra, that was under-performing when we came into office, is now 100 percent filled and, more importantly, we have a waiting list.

We have also invested significant resources in Soufriere, another town where there had been widespread neglect.

We opened the Hummingbird Beach Park, upgraded and redesigned the Soufriere Town Square, redeveloped the Old Trafford playing field and converted it into a farmers' market and bus terminal, upgraded the Sulphur Springs Park, and began work on two new sporting facilities. Roads are being attended to, a new hospital is being built and Soufriere has become the poster child for Village Tourism. Similar programmes are being implemented in Anse la Raye and Gros Islet and eventually rolled out islandwide.

To the north, we are making changes in Castries which includes the Market Redevelopment Project. The old structure had for years been the target of criticism and ridicule, mainly because it failed to offer proper shelter and conveniences to vendors and the general public. The newly built market is hurricane-resistant and enables the free flow goods and people. The goal here is to make the Castries market one of the best attractions for locals and visitors, a permanent home for authentic local arts and crafts, as well as agro-processing products. Our vendors must proudly sell what is ours.

We have on previous occasions, shared with you our plans and vision for uplifting the entire city with more green spaces and less congestion; some of which will unfold during this year.

Our tourism sector has grown steadily during the past year and we are truly defining Brand Saint Lucia.

Many hotels reported record occupancies especially during otherwise slow periods; a contributing factor being our summer festivals which also benefitted car rental companies, taxi drivers, tour operators and other local service providers throughout the summer.

I am so proud that our Tourism Minister Dominic Fedee was voted Caribbean Tourism Minister of the Year and Saint Lucia recaptured the award for World's Leading Honeymoon Destination at the prestigious World Travel Awards. We have also regained our position as the leading tourism destination in the OECS. Our cruise tourism arrivals have hit record numbers and stemming from the Memorandum of Understanding (MOU) we signed with Carnival Corporation and Royal Caribbean Cruises we expect a visiting team to look at the proposed projects to improve the quality of Port Castries and a new cruise home port in Vieux Fort.

Meanwhile, we are substantially increasing our hotel room stock. Following negotiations and the securing of the several approvals, the physical hotel projects are set to start, among them: the Hyatt project in Choc Bay, a Dreams and Secrets Hotel at Cannelles and the highly-anticipated Cabot Saint Lucia, a game-changing project for the Caribbean golf industry.



Our discussions with international carriers have borne fruit and we have experienced an increase in airlift into the island, resulting in over 400,000 stayover arrivals for the first time. We were thrilled in December to welcome our new American Airlines flight from Chicago and indications are that we are headed for another excellent year for this industry

...




See full address attached

Click to download the attached file(s):





© Copyright 2020 by thebahamasweekly.com

Top of Page