Synopsis - "To say that Tiahjah's life is hard would be an understatement. All teenagers should be vibrant, peppy and most of all having the time of their life with little things to worry about. However, not all are that privileged. She has been dealt the shorthand of the stick and it's reaching its boiling point. Whether it be problematic parents and torturous schoolmates Tiahjah has nowhere to turn. Can she be saved before its to late? Who is to blame? Watch and find out as your emotions are captivated and taken down an unfortunate path of an underprivileged girl trying to find her way in society."
Actors for "The Blame" included Patrice Johnson, Tawari Rodgers, Mia Rolle, Marsha Stubbs, Orenthal Newchurch, Tiahjah Smith, Delon Edgecombe, Theronique Cooper, Lanelle Curry, Georgina Moss, and D'Arj Laing.

The festival continues with all films playing at Canal House. All the Bahamian films will screen on Saturday. Sammy 2 will screen at Port Lucaya on Sunday evening at 7pm.

All films, events and workshops are open to the public.

Three categories of tickets were available for the festival; a Day Pass, provided access to all movies in the given day priced at $7.00; a Fast Pass provided to all movies the entire weekend for $10.00; and the All Access Pass, which provided entrance to VIP functions, the workshop and all movies for $50.00.
Hosted at the Canal House, Pelican Bay Hotel, 'FLIFF On Location: Grand Bahama Island will feature international and local films, outdoor screenings of Sammy 2: , presentation of a Career Achievement Award to Giancarlo Esposito, filmmakers workshop, "Stories That Matter" with Ian Strachan; location scouting for international filmmakers, and a wrap party / awards presentation at the Grand Lucayan Resort.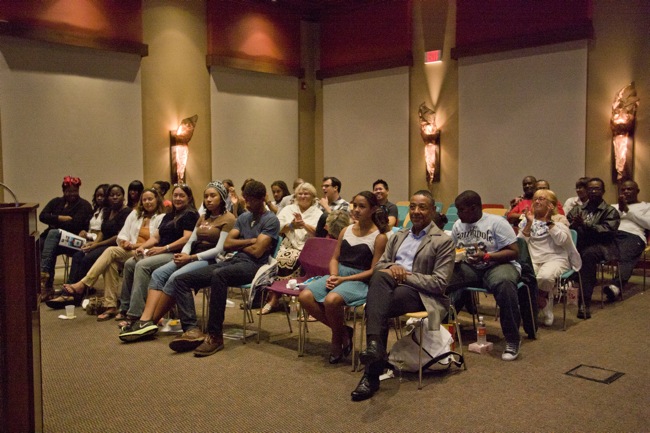 Giancarlo Esposito and his daughter Syr (front row, far left)sit in the audience. Photo: Mackey Media Ltd/ The Bahamas Weekly