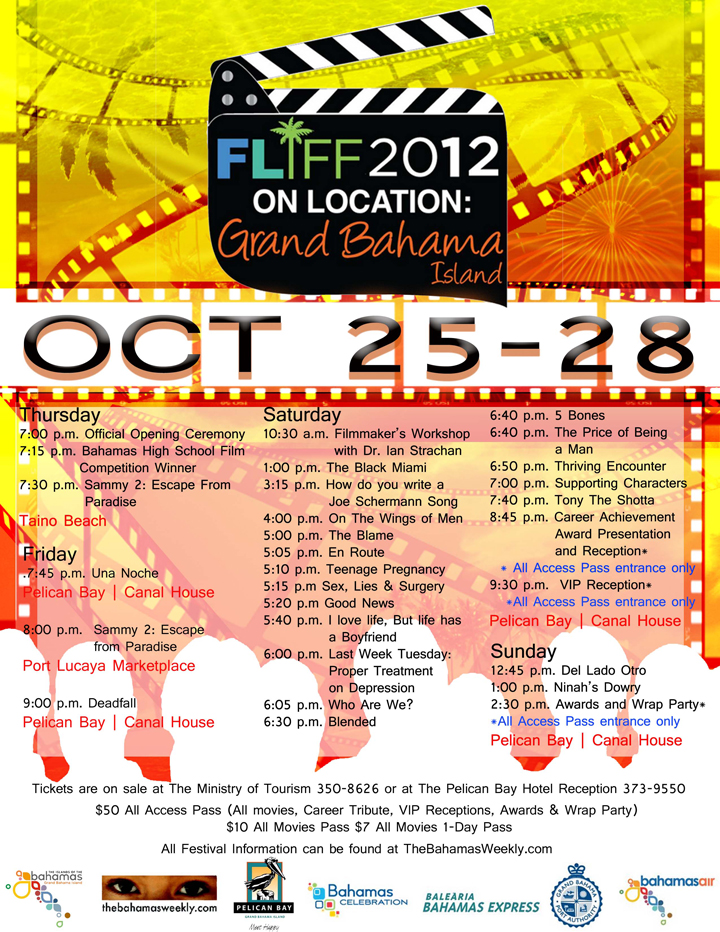 Freeport, Grand Bahama Island - Organizers of FLIFF on Location: Grand Bahama Island are pleased to announce the Blue Ribbon Panel selection for the High School Category for Bahamian films. Sunland Baptist Academy's grade 12 submission of "The Blame" has been chosen as this year's best student film.
The Blame was directed by Tiahjah Smith and is the story of the troubled life of a high school student and it will screen at the Opening Ceremony at Taino Beach on Thursday, October 25th (7pm) as well as on Saturday, October 27th when all the Bahamian films will be shown at the Canal House at Pelican Bay Hotel, the festival's host site.
Synopsis - "To say that Tiahjah's life is hard would be an understatement. All teenagers should be vibrant, peppy and most of all having the time of their life with little things to worry about. However, not all are that privileged. She has been dealt the shorthand of the stick and it's reaching its boiling point. Whether it be problematic parents and torturous schoolmates Tiahjah has nowhere to turn. Can she be saved before its to late? Who is to blame? Watch and find out as your emotions are captivated and taken down an unfortunate path of an underprivileged girl trying to find her way in society."
Actors for "The Blame" include, Patrice Johnson, Tawari Rodgers, Mia Rolle, Marsha Stubbs, Orenthal Newchurch, Tiahjah Smith, Delon Edgecombe, Theronique Cooper, Lanelle Curry, Georgina Moss, and D'Arj Laing. The production team offered special thanks to Prescott Knowles and their videographer / editor, Quincy Jones.

Submissions were accepted earlier this year in the high school, college and open categories and the following Bahamian films will also be screened on October 27th:

In the Student Category: Teenage Pregnancy (Sunland Baptist),
directed by Barea Fyne, Natori Moxey, Georgina Moss and Hughleia Solomon.

In the College Category: I Love Life: But Life Has a Boyfriend (College of The Bahamas 'COB'), directed by Stephen Hanna; Who Are We? (COB), directed by Brittney Armbrister; Blended (Hampshire College), directed by Marinah Janello; Last Week Tuesday: Proper Treatment on Depression (COB), directed by Stephen Hanna; En Route (COB), directed by Tracey Ann Perpall / Shandia Mackey; Good News (COB), directed by Ricardo Wells / Kriston Saunders.

In the Open Category: Tony the Shotta directed by Marcus Bailey; The Price of Being a Man, directed by Edmund S. Moxey; Thriving Encounter, directed by Bishop Godfrey Williams; 5 Bones, directed by Tyler Johnson.

The Open and College category winners will be announced October 28th at the closing ceremony.
Hosted at the Canal House, Pelican Bay Hotel, 'FLIFF On Location: Grand Bahama Island will feature international and local films, outdoor screenings of Sammy 2: , presentation of a Career Achievement Award to Giancarlo Esposito, filmmakers workshop, "Stories That Matter" with Ian Strachan; location scouting for international filmmakers, and a wrap party / awards presentation at the Grand Lucayan Resort.

There are three categories of tickets now on sale at reception center of Pelican Bay Hotel and at the office of the Ministry of Tourism. Our passes are reasonably priced with a Day Pass, giving one all movies, all that day for $7.00; a Fast Pass, giving you all movies, all weekend for $10.00; and the All Access Pass, which gives entrance to VIP functions, the workshop and all movies for $50.00.



FLIFF On Location: Grand Bahama Island Blue Ribbon film panel announce the winning entry in the High School Category for Bahamian film submissions. "The Blame" is a film submitted by grade 12 Sunland Baptist Academy students and it was directed by Tiahja Smith. Seen here from left to right is Mia Rolle (actor); Donna Mackey of the Bahamas Film Commission /MOT (Grand Bahama); and Tiajah Smith (director). The winning film will screen on Thursday, October 25th at the Taino Beach outdoor festival opening, and again on October 27th at Canal House, Pelican Bay Hotel. Photo: Mango Tree Media
FLIFF On Location: Grand Bahama Island is a collaboration between the Fort Lauderdale International Film Festival, the Bahamas Ministry of Tourism and Grand Bahama Island Tourism Board. The event has been made possible through the generous support of the following sponsors: Pelican Bay Hotel; TheBahamasWeekly.com; Mackey Media Ltd; Bahamas Celebration Cruises; Bahamasair; Balearia Bahamas Express; Grand Bahama Port Authority and Group of Companies; Grand Bahama Island Tourism Board; FLIFF; Ministry of Tourism and SkyBahamas Airlines.
All festival information can be found on TheBahamasWeekly.com. Get your tickets at Pelican Bay Hotel, and the Ministry of Tourism.


For more information go to FLIFF 2012 on Location: Grand Bahama Island
or the Event Page on Facebook.