Film Festival to Open with Free Outdoor Screening at Taino Beach
Freeport, Bahamas - Destined to be an unforgettable night out for the entire family, and set against the idyllic backdrop of the Bahamian waters,

FLIFF On Location: Grand Bahama Island is pleased to announce their opening night film,

Sammy 2: Escape from Paradise

, a
3D animation

which will be projected onto a 30' screen outdoors at Taino Beach
on Thursday, October 25th
.


In 2010, filmmakers from around the world finished post-production on A Turtle's Tale:

Sammy

's Adventures. The film written by Domonic Paris and directed by Ben Stassen was very well received, and though the production did not have the pockets of Disney or the experience of Pixar, things looked especially promising for this sequel. This year at Cannes,

Sammy

2

opened and the reception could not have been more spectacular. This family film was on par with the best in the world.

The heartwarming 100 minute animation about a brave sea turtle opened in Cannes this year and will have its U.S. premiere at the Fort Lauderdale International Film Festival (FLIFF) before coming to Grand Bahama along with the writer.
'While helping a dozen or so hatchlings into the sea,

Sammy

and Ray are captured by poachers. Our heroes are sold to a hi-tech aquarium belonging to a restaurant. As soon as they get to the aquarium,

Sammy

and Ray start planning their escape, no easy task in this state-of-the-art facility.
'

The writer, Domonic Paris currently resides in Los Angeles and is a partner in the motion picture production company, Illuminata Pictures. Domonic began his career in New York City working as a cinematographer and quickly segued into producing and directing. He now works as a Screenwriter/Producer/Director and has created projects both for television and theatrical feature films. Since 2005 he has been involved in the creation, producing and voice direction of 3D animated feature films. In 2005 he formed a co-producing relationship with nWave pictures, a leader in creating 3D content. Their first collaboration was in 2005 when Domonic wrote and co-produced the first, true-3D animated feature film, FLY ME TO THE MOON released by Summit Entertainment in 2008. Domonic followed that film with the first in what has become a "turtle franchise", the 3D animated feature, SAMMY'S ADVENTURE which was one of the top ten box office money-makers of any independent films released in 2010-11. Domonic follow up with SAMMY 2:ESCAPE FROM PARADISE and is currently in production on THE ENCHAUNTED HOUSE and later this year begins production on TUESDAY'S TALE another 3D feature.

Come early as the opening ceremony for FLIFF On Location will take place at 7pm, and the movie will begin at 7:30pm. Bring a chair or blanket, as seating could fill up quickly. Food and refreshments will be on hand for your enjoyment and viewing pleasure. A second feature is in the works, and will be announced at a later date.
Sammy 2 will screen once more during the festival at Port Lucaya Marketplace's Count Basie Square on Friday, October 26th at 8pm.
Both screenings are free and open to the public.
Immediately following the screening the Marketplace will offer a complimentary Native Show featuring limbo dancer Emperor Duke and the Ultra Vibes Band.

We hope to see you at FLIFF on Location: Grand Bahama Island!
SAMMY
2

:
Escape
From
Paradise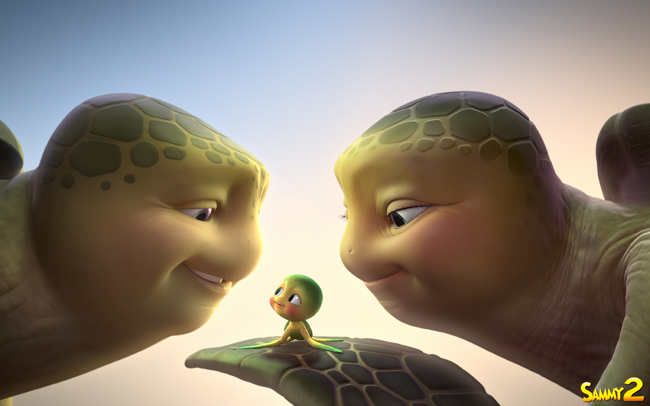 FLIFF On Location: Grand Bahama Island is a collaboration between the Fort Lauderdale International Film Festival, the Bahamas Ministry of Tourism and Grand Bahama Island Tourism Board. The event has been made possible through the generous support of the following sponsors: Pelican Bay Hotel; TheBahamasWeekly.com; Mackey Media Ltd; Bahamas Celebration Cruises; Bahamasair; Balearia Bahamas Express; Grand Bahama Port Authority and Group of Companies; Grand Bahama Island Tourism Board; FLIFF; Ministry of Tourism and SkyBahamas Airlines.

The film festival will feature: Career Achievement Award presentation to Giancarlo Esposito; Films made in The Bahamas; Underwater cinematography workshop, including a shark dive, by award-winning cinematographer Paul Mockler; Independent Films from around the world; Complimentary outdoor screenings; and Student film competitions.

For more information go to FLIFF 2012 on Location: Grand Bahama Island
or the Event Page on Facebook.

Book your travel now and receive a $250 Savings - Use Promo Code FLIFF250