Last Updated:

Feb 6, 2017 - 2:32:04 PM
---
Competition Winner to be Announced on Opening Night!

Freeport, Bahamas - A call went out earlier this year to

local and national high schools throughout the country

to submit short films for the upcoming

FLIFF On Location: Grand Bahama Island

festival which is set to get underway on Thursday, October 31st running until Sunday, November 3rd. The High School Film Competition is sponsored by the Grand Bahama Port Authority and encourages youth of The Bahamas to get involved in telling their story through film. All the films are being viewed and judged by a specially selected review panel of judges.


Seven films have been selected for the festival, and the winner will be announced as part of the official opening ceremony, Thursday, October 31st at Taino Beach starting at 7pm. Although all the student filmmakers are winners simply by having their films shown in a film festival, only the

director of the winning film will receive two round-trip tickets to Fort Lauderdale, complete with hotel accommodations and transportation to attend the Fort Lauderdale International Film Festival; a $500.00 cash prize, and a trophy for placement in their school.


"I was taken with the participation of the schools. The response truly shows that the passion for film in The Bahamas is alive and thriving through our children," said Kendra Clarke, Group Corporate Affairs Officer and Project Liaison, GBPA.

The following are this year's high school film selections:



BAHAMIANS MUST LEARN TO FEED THEMSELVES

directed by Kenneth Farrington, Jack Hayward High School. 4.59 min. Agriculture accounts for just two percent of the Bahamas' 7.4 billion dollar gross domestic product and, from 1997 to 2007, the country doubled its spending on vegetable imports to reach a total of $100 million dollars. With rising food prices we HAVE to learn how to feed ourselves, and to not only feed ourselves but to make agriculture a viable business in the Bahamas. Agriculture could deliver a much needed boost to the Grand Bahama economy. This film chronicles much of what I learned this year while I attended Programme S.U.R.E. about growing organic fruit and vegetables and how to make it a source of income for my family and me.
Screening at 12:05PM, November 2nd.



HAPPY 40TH BAHAMAS

directed by George McInnes, Lucaya International School. 1.37 min. A short stop motion animation celebrating the 40th anniversary of the Independence of The Bahamas. The film is a tribute to The Bahamas' beautiful islands, sunny skies, pristine blue waters, exciting Junkanoo music, and majestic flag.
Screening at 12:40PM, November 2nd.

JANE CARTWRIGHT directed by Wiaja Hepburn, Eight Mile Rock High School. 4.59 min. This is a story about Jane Cartwright, a bully victim. When Marsha, a new student arrived, Jane's world became hell. After being threatened, beaten, and humiliated, she attempts to commit suicide.
Screening at 12:05PM, November 2nd.



KEEP GRAND BAHAMA CLEAN

directed by Vashti Charlton, Eight Mile Rock High School. 30 sec. commercial. A recent survey released by tourism today revealed that a high percentage of our tourist's visits are due to their attraction to our beaches and them enjoying marine activities. This commercial supports: a boast to our number one industry, tourism boast to my residential island and second city, and it highlights the pride of us Bahamians keeping our surroundings clean. This pride is passed on to persons from all level of society and from generation to generation as seen in this commercial even down to the baby. Screening at 12:05PM, November 2nd.



KEEP GRAND BAHAMA CLEAN ANNIVERSARY

directed by Nina Sanchez, Lucaya International School. This short film was created to bring awareness to why indiscriminate dumping and littering should not be tolerated on Grand Bahama Island. The film highlights what we are risking if we do not start taking action against those who are dumping waste all over our island.
Screening at 12:05PM, November 22nd.



TEDDY BEAR

directed by Delphine Carroll, Central Eleuthera High School. 3.12 min. An unusual girl grows up with strange habits. As these become dangerous, her parents decide to send her to a facility where they hope that she can receive help. However, while she is there, a strange scene results in the end of her life. Her Teddy Bear seams to have an eerie connection to her; she is always with it and the teddy bear seems to have an influence to her ghastly death. She becomes a ghost.
Screening at 12:05PM, November 2nd.



THE GOOD SAMARITAN

directed by Joanne Petit Homme, Eight Mile Rock High School. 4.59 min. This story is about a girl and her poor family struggling to survive being homeless. In the movie the girl takes responsibility for the family, she goes out to get embarrassed and beating up just to find food for her poor family. At the end of the day someone comes and rescues them. After all, the voice she had inside that no one knew about is out there and she's telling everyone her story. The poor girl is telling people what being poor is about and what all the pain it brought to her life. People didn't think she would be someone in the future but that lady came and showed her yes it will be a future for her!
Screening at 12:20PM, November 2nd.
Visitors and residents alike will be encouraged to come out and enjoy the films and events on offer during the four-day festival. More information about screenings, special events, parties and seminars can be found on TheBahamasWeekly.com or the festival's Facebook page:
"Ft. Lauderdale Int'l Film Festival On Location: Grand Bahama Island" for photos and further information.


Hosted at the Canal House, Pelican Bay Hotel, from October 31st to November 3rd , FLIFF on Location will also feature international films, outdoor screenings, an annual honour ee (previously Dennis Haysbert and Giancarlo Esposito), film specialist workshops, an island locations familiarization tour for visiting filmmakers, and an awards and wrap party at the Canal House, Pelican Bay Hotel.

Ticket prices are Day Pass $7.00; All Movies $10.00 and All Access Pass, $20.00 and can be purchased at the Pelican Bay Hotel. All films will be screened at Canal House, Pelican Bay except for the opening night films which are free of charge.

FLIFF On Location: Grand Bahama Island is a collaboration between the Fort Lauderdale International Film Festival, the Bahamas Ministry of Tourism and Grand Bahama Island Tourism Board. The event has been made possible through the generous support of the following sponsors: Pelican Bay Hotel; TheBahamasWeekly.com; Mackey Media Ltd; Bahamas Celebration Cruises; The Grand Bahama Port Authority Limited; Grand Bahama Island Tourism Board; FLIFF; and the Grand Bahama Ministry of Tourism.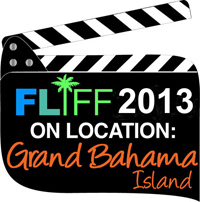 © Copyright 2013 by thebahamasweekly.com

Top of Page