Grand Bahamian Basheva Eve had the opportunity of a lifetime to showcase her designs at the 2009 Miss Universe Pageant held in Nassau on August 12th.
One of four designers selected for the event, Basheva Eve, of La Maison de Besh had three months to prepare 28 pieces for the show, but only one week to tweak the outfits after only one fitting took place with each pageant contestant.
When asked how she felt about the opportunity to work with the world's largest pageant and to receive such prominent exposure, Eve replied, "WOW! I felt it was a fabulous opportunity to have my work seen and appreciated by such a vast audience. It is so good when you receive positive feedback from your work. I think this exposure did much for my work in particular but also for the apparel / textile industry of the Bahamas in general."
In describing her design-style for her pieces for the big show she said, "I believe our lifestyle in The Bahamas is one of 'resort', it is laid back yet clean, elegant, sophisticated, unique and classic. This is what I wanted to present to the world."
Her outfits for the show featured hand batiked fabrics and plaited straw pieces. "The fabrics were wonderful because they were all organic to begin with and created right here in the Bahamas by Androsia and Bahama Hand Print. The straw used to create the bustiers is from our islands. Since these fabrics were created here in the Bahamas they have a flavor that could only be found in these islands, they are born from the currant of our culture. The colours used were taken from everyday life in the islands. I highlight the fabrics by accentuating with items such as iridescent paint, crochet roses, and Braided Bahamian Palm Leaf. I am an island girl and I took the colours from nature around me, colours I love that caress the eyes and are appealing on the complexion."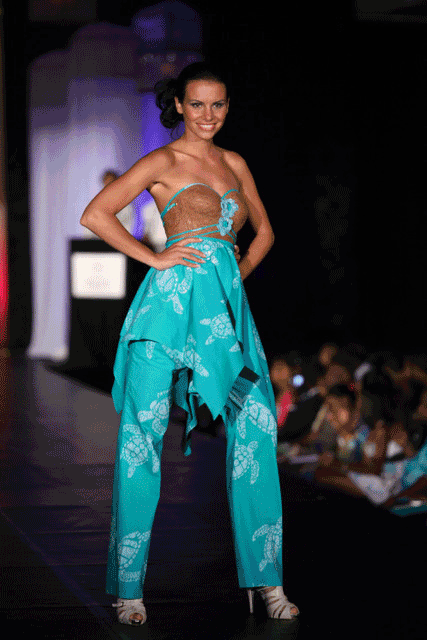 When asked about her experience of working with the pageant and the contestants Eve said, "I met with the contestants with my marketing director Rolanda Epstein for the fittings and our experience was very pleasant. The ladies that we were sent were absolutely beautiful, with perfect bodies and were very personable. As each lady left, there were hugs and invitations to exchange visits to each other's home countries. I would not want to be a judge at this pageant, as all of these ladies were at their best."
With representation in Nassau and Freeport, Besh creates truly unique garments and accessories for men and women, under the label La Bonne Vie Bahamas. Her philosophy is to design and manufacture clothes that inspire people to enjoy the magnificence of their inner beauty while transforming their image to an elegant, engaging one; and to create brands of style and enduring sophistication, while promoting respect for positive social and environmental issues .
Besh has designed for some of the Bahamas' most influential people. Among the many she has designed bridal ensembles for the daughter of the Prime Minister of The Bahamas, many National and International Beauty Queens such as prospective Miss World and Miss Universe.
"I design clothes that work for the individual; to me this is a must! It's about the personal relationship I have with you, my client, getting to know who you really are, that when you wear one of my garments it makes you feel you are absolutely "The Most Beautiful Person in the Whole World."
In addition, high profile and prominent business people alike seek out her modern designs of eye-catching gowns and elegant suits, which are so very haute couture.
There's much more to come from Basheva Eve, as she will be opening her new store this fall in Freeport, and as a creative mind, she has many more surprises in store.

Basheva Eve Achievements:
Graduate of Bauder Fashion College
1981… Designer of the year… Overall winner
1993…Quality Fabrics Fashion Committee "Designer of the Year "Awards…Best Wedding attire and Overall winner
1997…Quality Fabrics Fashion Committee "Designer of the Year, the Best of the Best"…won six of seven categories… Overall winner
Title holder for the Quality Fabrics Fashion Committee's "Most Outstanding Fashion Designer of the Bahamas"
Designed wardrobes for many Beauty Queens going off to international Pageants.
Worked in wardrobe for the feature movie "Zeus and Roxanne".
Braided Bahamian Palm Leaf Apparel exhibited and listed in the Grand Bahama Revisited Museum Exhibit and catalog, Commemorating 30th anniversary of independence Of the Commonwealth of the Bahamas
Volunteered as a Sewing and Pattern Making instructor at the Lucaya Urban Renewal Centre.
Executive board member of both the Pineridge Community Leadership Association and the Susan J. Wallace Community Centre, where she demonstrates her commitment to uplifting and empowering the residents of her constituency to be healthier and more self sufficient.
Contact info:
Basheva Eve
La Maison de Besh
242.352.6493 / 954.323.8298
www.bashevaeve.com
bashevaeve@yahoo.com