Freeport, Grand Bahama Island - Cristina Zenato, Diving Operations Manager, UNEXSO, and who is a NSSCDS cave instructor made history in December 2012 when she performed an historic double-stage exploratory cave dive made between Mermaid Pond in West Grand Bahama and an ocean blue hole.
This pond has been traditionally referred to as The Spring, a body of fresh water that is believed to be connected to the ocean (approximately 1,000 feet away), by an underground vein or cavern. It is believed that this reservoir of fresh water (crescent in shape with an approximate overall dimension of 97' x 40') is the result of a natural filtration process where salt water is filtered through the earth and rocks and eventually becomes fresh water.



Friend, colleague and photographer Eddy Raphael gives an account of the exciting day, along with providing the photographs seen here:


One sunny afternoon in late December, my phone rang. I answered it,and the conversation went something like this, 'Eddy! Eddy! Eddy! Get your camera, can you?! Meet us in Hawksbill by Mermaid Pond as fast as you can, we are going to make the connection! Come on, are you busy?? Come anyway!! Hurry!' – Well, I didn't get to speak much, apart from getting directions.
It was my very excited friend and cave instructor Cristina Zenato. Having dived the mysterious inland Mermaid Pond and found a new tunnel, she decided to explore it with her cave student and Rolex Scholarship winner Oscar Svennson, to see if they could find the link through to the ocean blue hole she had dived from the beach. If the two connect it will mark a great geological discovery.
Locals have now protected this unassuming, serene, and pretty little fresh water pond as part of the Bahamas conservation effort. Winding sharply down into the earth away from the tropical lush greenery above, it turns into a tunneled twisting abyss of bacteria coated ceilings amidst strange orange sulphur colored water. Mmmm. A cave divers delight!
Standing on the edge of the pond as final gear checks go on, crash hats are donned and gear is checked, and checked, and checked, the suspense makes me anxious. The locals look on with wonder and marvel at these crazy folk about to go down into the swampy abyss.You take into account that the rules are set, and cave divers don't venture where they shouldn't. Tragedy would most probably follow,and sadly, has done so in the past to surprisingly well trained cave divers. But this is Cristina we're talking about. I've done surface support before when she solo dives and it has the same feeling of suspense, but a good suspense.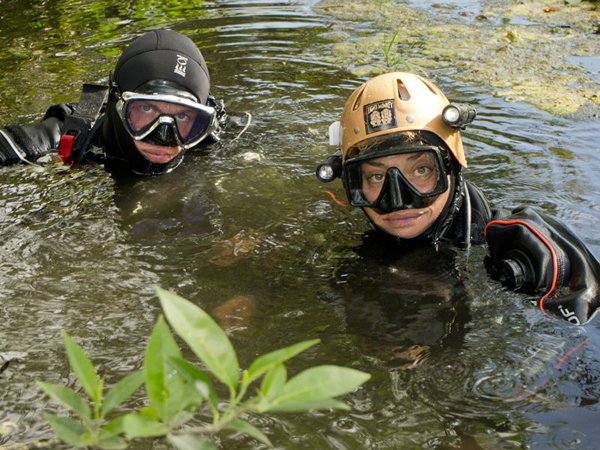 Cristine Zenato (left) and Oscar Svensson ready to take the plunge deep into Mermaid Pond in West Grand Bahama IMAGE credit: Eddy Raphael


Looking at my watch, Cristina firmly looks up at me from the entrance and says, 'one hour' and waits for my response. I look back and she has this kind of odd expression on her face that neither fills me with confidence nor does it make me doubt her, it's a mysterious look that she gets when maintaining her balance is required. Controlling stress levels and task loading is what she trained for. Of course, I realized at the very same second the fact that personally, there is no other person I'd rather be with in a cave, than her. Her cool nature whilst diving is unsurpassed, and for a cave diver, this is fundamental. Looking at my watch, I nod my head.

Divers who cave dive are splendid divers. They are the helicopter pilots of diving, able to maintain the utmost calm and control of their safety,whilst simultaneously traversing pitch black underground flooded networks sometimes with very challenging gaps and fissures, and our Bahamian caves are old, twisty, and delicate. They were around before everything. Millions of years old. Every cave diver knows that every time their fins twitch behind them they must be careful not to break any 'decorations' or crystals that may protrude up from the floor, or hang from the ceiling. They do their best not to stir the silt, or they may be blinded by sediment and get lost. They manage their gases,dive time, and equipment on the fly, juggling ever-changing conditions.The training of a cave diver is elite and awesome. For me, simple'Cavern' training came only after open water diving professionally as a photographer for many years, and it was rather eye opening.Now, you take the combination of the caves and the divers, you then add exploration of tempting tunnels and the addictive desire of discovery, and you may think: Danger? You bet. Scary? Maybe. Worth it? Absolutely. This is what it's all about. Goose bumps on the skin.Satisfaction and reward.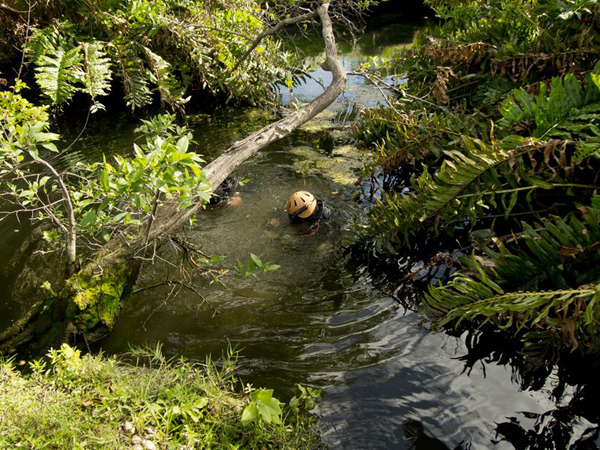 Cristina and Oscar in Mermaid Pond before their descent. IMAGE credit: Eddy Raphael


I glance over at Yoli, the other Rolex Scholarship winner who is visiting us and we both silently grin in anticipation without showing the others..as we both aspire to explore caves and hope that one day we can both be good cave divers. The silence is broken by a brisk bark. 'Bye!'Cristina and Oscar's heads duck below the surface, and are gone. The pungent smell from the disturbed pond water makes us wonder what else is down there. I look at my watch.

Normally a rush of adrenalin is a thrill, but at this point I'm thinking about good luck and cool thinking, and all the other things that you don't want to think about. Breeeeathe, I know they'll be successful.Okay! one hour.

There isn't much to do beside taking pictures and waiting up top,because even if something happens deep in a cave, we wouldn't be ofany help. Rescuing cave divers can only be achieved by other cave divers.

We get back in the car this time and decide to get a large well-earned cup of coffee for Cristina and a small bottle of beer for Oscar when they emerge victorious. A couple of Jamaican patties help to fill our stomachs. Positive thoughts fuel us all the way back to the ocean.Walking the 1/4 mile down the dirt road to the ocean toting the victory beverages, we feel the strong southerly wind and emerge out onto the flat rocky coastline, which stretches into the water. Where is that blue hole? Scanning the waterline along from shore we see a bubbling blowing volume of water jutting up from the ocean. Timing is everything for them as the tide has dictated which way the water will flow. Resembling a boiling pot of water, it is here that Cristina and Oscar are going to emerge.

At least that is what we hope... As time goes on, it seems like an eternity. 'I should keep the camera fixed on the hole' I say, 'maybe they will pop up, after all it is an hour now'. Yoli and I watch some children collecting stranded Octopi in a bucket for their dinner, and feel a little helpless like the Octopus. The late sun turns yellow-orange reflecting off the waves and we both turn silent.Come on guys...appear!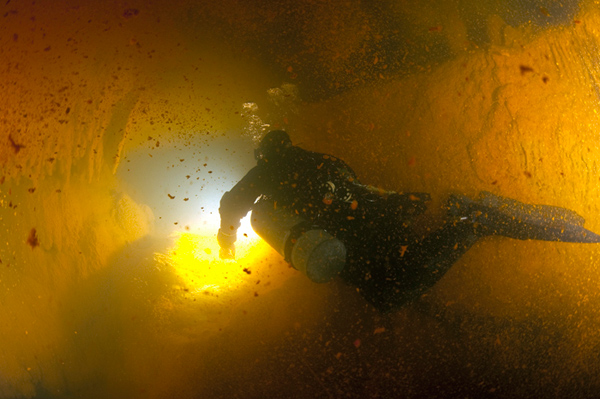 Photo: Arek Pers


Finally, a yellow helmet appears, and a grinning face along with it, they did it!! Staggering like crows they haul their side-mount tanks and more stage tanks slowly up the shore, and tired but laughing receive their hugs and back slaps. The sense of satisfaction on everyone's faces is wonderful.

So it really goes all the way through... This marks an important time for Cristina, and now she can add even more to her extensive mapping project. Back at the car, there is gear laid out for breaking down and picture taking and talking and smiling. There's even a little dancing. Amongst the hugging and dancing, Oscar holds up his hand and we all notice a small piece of duct tape wrapped around his finger. 'Did you hurt yourself Oscar?' says Cristina. Now remember that Oscar is also her cave student and cave divers are honest with one another. There is a code that allows a diver to call the dive before it happens, there are no questions asked. No reason needed. It avoids embarrassment, and more importantly accidents and situations from developing. Simple and effective.

However, if you hold back some small piece of information from peer pressure etc., this may be the one small thing that could potentially cause a tragic catastrophe.

Oscar's eyes get a little wider, and guarding his finger with his other hand he says sheepishly 'I broke it a little while ago, it's only a fracture and...' but before he can finish his sentence a sonic boom has broken the air. The lightning fast slap to the rear of Oscar's head by Cristina has just reinforced the cave diver code in a way he will never forget.


Nevertheless, it truly was a great day!