Katherine Smith

Managing Director

Disaster Reconstruction Authority

Remarks

at

Hurricane Dorian Closing Ceremony

and

Grand Bahama Centre Groundbreaking Ceremony and Luncheon

10:00 a.m.

Tuesday, April 21, 2021

Jobson Avenue, Freeport, Grand Bahama



Salutations
President Curry, Executives, Members and Volunteers of the Bahamas Red Cross;
Government Officials;
Members of the business community;
The Clergy;
NGO's;





Ladies and Gentlemen Good Morning.


When I was asked to address this ceremony as I read the letter of invitation, I took note of the name for this event which is; "Hurricane Dorian Closing Ceremony and Grand Bahama Center Groundbreaking Ceremony;" I chuckled to myself and wondered what it really meant.





While I understand in the minds of some the work of the recovery phase is at a close, and we are moving toward reconstruction; the impact of Dorian was so significant that hurricane recovery is still very much ongoing. According to the latest DRA statistics, there is a need to complete the repair of 3735 homes between Abaco and Grand Bahama. There is 3.5 million cubic yards of collected debris that must be reduced and sorted. Marine Clean-up has to take place as 2nd home owners return to mainland Abaco and the Cays. While some marine debris has been removed from areas around the Mclean's Town dock in Grand Bahama, work must continue on the marine front. There is a severe housing shortage in Abaco, particularly for public officers and renters. On Grand Bahama renters are having a tough time finding rental units that are also affordable. Critical Infrastructure at the Airport and Hospital on Grand Bahama has to be replaced. Thankfully, the first phase of the Rand Hospital work is completed. In a sense, we have only begun to set the blank canvas for a more resilient reconstruction effort. We have estimated at our current resource level, that sustainable development as a result of reconstruction could take several years.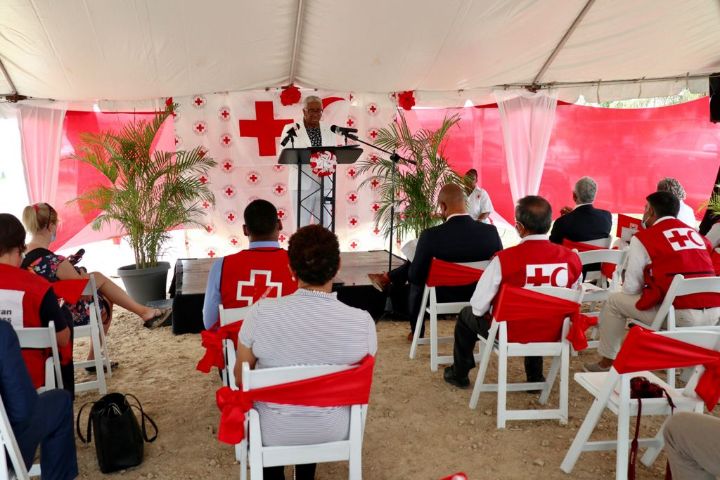 Ladies and gentlemen, I do not have to remind the residents of Grand Bahama what took place on those days in September 2019 when 185 miles per hour winds, gusts of 220 miles per hour, and storm surge that roared inland at more than 20 feet high in many areas. Dorian brought the ocean inland in downtown Abaco and Grand Bahama. While we will always remember in our Northern Islands the thousands of homes and businesses with varying degrees of damage; the impact of Dorian on our schools, clinics, churches, and government buildings; vehicles, and equipment; lives lost and too many reported missing; we must now move toward recovery and reconstruction.





The move toward recovery and reconstruction can only happen with the help and assistance of Non-Governmental Organizations (NGOs) like the Bahamas Red Cross, who like many other (NGOs) have supported the work in our communities by taking on projects like this new building to be constructed here today. We cannot underestimate the work of the Bahamas Red Cross throughout this Country. The work with our youth, reminding young people early of the need to appreciate volunteerism, its first aid programs; feeding programs; shelter programs; and of course, disaster management.




When Dorian hit our Northern Islands over 100 NGOs traveled to Abaco and Grand Bahama, but our local NGOs were here with us and remain with us through these times of recovery and reconstruction. Whenever I have the opportunity to speak about recovery and reconstruction efforts I always say, "there is only one recovery effort with many hands-on deck, and it is a community effort that requires the work, support, and volunteerism of all who love this country and want to see the success post Dorian.




The Disaster Reconstruction Authority (DRA) congratulates the Bahamas Red Cross in its work for humanity. We will continue to work with the Bahamas Red Cross and all NGOs to achieve the vision and mission of the DRA "To rebuild one community at a time with a team focused on rapid recovery and reconstruction while improving the lives of our people."




Thank you, President Curry and the Bahamas Red Cross team, for your work, we wish you every success in this endeavor and we welcome your cooperation and participation in the development of future facilities.




Thank you for allowing us to participate in this ceremony today!