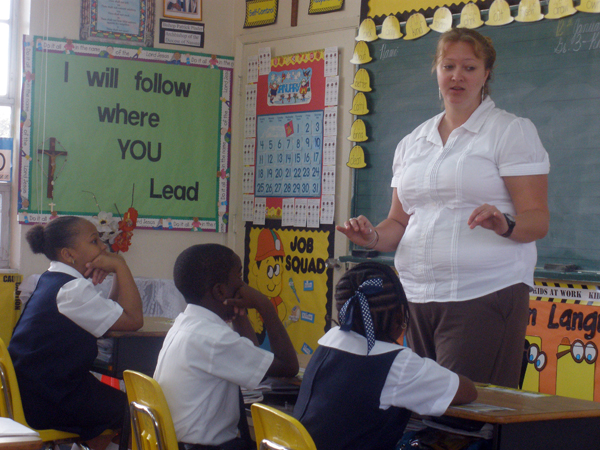 Laura McDowell instructs a class of students at Mary, Star of the Sea. Photo: Kristen Schober
Building Relationships in the Classroom and at the YMCA After School Program
Grand Bahama Island – Four senior students from St. Bonaventure University near Olean, NY will be completing their first placement of student teaching in four schools on the Grand Bahama Island.
Dave Dowd, Connor Dougherty, Laura McDowell, and Meredith Nappa will be living and teaching at local school for the next seven weeks.
McDowell is extremely excited to be a part of this program. "This is an excellent experience for me," said McDowell. I think it's going to be really interesting to interact in an environment in which I am, for once, the minority."
Nappa feels similarly. "This is a really unique opportunity for a student teacher," she said. "While I plan on helping to teach the kids, they'll also help me to learn about their culture and their lives.
In addition to working along side Bahamian teachers, Dowd, Dougherty, McDowell and Nappa will be running an after school program at the YMCA in Freeport.
Area students are invited to join after school program which runs Monday through Thursday from 4 p.m. to 6:30 p.m.
During these times, students will begin their homework and play games with the St. Bonaventure student teachers.
According to Dowd, the program is off to a great start. "So far, so good," said Dowd. "We've had between 25 and 30 kids at the program all week. The kids generally finish their homework quickly and we move on to playing 'Duck, Duck, Goose,' 'Red Rover,' soccer, tag and other children's classics."
Dougherty hopes to see the program expand during his seven-week stay on the Island. "The more kids that take part in the program, the better," said Dougherty. "We'd like everyone to take full advantage of this program which will allow us to build relationships with the kids for the time that we're here."
Dowd, Dougherty, McDowell and Nappa were set up at St. Vincent's, the Beacon School, Mary, Star of the Sea and Bishop Michael Eldon School through St. Bonaventure's Students in Free Enterprise (SIFE) program.
SIFE advisor Dr. Todd Palmer has confidence that the after school program will thrive under the watch of Bonaventure students. "These are four great, hard-working and responsible young people," said Palmer. "I've never taken a better group of students to the Bahamas and I have high hopes and expectations for what they will accomplish during their stay here."
Editor's Note: This article was written by Kristen Schober who is a senior at St. Bonaventure University, NY, and was visiting with the other students mentioned in this story. Kristen is majoring in Journalism/Mass Communication with a minor in marketing. She can be reached at SCHOBEKF@sbu.edu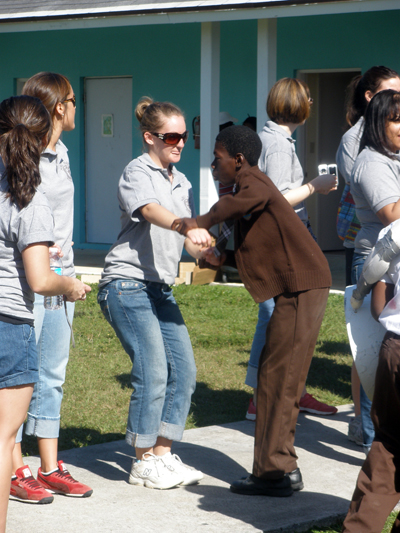 Meredith Nappa dances with a Beacon School student during Junkanoo practice. Photo: Kristen Schober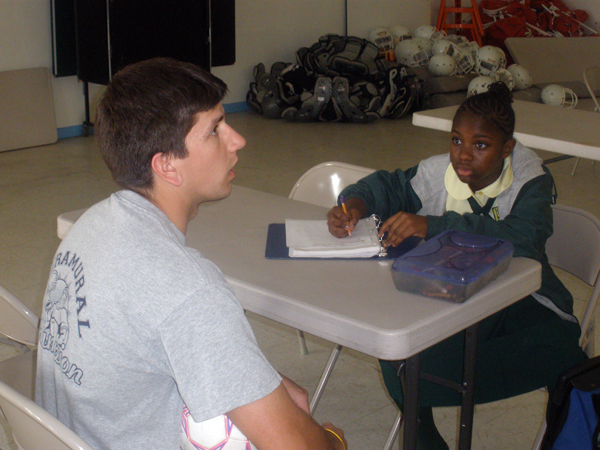 Connor Dougherty helps a student with her homework at the YMCA afterschool program. Photo: Kristen Schober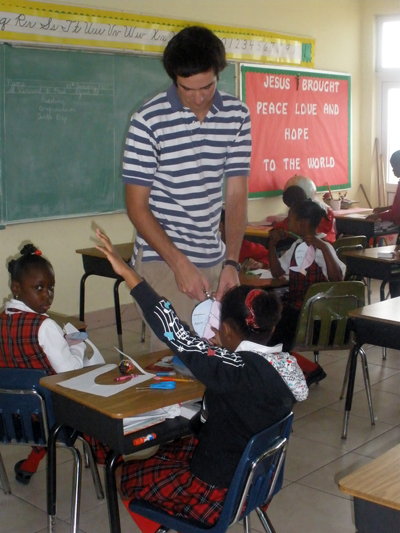 Dave Dowd helps a student make a book titled "The Day My Teacher Fell Asleep" at St. Vincent's. Photo: Kristen Schober
Related articles:
Could The Bahamas become a Mecca for International Student Teachers?
Glenn's Gift that keeps on Giving
The YMTA Summer Camp in Hunters - a Success Story