You've set a date for your event

, and arranged your speakers, entertainment, catering, and even have your posters printed... You of course want to make sure everyone knows about your event to optimize your ticket sales to make your event a success.



Pump up your promotions through TheBahamasWeekly.com
.

We are number one on Google for "Bahamas News and Events" and with our high Google presence you will definitely get noticed when you purchase an event promotional package with us.

For major conferences we suggest a 3-month promotional lead time; and for concerts and charity events at least a 2-month lead time.

If you've left it late, and your event is in a couple weeks, do not fret, as we can do much for you to give your event that final push it needs!

Your Event Poster will be featured on our Event Calendar page and link to either your website or a feature page on our website. (Nassau, Grand Bahama, or Family Islands) *

subject to availability.



A Feature Article Webpage - those you see down the center of our website - which also get shared to our social media pages. Your article would be featured in our Friday news updates to our subscribers the week it is published.


Your Event Poster will be posted to our Facebook page once per week; and once a day in the final 2 weeks leading up to your event.

Your Event Banner Ad will appear on every single page of TheBahamasWeekly.com (left column) and link to your feature page on our website or to your own website. We can even link it to a Facebook page.


Your Event Banner Ad will be featured in our Friday mailing (right column) of our Top 70 News Stories of the Week emailed to our subscribers. It's why we are called "Weekly"!

You will get one E-blast per month through our Bahamas E Marketing opted-in service as part of our 2 - 3 month promotions; AND/OR once per week for a 2 week promotion...

How to get started?



Once we've discussed your needs and decided on the type of package that's best for you and your budget, we'll request you to send us your promotional information as soon as it's ready (poster, press release, photos, etc.) Contact us at thebahamasweekly@gmail.com

Perhaps you're traveling to The Bahamas to put on a conference or information session about your educational facility?

Here is an example of a Feature Page for an educational institute which regularly visits The Bahamas.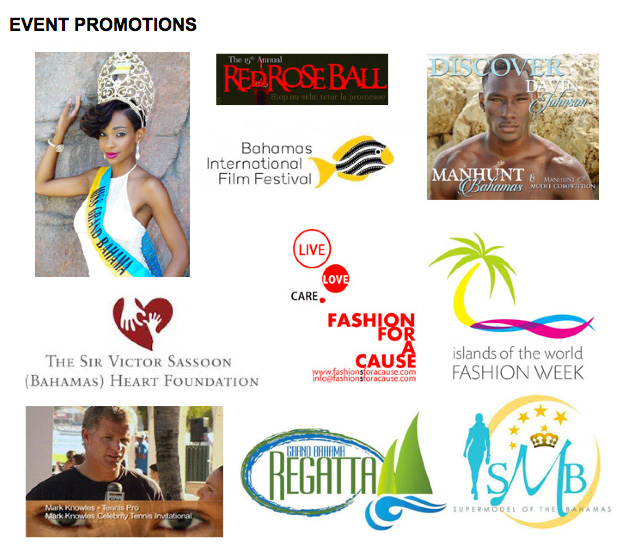 Only some of the events we've supported!


Don't forget public relations! Do you need help getting press releases out about your event to the local media? We can also assist with press release writing and/or dissemination.

No graphics? No problem! Our team can also assist you with creating graphics to promote your event. Just ask.


We also offer Event Coverage... Do you have photographers in place to capture your historic moments? How about videographry to create an overview of highlights of your event? The Bahamas Weekly / Mackey Media Ltd can provide you with top notch coverage that entails video, audio recording of speeches, and photography to make sure your event is preserved, and you are set to send out a post-event release showing everyone that did not attend, what they missed. Make your guests feel like stars with red carpet photos and interviews.


Social media support. In today's world, a happening event is when photos and tweets are hitting social media before your guests leave! Hire our team to be on hand to update your social media pages while your event is underway. Perfect for multiple day events like conferences. We can even create your Facebook page if you do not have one. Let us help you get #hashtag savvy!


TheBahamasWeekly.com is a high traffic, web-based news and events portal specializing in full colour photo displays, document attachments, audio / video streaming, and livestream capabilities. Our features appear within minutes in Google.

Our archive of over 40,000 articles provides a plethora of rich historic content, bringing web-surfers again and again back to our pages.

Averaging 7 million hits per month and promoting Bahamians everywhere, The Bahamas Weekly also covers top global and Caribbean news. Based on demographics, over half of our readership is from the United States, making us the ideal medium to advertise tourism related products or services.

"TheBahamasWeekly.com contributes to the positives of the Bahamian future and spirit..." - Christopher Rahming

"Easy access via facebook, up to date with news happenings, giveaways, accurate information and wonderful pictures!" - Sonia Smith-Knowles

Click HERE to see a shortened Preview of our Mailer on our website. Be in the know for all things Bahamian and subscribe today!


Contact us at thebahamasweekly@gmail.com


The Bahamas Weekly's MEDIA KIT


Here is a Preview of our Weekly Mailer which features our Top 70 Stories of the Week, and is emailed to our Subscribers each Friday. Subscribe on our left column to receive yours!