Late potcake star AMIGO is now a cartoon character with his very own website www.amigothepotcake.com. Geared primarily to 'children of all ages' the site is an extension of Amigo's mission in life, that of 'making the world a better place for potcakes' and all animals and is intended as a series dealing with tragic issues facing animals today.
The website also features a song about him that was recorded by Ronnie Butler and 'Sweet Emily' Austin. The song was produced by our very own Dave Mackey which is now featured on all of the internet sites….ITunes, CDBaby, Napster and Amazon as well as a music video produced by the team that produced "Who Let the Dogs Out," filmed primarily in The Bahamas including scenes in High Rock and Port Lucaya.
Frances Singer-Hayward, Amigo's 'human' stated that "she couldn't be more thrilled at this latest phase of keeping AMIGO'S legacy alive…. Since his tragic death several years ago after a brave battle with cancer it couldn't be more appropriate that he be made into a cartoon character which was always my goal for him… to make him 'The Donald Duck of Potcakes' as it were… only as a 'mutt with a mission,' that of raising awareness to the tragic plight of so many potcakes and all animals. The website, however, doesn't stop there…. through AMIGO, and his experiences, it teaches children the importance of 'caring….' Helping those less fortunate and in need, and 'giving back…' It is my hope that through this site Amigo's legacy will be perpetuated in a way that will keep him forever alive, even after I'm gone from this earth…."
Ms. Singer-Hayward went on to say that that it never ceases to amaze and touch her heart as to the true impact AMIGO made while he was alive…. She told of how "there is not a single place I can go to in The Bahamas - walking through airports, clearing customs, walking on the street in Nassau, going into stores, where people don't come up to me and speak of him…telling of how much he is missed and how much he meant to everyone…I was even standing watching Junkanoo in Nassau one Christmas and a group of people said 'aren't you the lady with that dog Amigo?' and though it breaks my heart, it strengthens my resolve to keep his 'mission' alive……
I can only hope his 'mission' will be kept alive as a cartoon character and that this website, which is wonderfully entertaining, will help to do that…" There is also an illustrated children's book about AMIGO and his story soon to be published with illustrations by the creators of Frosty the Snowman, The Last Unicorn, and many other cartoon classics.
AMIGO started life as a tragic stray pup that Ms. Singer-Hayward found outside of Grand Bahama Airport. He then became the 'poster dog' for the HSGB Spay/Neuter Campaign which Ms. S-H had only recently founded (and funded) starring in wonderful, eye catching posters (which have since won awards for HSGB) as well as all other issues dealing with treatment of animals with the slogan "Let's Make Grand Bahama and Animal Suffering-free Zone….' His face was soon everywhere, on t-shirts, hats, golf shirts, as well as in tourist magazines. He was chosen "Story of the Year" by the Nassau Tribune, and received constant publicity with his school visits and 'awareness raising' activities. He was always accompanied by his friend and trainer, Canadian animal behaviorist William (Bill) Grimmer, who is responsible for socializing him, bringing out his personality and making him into the little 'superstar' that he became…
Taking his message abroad, AMIGO lived an amazing, madcap, purposeful life, hobnobbing with celebrities, starring in the HSUS BEKIND campaign, appearing on Fox News, CNN, MSNBC, featured in magazine and newspaper articles in the States, flying across America in his very own first class seat as a 'celebrity pet,' receiving the ARF (Animal Rescue Fund of the Hamptons) 'Ambassador of Goodwill' award presented by TV and film star Alec Baldwin, starring in Public Service Announcements shown on TV stations across the country along with hip hop impresario Russell Simmons and HSUS CEO Wayne Pacelle, 'commandeering' his own rescue mission ("The Amigo Express") to Tylertown Mississippi to bring back animals displaced after Hurricane Katrina, after which he starred in two Mardi Gras Parades as "King of Barkus" and the next year "Grand Marshall," receiving the Hollywood Life Breakthrough Award presented by film star Alicia Silverstone and mc'd by Eddie Murphy, walking the catwalk in fashion shows to benefit homeless animals, only to succumb in September 2007 after his brave battle with cancer which had required amputation of his right hind leg, as well as grueling chemotherapy but left him typically undaunted until the very end…..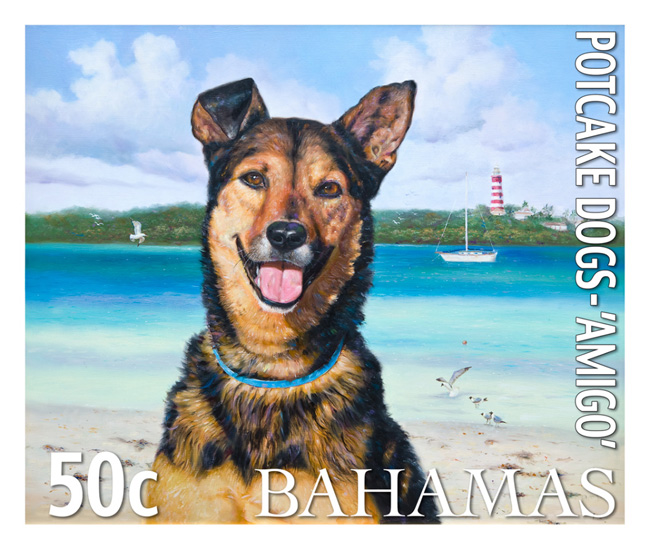 A 'commemorative stamp' based on a painting by world renowned Bahamian artist Alton Lowe was issued this past year as part of the "Potcake Series" of which AMIGO was the inspiration. AMIGO also was the 'cover dog' of the magazine "Abaco Life" last April.
Ms. Singer-Hayward has established AMIGO'S FUND (www.amigosfund.org) as well as The Friends of Amigo Foundation in order to keep the legacy and mission of this gallant little potcake alive. It is hoped that he will now live 'forever' as a cartoon character, as shown in his new website.
Ms. Singer-Hayward made a plea that people will support the Humane Societies throughout the Bahamas and of course The Humane Society of Grand Bahama with which he was so connected. She stated that the purpose for all of this is to raise awareness on the treatment of animals and encourage everyone to support their local animal shelters.

(Editor's note: Originally posted in June 2010)