Last Updated:

Feb 13, 2017 - 1:45:37 AM
---
Executive Chef Jack Stubbs has come a long way from a Thatched Roof Kitchen in Cat Island

WASHINGTON, D.C. - When Prime Minister Perry Christie, Foreign Affairs Minister Fred Mitchell, Environment and Housing Minister Kenred Dorsett and other members of a Bahamian delegation were in Washington, D.C., for the inaugural Caribbean Energy Security Summit hosted by United States Vice President Joseph Biden this past January, Mrs. Paulette Zonicle, Bahamas Consul General to Washington, D.C., hosted a dinner for them at the Hyatt Regency in Bethesda, Maryland, that featured primarily a Bahamian menu that is not ordinarily included in the upscale hotel's culinary options.


Several months earlier, however, Consul General Zonicle, whose responsibilities include outreach efforts to Bahamians in the Diaspora, had been invited to lunch at the Hyatt by the executive chef and the dining experience was "absolutely fantastic," as she later described it, so she decided that the Hyatt would be the ideal place to host a dinner for the Prime Minister and the Bahamian delegation.

And it was indeed a thoroughly enjoyable, sumptuous, multi-course dinner, with a distinct Bahamian theme, prepared by Executive Chef Jack Stubbs, a native of The Bahamas, who is originally from Dumfries, Cat Island.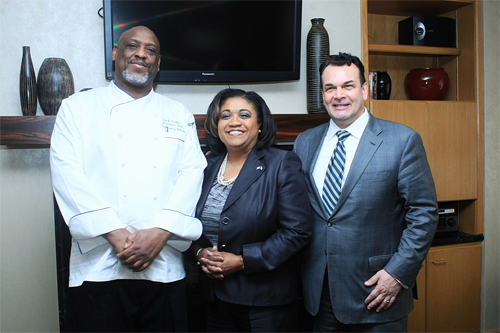 For appetizers, the Bahamian delegation and other guests dined on tamarind chicken brochette with grape chutney, conch blini with tomato lime chutney, fresh ground conch meat, fresh herb, vegetables and spice tossed flour batter to create mouth-watering, succulent mini pancakes topped with tomato lime chutney.

The soup course consisted of sweet potato bisque with coconut brandy cream, served with Johnny cake; garden fresh roasted sweet potatoes and cinnamon married with fresh herb, spices, brandy and coconut milk.

The meal also included a Caribbean Caesar Salad made of crisp fresh chopped baby romaine lettuce topped with dice ripe mango, black olives, orange section, avocado and julienne carrots with champagne tamarind vinaigrette.

The choice of entrees included pan-seared grouper fillet, with roasted corn and smoke tomato salsa; herb marinated grilled prime rib of beef with fresh thyme guava demi; Lobster Junkanoo: spiced deep fried lobster meat in parmesan cheese, drizzled with lime butter.

Listed on the menu as "Starch" were Bahamian peas and rice and garlic herb mashed potatoes with coconut milk.

Vegetables included sauté spinach with fresh herbs, stuffed tomato with caramelized mango and ginger kale, fried plantain terrine, with red bell pepper and fresh herb.

The dessert was a duet of pineapple and coconut tarts in dark and white chocolate crust with ginger caramel dripping.

Clearly, the Hyatt Regency's Executive Chef Jack Stubbs has come a long way in his chosen profession since he first developed a love for cooking watching relatives prepare food in a thatched roof kitchen in Cat Island.

Mr. Stubbs moved to the United States thirty years ago after he met and subsequently married the former Brenda Antoinette Carter, a Speech Pathologist, who is now retired after 33 years in the D.C. Public School System.

He is big man -- six feet, three inches tall and weighs 265 pounds – and his wife's profession could very well account for the fact that he is very articulate and soft-spoken.

The son of Leon Jehu Stubbs of Dumfries, Cat Island, founder of the legendary Region Bells religious singing group, and Irene Williams of Old Bright, Cat Island, young Jack Stubbs spent his boyhood years between Cat Island and Nassau.

"My father lived in Nassau and most of my time when I was a boy was spent on Cat Island with my uncle and aunt, Rupert and MaryAnn Stubbs, and their kids," Jack recalls. "This is where I honed some of my cooking skills, watching and learning under the thatched roof of the outdoor kitchen. The smell and taste of fresh fish caught that morning and vegetables fresh from the field; the homemade breads -- cassava, banana, sweet potato, and flour bread; the New Year's Eve flour cake, benny cake, crab and dough; planting, slash and burning, fishing, crabbing season, harvesting the crop were all a part of daily life."

Jack says that he decided to "become a chef full-time after I got promoted to sous chef at Resort International on Paradise Island."

"I was attending Teachers Training College at the time at the College of The Bahamas, receiving $600.00 every three months or sometimes nothing," he says. "The promotion to sous chef and the wages swayed me to becoming a chef and I never looked back."

En route to becoming Executive Chef at the Hyatt Regency in Bethesda, a position he has held for the past twenty years, some of the position Jack Stubbs has held in the culinary field include: Prep Cook, Bahamian Club, Paradise Island Resort international (Britannia Towers); Vegetable Cook, Villa De Este, Paradise Island Resort International; Chef De Partie, Coyaba Restaurant, Paradise Island Resort International; Sous Chef, Coyaba Restaurant, Paradise Island Resorts International; Head Chef, Café Casino Restaurant, Paradise Island Resorts International; Head Chef Pisces Restaurant, Paradise Island Resorts International; Executive Sous Chef Club Landor, Paradise Island; Executive Chef/Part Owner, Orange Hill Restaurant; Executive Sous Chef, Xanadau Beach and Marina Resort, Freeport, Bahamas; Executive Assistant Manager – on Duty Xanadau Beach and Marina Resort – Freeport, Bahamas; Executive Chef, Trumpets Restaurant, Washington, D.C.; Executive Chef, Hyatt Regency Bethesda.

Executive Chef Jack Stubbs is also a published author with the following books to his credit: "Quilt -- A Love Story During the Time of Slavery"; "Taste of the Island and More"; "Cooking with Chef Jack."

During the interview, which was organized by Consul General Zonicle and held in one of the hotel's executive suites, Hyatt General Manager Thomas Carlos stopped by and he had high praise for his executive chief and his culinary ability.

Jack and his wife Brenda live in Upper Marlboro.

Oswald T. Brown is the Press, Cultural Affairs and Information Manager with the Bahamas Embassy in Washington, D.C.









© Copyright 2015 by thebahamasweekly.com

Top of Page