Last Updated:

Feb 6, 2017 - 2:32:04 PM
---

(December 14, 2013) Word has just come in from Zimbabwe, Africa that Miss Shequera King has claimed the inaugural title of Miss Heritage World today!

Miss King, who is from Grand Bahama Island also won in the talent and national costume segments. Miss Heritage World finals took place in Harare at the Harry Margolis Hall on December 14th. Along with Miss Heritage World Bahamas 20 contestants took part from Ecuador, Estonia, Ghana, India, Italy, Namibia, Nigeria, Russia, Sierra Leone, South Africa, Zambia and Zimbabwe.

1st runner up was Swati Kain from India; and 2nd runner up was Nataliya Poluektova from Russia. Miss Personality award is from Sierra Leone. Pageant entertainment was provided by Guspy warrior, Trevor Dongo and Ba Shupi.

"Thank you everyone so very much! Your congratulatory remarks have me in tears. I'm so honoured, wrote Miss King when she was finally able to get to the computer after winning."I have made history by becoming the first Miss Heritage World! Thanks be to God! So happy to have made my country pro ud! Team Bahamas all the way! Many thanks to my sponsors, supporters, mentors, coaches, family and friends for your contributions, encouraging words, advice, prayers, and overwhelming support! Mommyyyyyy we couldn't do this without you! Thank you for the sacrifices you made to get us here! I love you soooo much. Love you Bahamas! Love you Zimbabwe! God is good!"

Shequera, the reigning Miss Grand Bahama is a 24 year old, ambitious, intelligent, talented, young lady that loves modelling, reading, singing, dancing, travelling and spending time with family and friends.



Shequera is a graduate of Sunland Baptist Academy and her parents are Thomas and Myrton King, natives of Cat Island and Long Island respectively. She pursued her tertiary education at Liberty University in Lynchburg, Virginia where she graduated in May 2009 on summa cum laude honours with a Bachelors of Science Degree in Business Marketing.

MIss King previously participated in the Bahamas Galaxy Pageant where she placed 2nd runner up and competed in the Nu Face Model Search, placing 1st runner up. Shequera's has much experience in modeling and has walked for local and international designers.

She is empowered to achieve her goal of effectively carrying out her platform "Building Character and Confidence in Bahamian Youth" and assists young people in the community through two young adult groups.



In future, Shequera wants to obtain a Master's Degree in Project Management and become an entrepreneur, establishing her own promotion and event planning company. She is proud to be an ambassador for the Bahamas, and when in college she helped establish Caribbean in Action (CIA), a group which brings awareness to the beauty, culture, and people of the Bahamas.

Miss King will also represent her country at the

Miss Coffee International Beauty Pageant in Colombia in January, 2014.


The Miss Grand Bahama Organization wishes to thank the following: The Grand Bahama Port Authority; Mr McBride / YKM Studio; Charmaine McNabb / YMCA Fitness; Ms. Karon Johnson/ YMCA; Kelly's Freeport Ltd; Patrice; Escanti Shoe Store; Ms Rengin Johnson; Mr. Archer/ Terreve College; Animale; Ardrels Fashion of Eight Mile Rock; Fay's Elegant Design; Veronica Ellis – Empress; BWA; Ms. Robbin Whachell / TheBahamasWeekly.com; John Heath Jewelers; Hedley Forbes; Frank Outten; Paul Darville; Bloniva Percell; Mr. & Mrs. Mannie Smith; Demeco Nesbit; Garnet Knowles: Mr. & Mrs. King; Eric Baptista; Sawyers Fresh Market; Peter Turnquest, MP; Donna Jones; ABC Pharmacy; Chris Gouthro; James Sarles Realty; Crown Ice; Seventeen Shop; Leshan Ferguson (Makeup); Daphne Tynes; Discovery Cruise Line; and Jackie Carroll.
The

Miss Heritage World Pageant

is open to contestants

between the ages of 17 and 28 who are from all different cultural and religious backgrounds. Miss Heritage World Pageant serves as a platform to promote Heritage exchange amongst the participating Queens from different countries and also promotes and preserves World Heritage, implementing UNESCOS World Heritage convention to achieve the Millennium Development Goals Declaration.





As part of Miss King's requirements she had to provide a Promotional and Tourism-related Video from her country. The pageant believes that tourism is the key impetus for a boom in heritage promotion in the world and Heritage Tourism is a powerful force which must be harnessed. The winner of the pageant shall execute duties that go hand in hand with World Heritage Tourism and Sustainable Development.

In her video presentation, Miss Heritage World Bahamas gives an excellent overview of the history of The Bahamas, along with its tourism jewels from a cultural angle.

(The video was produced by YKM Studios in Grand Bahama under the guidance of
Vanessa Sietsema-Hall, Assistant Director, Miss Grand Bahama Organization.)


Follow Miss Heritage World, Shequera King on Facebook.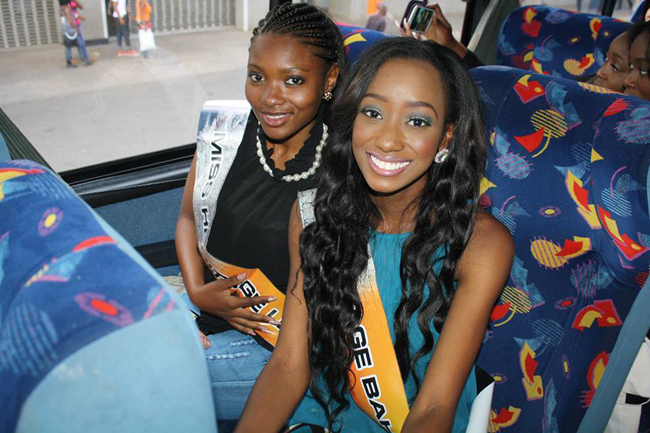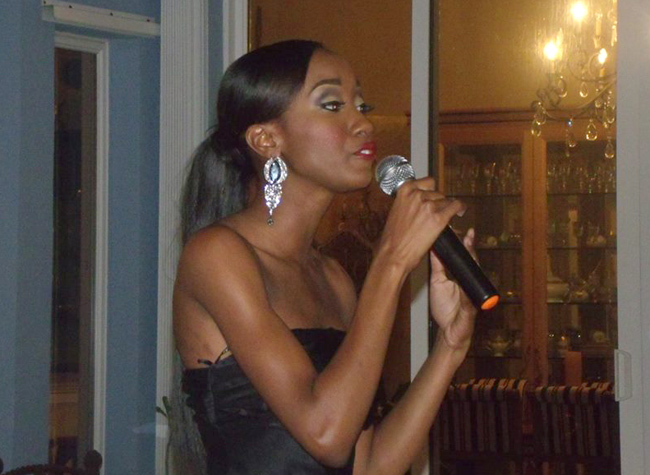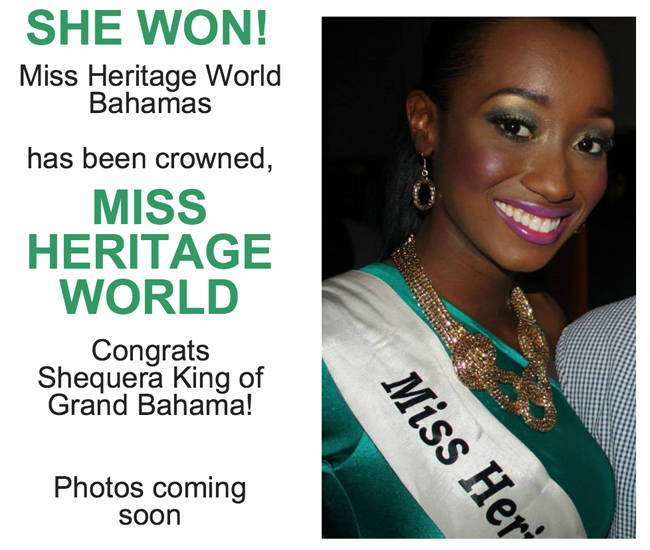 © Copyright 2013 by thebahamasweekly.com

Top of Page