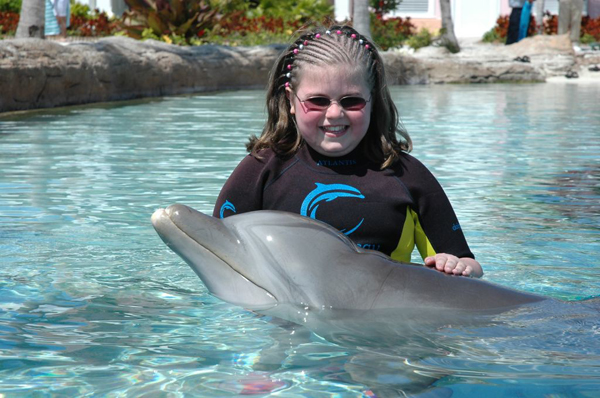 Thirteen year old Make A Wish recipient Meghan Griffin with a dolphin friend at Atlantis, Paradise Island. Photo courtesy of Dolphin Cay, Atlantis


Paradise Island, The Bahamas - Visiting The Bahamas and staying at the luxurious Atlantis, Paradise Island is a dream come true for thirteen year old Meghan Griffin who is battling an unidentifiable lung disease. The Make-A-Wish Foundation, which acts as a genie to many children with life threatening medical conditions, made it possible for Meghan to experience Atlantis.

As a member of this organization for just six months, Meghan was allowed to choose any place in the world she really wanted to visit and she chose Atlantis because she'd heard so much about the fun and excitement of the resort.

Meghan has been battling the terminal illness for more than 8 years, and sadly, she's now in her final stages. Her condition is so severe that she is required to stay mostly indoors and must wear a mask and gloves for protection. Luckily, for this occasion, doctors were able to give her special medication so that she could enjoy her once-in-lifetime vacation free of the prescribed attire.

"This trip gives her the freedom to feel like a normal kid," her father, Kevin Griffin shared as he expressed how grateful he was that his daughter was afforded such an amazing experience.

"My favorite part of the trip was at Dolphin Cay," exclaimed Meghan who expertly gave this analysis of her experience, "dolphins swim really fast and they have a lot of teeth!"

Meghan and her family (father, mother, grandfather, and sister) enjoyed the experience at Dolphin Cay courtesy of Atlantis, Paradise Island and also received a special welcome gift bag from our Guest Activities Department.

The Griffin family continued their adventures at Atlantis, Paradise Island before returning to their hometown, North Reading, Massachusetts.

Listen to an AUDIO interview with Paula and Meghan Griffin.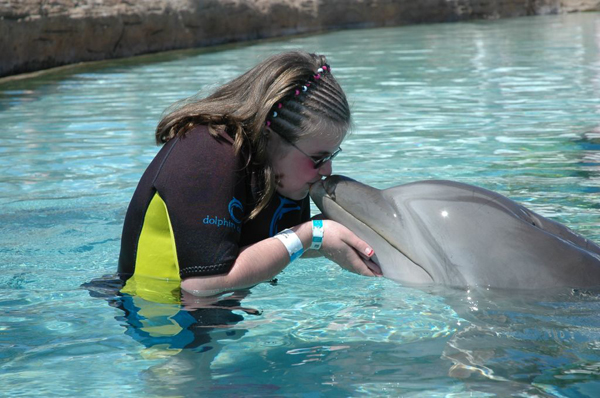 A dream come true for Meghan Griffin as she kisses a dolphin in The Bahamas. Photo courtesy of Dolphin Cay, Atlantis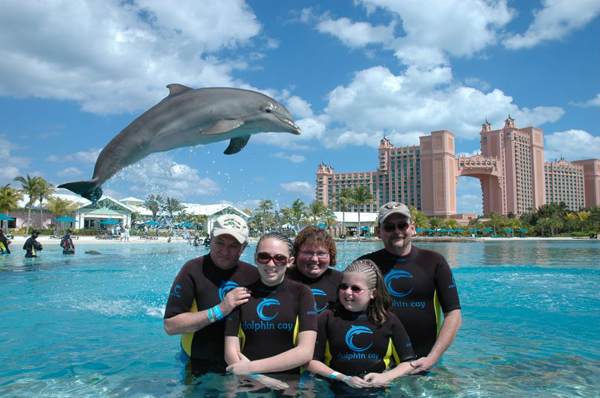 The Griffin family at Dolphin Cay, Atlantis in March 2009. Left to right: Meghan's grandfather Paul Monette, sister Jennifer Griffin, mother Paula Griffin, Meghan, and father Kevin Griffin. Photo courtesy of Dolphin Cay, Atlantis