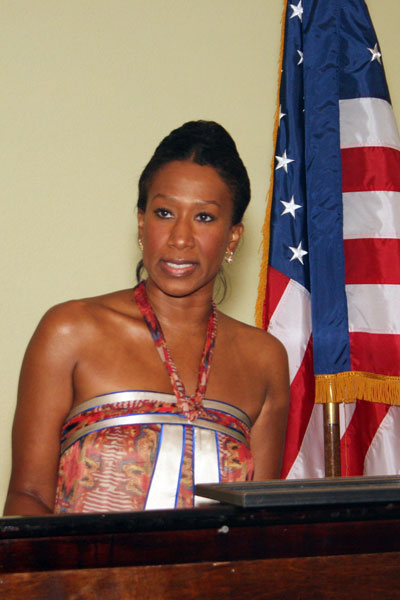 Ambassador Avant's Remarks at
The Red Rose Ball (Freeport)
Saturday, November 7, 2009, at 7:20 p.m.
Ambassador Rood,
Mrs. Odette Knowles,
Mrs. Jasmin Shirlee,
Mrs. Morris,
Sponsors of the Red Rose Ball,
Distinguished Guests,
Ladies and Gentlemen,

Good evening.

It is my pleasure and honor to attend the 10th annual Red Rose Ball. This is my first trip to Grand Bahama, and I am thrilled to finally have the opportunity to begin visiting the beautiful Family Islands. This is also my first Ball in The Bahamas, and I am so glad to use this opportunity to promote the education and prevention of HIV/AIDS in this country. This issue is near to my heart and is also an important objective of the Obama Administration.

While preparing to assume my new role as Ambassador, I was surprised and saddened to learn that there are nearly7500 known individuals in The Bahamas that are currently infected with the HIV virus or have contracted AIDS. There is an urgent, world-wide need for programs and initiatives that support people living with AIDS and their families. The U.S. applauds the Ministry of Health, National HIV/AIDS Program, AIDS Foundation and Bahamian non-governmental organizations for their tireless work to address this issue right from the beginning. Their contributions have significantly decreased the overall HIV incidence rate in The Bahamas, improved overall access to health care and reduced the odds of mother-to child HIV transmission. I am pleased to learn of the recent establishment of HIV rapid testing centers in New Providence and Grand Bahama. I am also encouraged to learn of public-private partnerships that reduce the stigma and discrimination so commonly associated with this terrible disease.

The U.S. is committed to supporting HIV/AIDS projects in The Bahamas. The fight against global HIV/AIDS is central to my country's foreign policy and to our global health agenda. President Obama's Global Health Initiative is a continuation of my country's leadership in the global effort to address health priorities like HIV/AIDS. The U.S. Government understands that the majority of countries hardest hit by the epidemic often do not have the capacity to do as much as they would like– particularly with respect to financing. This is why we are committed to working as supportive partners in helping countries build their capacity to respond.

To that end, an important role in our partnership with The Bahamas is the President's Emergency Plan for AIDS Relief, known as PEPFAR. The Ministry of Health recently signed on to a five-year joint strategic plan through PEPFAR to build a sustainable, national HIV /AIDS response in The Bahamas. U.S. health experts will work hand-in-hand with government officials, civil society, the private sector and community leaders to help them in their efforts to plan, oversee and manage HIV/AIDS prevention programs; deliver quality services, and ultimately, finance health programs. We hope that these resources will have a cumulative, lasting impact on the health system to improve access for all Bahamians, especially on the Family Islands.

My government, through The Ambassador's HIV/AIDS Prevention Program, has already partnered with the Ministry of Health and Bahamian HIV/AIDS non-governmental organizations to address the unique challenges The Bahamas faces in its struggle against HIV/AIDS. In 2008 and 2009, we supported peer training workshops to combat stigma and discrimination with the Youth Ambassadors for Positive Living; we also partnered with the AIDS Foundation to create public service announcements targeting young people in The Bahamas. In 2010, the Ambassador's HIV/AIDS Prevention Program will provide at least $26,000 in support for these organizations once again as well as the Ministry of Health's National HIV/AIDS center.

The successful grantees have proposed some very exciting projects that place a focus on adolescents and youth, the fastest growing segment of the population affected with HIV/AIDS. Stay tuned for some excellent peer educator workshops, an adolescent support program, a stigma and discrimination-themed youth rally and concert as well as a short public service announcement targeting Bahamian youth.

Programs like these are symbols of the strong partnership between the United States and The Bahamas in our mutual goal to educate the public about HIV/AIDS and provide help to those in need. The U.S. Embassy looks forward to supporting more initiatives in The Bahamas.

I would like to conclude by thanking the corporate sponsors tonight, as well as the organizers of the Ball, for their enormous contributions towards this effort. As a businesswoman, I value and wholeheartedly support private sector engagement as an important tool in addressing such a critical issue such as HIV/AIDS. Your generosity has an impact beyond simply funding an initiative. You directly affect a person's quality of life through the programs and support structures made possible by your donations. Your efforts may directly affect the decisions that young people make with regards to HIV and AIDS prevention. Thank you for all that you do to support your communities and The Bahamas.

Thank you.
(Photos) The Red Rose Ball Committee delivers A Night at the Taj Mahal, India
View ALL articles related to US Ambassador Nicole Avant