TREASURE CAY, Bahamas - A group of residents, businesses, and local officials who are concerned about the destruction of the pristine tidal creek system near Treasure Cay Beach expressed shock and anger over the developer's apparent lack of due diligence and disclosure about the scope of the development.
The group met to form Abaco Defenders, an organization with the mission to get a court injunction to stop the dredging and earth moving until the developer, the Treasure Sands Club, provides comprehensive studies revealing the scope and impact of the project on environmental, economic, historical and safety issues surrounding the project.
Massive Dredging of Tidal Creek System
The current project involves a massive dredging and earth moving operation which the developer says is being done to facilitate the construction of a 12 room bone fishing lodge. But locals say that the amount of sand and earth being moved suggests that the developer is working on a much bigger development.
Local resident Fiona Bootle said, "You don't destroy hundreds of acres of pristine tidal creeks, scores of acres of mangroves and bonefish flats if you are building a bone fish lodge since bone fish skiffs operate in shallow water. The dredging is destroying unique wildlife habitat that is a popular tourist attraction but, more importantly, a nursery for conch, lobster, turtles, and many species of fish. Ultimately, this loss will have a negative impact on the local community dependent on these resources for their livelihood."
The Treasure Sands Development Lacks Sound Environmental Practices and Oversight

Steve Kappler, General Manager of Treasure Cay Resort, speaking for Robert Meister owner of Treasure Cay Resort, noted that they are certainly not against the idea of new development. They welcome new projects but expressed concerns at the apparent absence of a formal environmental management plan and the lack of supervisory engineers to maintain good dredging and earth moving practices. Resulting in the dredging encroaching onto neighbouring private property. If there is an EIA why has it not been made available to the concerned citizens?
The Site Has Important National Historical Significance
During the town meeting on Friday, Internationally known archeologist Robert Carr spoke about the historical importance of the area as the first landing site by English Loyalists to the Bahamas. He said "The Carlton site is one of the most significant historic archeological sites in the Bahamas. Its loss will be one more page ripped from the legacy of Bahamian history.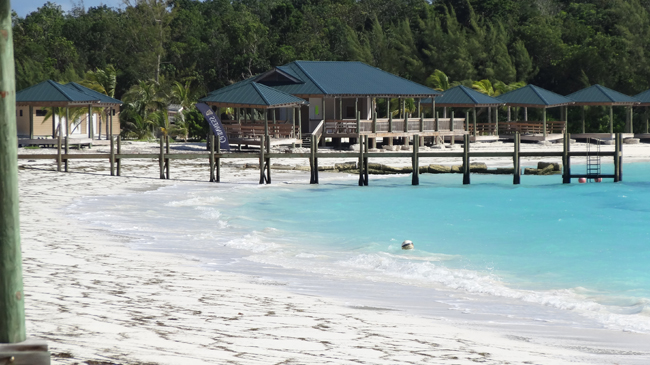 Public Pavilion (in background) is severely restricted and patrons are now having to access public beach by passing through private property.


FOR IMMEDIATE RELEASE

The site needs to be fully documented before it is destroyed." Established in 1783, the area became home to hundreds of English American colonists who decided to remain loyal to the Crown of England. Matthew Claridge, Treasure Cay resident, said "It is very important to stop the dredging and earthmoving until a proper archeological dig can be completed."

Increased Concerns of Flooding During Hurricanes

In the committee meeting on Saturday Colin Albury who manages the only state-of-the-art fire and emergency facility on the island of Abaco explained how the massive dredging and earth moving on the creek side could be a disastrous formula in future storms and hurricanes. He said, "Because of extra water where the flats used to be we will have an increased risk of floods that could knock out the only access road in and out of Treasure Cay. In that event we would not be able to operate our ambulances and other emergency equipment to provide access to the medical facilities in Treasure Cay for victims from central and north Abaco."


Construction of a Beach Front Dock Had Already Raised Concerns

The developer, Treasure Sands Club, had earlier caused concern with local residents and second home owners in August 2013 by constructing a 140 foot long beach dock to accommodate boat traffic on Treasure Cay Beach at their upscale restaurant. It is the first dock on the famous beach that was named "one of the top ten most beautiful beaches in the world" by National Geographic Traveler, a publication of the National Geographic Society.

Owners association leader, Bill McLean, noted at the time the dock was constructed, "That dock is a blight on the beach and should be removed. The permitting process totally ignored local government as well as the input of local citizens and residents. The dock that was built is twice the size of what had actually been approved. "

Requests for Information by Local Officials About the Development have been Ignored

Gary Smith, Chief Councilor of local government in North Abaco said at the Friday evening town hall meeting at the Public Beach Pavilion, "My requests for information on the development have been ignored by the developer and by Renardo Curry the North Abaco Member of Parliament."

For more information, to express your views, or volunteer to help on this effort please contact: Fiona Bootle at fionabootle@hotmail.com or Mr. Gary Smith at anthonsmith@hotmail.com








Disclaimer: The views expressed here are solely those of the author in his/her private capacity and do not in any way represent the views of TheBahamasWeekly.com