Last Updated:

Feb 13, 2017 - 1:45:37 AM
---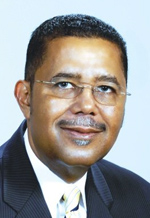 Nassau, Bahamas - The following is a Statement by Minister of Health, the Hon. Perry Gomez:

During the late evening of Sunday 14th September, 2014 a medically distressed gentleman was rescued at sea, from a freighter by the United States Coast Guard, via helicopter, to New Providence where he was admitted to Doctors Hospital.

Upon admission to hospital the patient was assessed and evaluated as being gravely ill, confused, restless, unable to communicate coherently and with abnormal low vital signs. He was managed as an infectious disease case, ensuring universal precautions and protocols. These precautions were utilized for ALL healthcare personnel as well as the patient. The medical team evaluation was that the patient's condition was grave with a guarded prognosis. The patient was quarantined and managed with "Septic Shock" in an isolation room throughout the duration of the care given. Early tests were positive for Malaria which became the working diagnosis while further investigations were performed. Confirmatory tests were done at the Centers for Disease Control and Prevention (CDC) in the United States of America to establish the presence of any other infectious diseases; including Ebola Virus Disease. All tests done were NEGATIVE.

The patient unfortunately died on Tuesday 16th September at 7:56 pm despite the gallant efforts of the healthcare team to resuscitate this extremely ill gentleman.

It is regrettable that during the course of the day following this gentleman's demise (Wednesday September 17th, 2014) that irresponsible rumours were circulated in the social media stating that the cause of his death was due to the Ebola Virus, which is FALSE.

I, in my capacity as Minister of Health, along with the Public Health team within the Ministry of Health, wish to express my profound gratitude to all of the healthcare personnel and other individuals who demonstrated the highest degree of professionalism in the conduct and the management of this sensitive case while in the jurisdiction of the Commonwealth of The Bahamas. I take this opportunity to reassure the Public that the Ministry of Health and the Department of Public Health along with the Private Sector and international health partners , such as Pan American Organization, World Health Organization, CDC and Caribbean Regional bodies as a part of our compliance with International Health Regulations, are continuously ensuring comprehensive surveillance strategies are in place for the public's safety.





© Copyright 2014 by thebahamasweekly.com

Top of Page