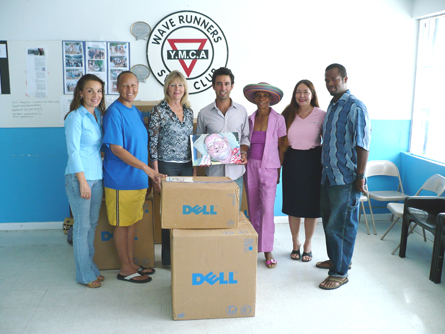 May 14th, standing between the donated 7 Dell computers that will furnish the new YMCA Cyber Cafe, are Robbin Whachell, event Volunteer; Karon Pinder-Johnson, Executive Director YMCA; Diane Johnson, event Volunteer; Robert George, Disney location Accountant (holding a photo of Costumer David Croucher); Beverley Chin, local Seamstress and colleague of David's in the Costume Department; Gail Woon, local Production Secretary; and Kriston Culmer, local IT Support for Pirates of the Caribbean II/III.
Grand Bahama Island - Pirates of the Caribbean III - At World's End opens in theatres this Friday, May 25th, two years after Disney filmed portions of sequels II and III on Grand Bahama. During their stay the "Cast & Crew Charity Golf Classic" took place and resulted in a great amount of monies generated which went toward buying items for the Grand Bahama Children's Home, and toward the purchase of ten computers set to go toward the youth of Grand Bahama.
David Croucher was the man that led this event while he worked in the Costume Department of Pirates alongside Academy Award winner Penny Rose. David was also a repeat crew member on most of the James Bond films and became known for organizing special charity events to raise funds for whichever community they happened to be working in throughout the world. He usually did this by means of a golf tournament since golf was one of his loves. While he was not able to work on the last James Bond film, Casino Royale, which was being filmed in Nassau at the same time that Pirates of the Caribbean II/III was being shot on Grand Bahama, he still continued to run one of the events he is now famous for. Many came together on one of the coldest days of that year (2005) to sponsor, play and enjoy a day of golf, and an evening of fun.
With great misfortune David Croucher died suddenly in September of 2006, less than a year after leaving Grand Bahama. He was a kind, warm, bubbly man and would often hug people and say "I love you" quite freely, even with persons he had only met a few times. He had a way of making people feel at ease, and shone with his spirit of giving.
David was never able to find out where the computers were finally placed. They were earmarked for a hurricane ravaged area of Grand Bahama, but no facility was ever in good enough repair for the computers until this year. In January, 2007 the Mt. Zion Baptist Church in Eight Mile Rock asked for a few computers for their Christian Education Center. Since this centre is open to the surrounding community, as well as a nearby school, the caretakers of the computers felt this would be a suitable place for them.
Then on May 14th the remainder of the computers finally found their home at the only YMCA in The Bahamas. A few local crew members and event volunteers came out for the presentation, as well as a visiting crew member from California, Mr. Robert George. Seven brand new Dell computers, along with a few printers, were given to the YMCA which will be certain to enhance afterschool programs as well as generate self sustaining support for the upkeep of the computers by way of a Cyber Café that will be open to the public. Use of the Internet and the computers will be charged at a nominal fee, thus allowing parents to check emails while their children are in Y programs, or offer students research time.
Often gifts come from unsuspecting places, and these computers came from David's generous heart. He gave to others in need. These computers carry a very special meaning and the computer room at the YMCA will be dedicated to David Croucher. Word has come from David's colleagues that the James Bond Golf Society in the UK has commissioned a silver cup to be made, which will be competed for annually as part of a fun-filled "Dave Croucher Day", the sort of day David would have enjoyed so much.
As David's friend and close work colleague Kenny Crouch says, "His laughter and his compassion are sadly missed".
Fortunately we know his memory and generosity will live on…