Last Updated:

Feb 6, 2017 - 2:32:04 PM
---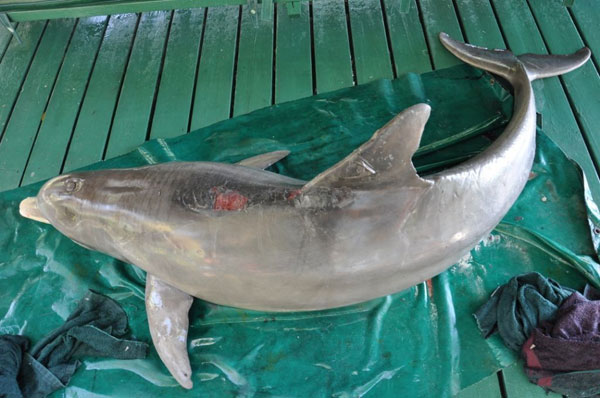 Paradise Island, The Bahamas – Atlantis, Paradise Island resort in The Bahamas reports the successful rescue and transport of a beached dolphin from West Andros Island, Bahamas to Dolphin Cay at Atlantis for medical care and rehabilitation. This live stranded dolphin rescue is the first for Dolphin Cay, home to the most advanced marine mammal rescue and rehabilitation center in The Bahamas and a member of the Bahamas Marine Mammal Stranding Network.

After two members of the Atlantis Dolphin Cay team, Staff Veterinarian Dr. Charles Manire and Jim Horton, were flown to Andros to evaluate the dolphin (named "Miss Turner" after her stranding location - Turner Sound), they were able to determine she was an older female bottlenose dolphin (Tursiops truncatus) that had severe sunburn on the dorsal surface and lateral scoliosis (spinal curvature). Due to the severity of the dolphin's conditions, it was obvious the animal needed further medical attention. Mr. Charles Bethell from Andros, who had reported the original stranding, offered to fly the dolphin and crew back to Paradise Island in his sea plane, so she was transferred immediately to Dolphin Cay at Atlantis for further care and rehabilitation.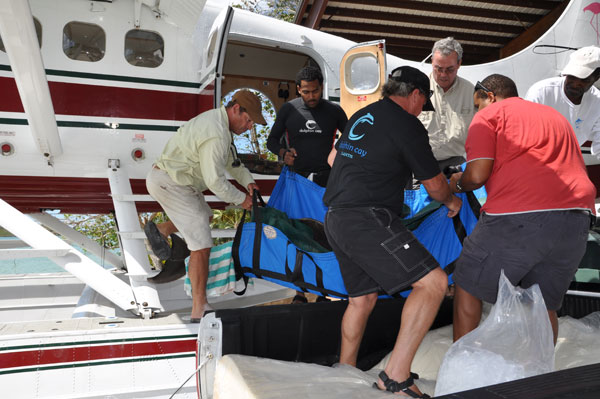 After a short 25-minute flight from Andros and a 25-minute transfer by truck, Miss Turner arrived on Paradise Island and was placed in water at Atlantis' quarantine facility for testing. Test results revealed she was severely dehydrated, had gastritis (stomach infection) and low calcium levels. Furthermore, she required full in-water support 24-hours a day to prevent drowning. The Dolphin Cay marine mammal specialists have started Miss Turner on fluids and antibiotics along with beginning physical therapy sessions on her spine – which have, so far, reduced the scoliosis from about a 90 degree curvature to 45 degree curvature. Because of that response, Dr. Manire is hopeful that we may be able to greatly or completely reduce the scoliosis over time.

Ongoing blood tests also prove that her health is improving commensurate with the care she is receiving.

"We plan to utilize our state-of-the-art facility and experienced staff to rehabilitate Miss Turner in hopes of her returning to the wild to live out the remainder of her life," said Dr. Manire. During the short period of time Miss Turner has been living at Atlantis, she has started eating fish on her own and showing progressive swimming movements, but still requiring continuous support, including the full in-water support. The marine specialist team will continue monitoring, testing and treatment in hopes of a successful outcome from her rehabilitation.


Atlantis is the home of world's largest open-air marine habitat with over 50,000 marine animals in lagoons and displays as well as Dolphin Cay, the state-of-the-art dolphin interaction and education center. Dolphin Cay and Atlantis are accredited members of both the Association of Zoos and Aquariums and The Alliance of Marine Mammal Parks and Aquariums. Both the marine habitat and Dolphin Cay were created with the goal of enlightening visitors about the wonders of these remarkable ocean inhabitants. Dolphin Cay is also the residence of the sixteen Katrina Dolphins, some of whom were swept to sea during Hurricane Katrina from their previous habitat at the Marine Life Oceanarium in Gulfport, Mississippi.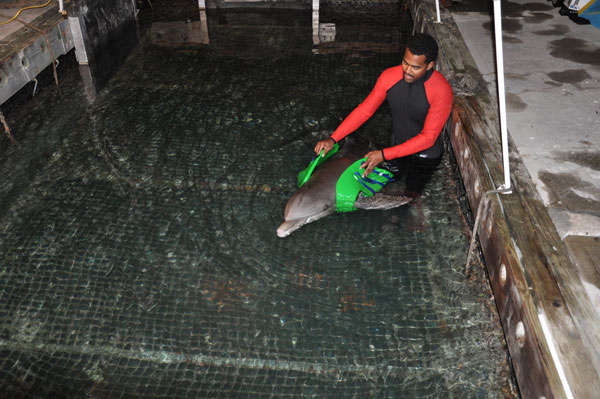 Atlantis, Paradise Island

is the flagship resort of Kerzner International, a leading international developer and operator of destination resorts, casinos and luxury hotels. This unique, ocean-themed destination is located on Paradise Island, The Bahamas, and features a variety of accommodations, all built around a 141-acre waterscape comprised of over 20 million gallons of fresh and saltwater lagoons, pools and habitats. Home to the largest open-air marine habitat in the world, there are over 50,000 marine animals in lagoons and displays, including The Dig, a maze of underwater corridors and passageways providing a journey through ancient Atlantis. Atlantis is home to Aquaventure, a non-stop water experience consisting of thrilling water slides, a mile-long river ride with high intensity rapids and wave surges, and never-before-seen special effects. Dolphin Cay, the resort's interaction and education center, was created with the goal of enlightening visitors about the wonders of these remarkable ocean inhabitants. The Cove Atlantis, a 600-room resort, features oversized rooms with a step down living space, spectacular designs by acclaimed interior architects Jeffrey Beers and David Rockwell, unprecedented services and amenities, private all-adult and family pools, lavish cabanas and breathtaking views of the ocean. Atlantis is also known as THE culinary destination in The Caribbean with a collection of restaurants from world-renowned chefs including Nobu Matsuhisa, Jean-Georges Vongerichten and Bobby Flay. The resort boasts an impressive collection of luxury boutiques and shops, and the largest conference center and meeting and convention facilities in The Caribbean.





© Copyright 2011 by thebahamasweekly.com

Top of Page