Last Updated:

Mar 9, 2021 - 11:15:38 AM
---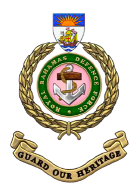 Defence Headquarters, (RBDF): The Royal Bahamas Defence Force is assisting in search efforts for an overdue aircraft with two occupants which reportedly went missing on Friday 5 March 2021.

The white and yellow Piper PA28 aircraft, which departed Lynden Pindling International Airport at 7:00 am on Friday en route to Inagua, was last heard from shortly after 8:00 am. After reports of a downed aircraft in the vicinity of Acklins, the RBDF Operations Command Center was notified of the incident shortly before noon and immediately informed RBDF assets to assist in the search efforts.

Her Majesty's Bahamian Ship LIGNUM VITAE, which was in the area, joined in the search along with a USCG cutter, a USCG fixed-wing, and helo. Debris from the waters was retrieved by the USCG cutter and handed over to HMBS LIGNUM VITAE on Saturday, March 6, 2021.

HMBS KAMALAMEE arrived on the scene Sunday 7 March to continue with the search efforts, conducting search patterns between the Mira Por Vos, the Western side of Castle Island, and the Hog Sty Reef area. The search has since expanded to the northern and western areas of surrounding cays and inlets and the shoreline of the southern-most part of Acklins. HMBS LIGNUM VITAE returned to Coral Harbour Monday morning with debris onboard to be handed over to the Aircraft Accident Investigation Agency.

The Royal Bahamas Defence Force continues to work with partner agencies for the missing aircraft.






© Copyright 2021 by thebahamasweekly.com

Top of Page