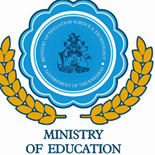 Nassau, Bahamas – 9th November, 2015 – The Ministry of Education, Science and Technology wishes to advise residents in Cat Island and San Salvador that all schools in those islands are closed today as Tropical Storm Kate travels through the central Bahamas. Additionally, schools in Eleuthera will close at noon today.

The Department of Meteorology has issued a warning and based on the anticipated weather conditions, we are taking proactive measures to ensure that students, teachers and all school staff are safe during this time.

The Ministry of Education will provide updates via multiple media platforms as additional information becomes available. We thank the residents of these islands for their understanding and cooperation in this regard; we wish to reiterate that safety is always a priority for the well-being of those in the education community.