Last Updated:

Feb 6, 2017 - 2:32:04 PM
---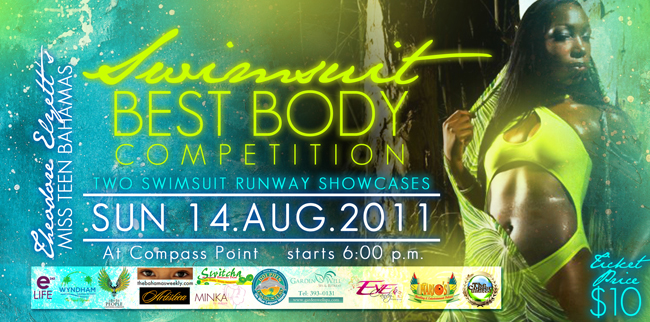 Nassau, Bahamas -
Theodore Elyett's Miss Teen Bahamas Beauty Pageant

, announces its

Swimsuit Best Body Competition

! After weeks of intense training and grooming sessions, the contestants of Theodore Elyett's Miss. Teen Bahamas Organization® will grace the walk in two different swimsuits on

Sunday, August 14th

, 2011 at 6:00pm in

Compass Point

.


Under the theme, "Pretty Girl Rock:Beauty.Intelligence.Grace," this even is next in the organization's long list of preliminary competitions, community service initiatives, additional training and educational workshops.

Meet the contestants!
(Photos) Contestants of the Theodore Elyett's Miss Teen Bahamas® 2011 Pageant
In the organization's sixth year of operation, Pageant Organizers have strategically created a power-packed summer development program with a geared focus on the significance of community service and personal development. To this end, the organization has teamed up with Sandilands Rehabilitation Centre to highlight and promote the significance of mental health. The teen beauties will also get their hands a little dirty this summer as they partner with the Dolphin Encounters Beach Buddy Clean Up program. The teen contestants will make special visits to the Willie Mae Pratt Centre for Girls and the Princess Margaret Children's Ward, and will also host a very special party for the children of Gambier Village.

Staying true to their theme, "PRETTY GIRL ROCK: Beauty.Intelligence.Grace." Pageant organizers have taken their focus on the personal development aspect of the summer program to another level. To date, the young women have participated in educational seminars, stage deportment training, question and answer techniques, personal grooming, and etiquette and speech seminars. For the first time in the pageant's history, a whopping one hundred seven hours, over the entire two month period, is dedicated to intense training workshops with noted Bahamian motivational speakers and life trainers. The list of program trainers include CEO of Total Image Management, Stacia Williams, award winning veteran public speaker Toastmaster Demekas Foster, former Beauty Queen and Public Relations Director for Bahamian charity organization Lignam Vitae Bahamas Janay Pyfrom, Licensed Aesthetician and Massage Therapist Pia Glover, multiple award winning Pageant Coach and Stage Trainer Delano Sweeting, Kendeno Knowles of Jones Communication Network (JCN), and Certified Child Behavioral Therapist William J. Stubbs. The committee ensures that, with such intense and potent training, its contestants and eventual winner will meet the standards of international teen pageants around the world. This has proved fruitful so far as the Organization has achieved six (6) international victories in only six (6) years of operation- a feat accomplished by no other pageant in Bahamian history!

The Contestant Launch Party is the first of many opportunities for the public to view the young ladies and choose their favorites. The contestants will compete in a Spokes Model/ Queen of the Catwalk Competition, Toastmaster's Speech Competition, Evening Gown and Talent Competitions all within the next few weeks. A winner will be crowned on August 14th, 2011 at the Grand Finale in the Rainforest Theatre of the Wyndham Nassau Resort & Crystal Palace Casino. The lucky teen queen will walk away as Theodore Elyett's Miss Teen Bahamas 2011 with a myriad of prizes- including a cash award of $2,000.00. She will also participate in the 2011 edition of Miss Teenager Universe to be held in Guatemala!
Tickets can be purchased through the Organization. For more information and up-to-the-minute highlights on pageant season 2010, follow us Facebook or on twitter at www.twitter.com/ missteenbahamas or visit our website at www.missteenbahamasorg.com





© Copyright 2011 by thebahamasweekly.com

Top of Page