FREEPORT, Grand Bahama – The National Emergency Management Agency (NEMA) on Tuesday, December 10 officially took control of the newly constructed Emergency Relief Warehouse, at Hawksbill, Grand Bahama.The 4,500 square feet facility was built at a cost of $800,000 and is situated on one acre of land on what was previously the campus of the Grand Bahama Catholic High School.
The project was funded by the United States Government's Department of Defence, U.S. Northern Command Humanitarian Assistance Programme, in partnership with NEMA and the U.S. Naval Facilities Engineering Command South East.
In Grand Bahama for the soft opening and official handover was NEMA's Director, Captain Stephen Russell, along with Tim Ryczek from NAVFAC.
Handing over the facility to NEMA was Chet Tweedy and Scott Hulke from Lifestyle Construction, the General Contractor. Mr. Russell, was accompanied by other NEMA officials and senior staff from the Ministry of Grand Bahama.
Captain Russell said he was happy to receive the property, a National Disaster Relief Warehouse for the northern sector of The Bahamas, which was constructed especially for NEMA in Grand Bahama.
"We know that over the past twenty years Grand Bahama and the Northern Bahamas has been impacted by many forms of natural disasters dating back to Hurricane Andrew in 1992, and Hurricane Jeanne, Francis, Wilma, Sandy, Irene all over the past twenty years, and Grand Bahama has felt the brunt of those storms that passed through.
"But we are pleased that we have been able to team up with our partners from the U.S. Northern Command, and the United States Embassy and other persons to help us construct this disaster relief warehouse here in Grand Bahama," he said.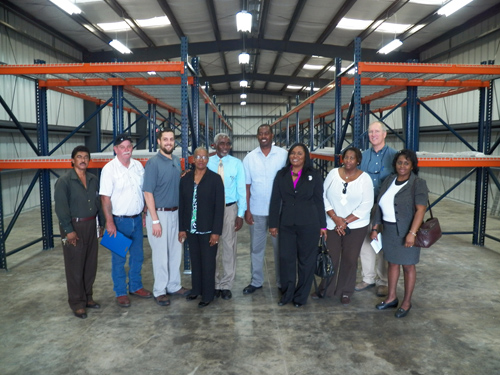 NEMA'S WAREHOUSE – The National EmergencyManagement Agency took control of an $800,000 Emergency Relief Warehouse on Tuesday, December 10. Pictured left to right: Norman Tynes, Ministry of Works; Chet Tweedy, Lifestyle Construction; Tim Ryczek, NAVFAC; Rosemary Nixon Martin, Ministry for Grand Bahama; Cecil Thompson, Under-secretary, Ministry for Grand Bahama; Captain Stephen Russell, Director for NEMA; Joneth Edden, Ministry for G.B.; Tammy Mitchell,G.B. Disaster Committee; and Geraldine Pinder, NEMA.(BIS Photo)


Commenting further, Mr. Russell said it is a part of NEMA's long term strategic plan to put disaster warehouses in strategic locations throughout The Bahamas."We have this one in the Northern Bahamas, we have one already in the Central Bahamas, New Providence, and it is our long term plan to put one somewhere in the Southern Bahamas, either Inagua or the Ragged Island chain area, so that we would have these warehouse in strategic locations."We are here today to officially receive and take ownership of the property from the construction company and the team from the U.S. Northern Command," he stated adding that they are also carrying out an inspection of the facility to make sure they are happy with what was agreed to in the contract, so that they could release the contractors from their initial obligation and take possession of the property.Continuing, the NEMA director said that "I am truly pleased with what I have seen here. In fact I am ecstatic at what I have seen here in terms of the quality of work that was done over the past three month.

Mr. Russell added that he is quite sure that the facility "will be a tremendous boast to our disaster relief program in The Bahamas, particularly in the Northern Bahamas as we try to reduce the timeline in bringing relief to our persons.

"In the past we trucked everything and brought everything from Nassau. But with this warehouse in the Northern Bahamas, that reduces the timeline in getting relief supply to persons in the affected communities on Grand Bahama and some of our neighbouring islands such as northern Abaco or even the northern Eleuthera sector, and down to Bimini," he said.

The building is equipped with male and female bathrooms, with showers, office space and a meeting room, and has its own power supply in the event the city electricity fails.Undersecretary in the Ministry for Grand Bahama, Cecil Thompson, termed the handover a wonderful day for Grand Bahama, and said that the Minister for Grand Bahama, Dr. Michael Darville, had wanted to be there for the occasion but had prior obligations in New Providence. He thanked the United States Government for their generous donation.

NEMA's director also confirmed that with the new facility staff will be increased in Grand Bahama.