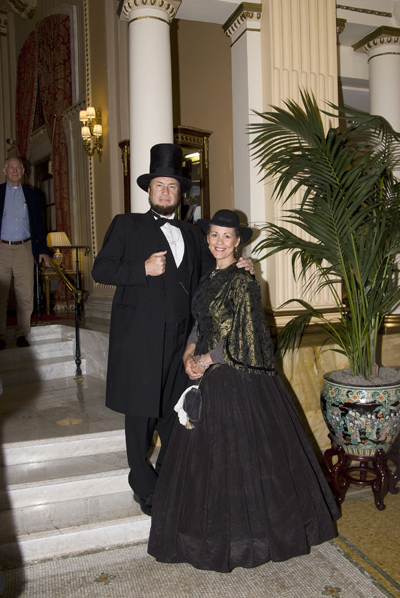 Abraham and Mary Todd Lincoln re-enactors dressed in period costume.


On July 4, Americans around the world will observe the 233rd Anniversary of Independence of the United States of America. Here in Nassau the celebration will be commemorated in an official ceremony to be held at Liberty Overlook on July 2.

This year's celebration theme is dedicated to the 200th anniversary of the birth of Abraham Lincoln, who served as the 16th President of the United States of America from 1861 – 1865. To mark the special occasion, the Embassy will feature a special appearance by character actors representing President and Mrs. Mary Todd Lincoln to be held at The Bahamas Historical Society on Tuesday, June 30, at 6:00 p.m. The event is open to the public at no cost.

Dressed in period costume, re-enactors Larry and Mary Elliott will present a historically correct dramatization of the lives of Abraham and Mary Todd Lincoln.

Larry Elliot portrays Mr. Lincoln in the first person, from his humble roots in Kentucky, to growing up in Indiana, to becoming a self taught lawyer in Illinois, to becoming the sixteenth President of the United States who preserved the Union and freed the slaves, to his untimely death at Ford's Theatre. Mary Elliott will talk about the tragedy of losing a son and the health challenges she faced.

In 2003 Mr. Larry Elliot entered a Lincoln look-a-like contest in Hodgenville and began reading about Abraham Lincoln. After an extensive study of his life, Mr. Elliot decided to purchase a complete period-correct Abraham Lincoln costume and began portraying him.

In 2005, Mr. Elliot says that when he learned that his great, great, great, grandmother (Mary LaRue Enlow) was the midwife who helped delivered Abraham Lincoln, he knew this vocation was for him.

After much reading about Mary Todd Lincoln and the integral role she played in history, Mr. Elliot's wife, Mary began portraying the First Lady with him. Together they tell their story of just how much their life initially contrasted. They include their childhood years, how they met, and events leading up to that new birth of freedom speech, The Gettysburg Address.