Andbank, is a bank headquartered in Andorra and owned by the third generation of two families. It was founded over 80 years ago in 1930 with the singular vision of establishing social and economic success in Andorra by driving endeavors in business, culture and sports during a worldwide economic depression. Soon over the course of the 20th century, Andbank became a backbone in the local Andorran economy.

Today, Mr. Cerqueda, one of the two owners, has taken the vision of the bank internationally – first investing in The Bahamas in 2001 and now establishing a full-service private bank with same principle of driving successful entrepreneurs. Once more in a difficult economic global environment, Andbank has taken a different step than most other banks and doubled the number of staff in The Bahamas following its path in history in believing to make a difference despite difficult times. Andbank believes in the philosophy to reach out to people on a broader scale beyond the financial sector.

By promoting their core value of "only talent performs," it was their sincere goal to begin this philanthropic journey with Starlight Global's "Night of Inspiration," an exclusive event which was held on January 11th at the prestigious Old Fort Bay Club."

Interview with Manel Cerqueda, Chairman of Andbank:

1. Banks face many challenges – new regulations, more competition, slowing growth in some markets. How do you see the current macroeconomic environment?
We are in a difficult period in an adverse financial and economic global environment in which the traditional private banking business model will no longer be valid. In addition to economic factors, the increase in banking regulation is a natural and necessary result of the global financial crisis. Our group is fully compliant and adapts its business model proactively to these requirements, which we view as essential to ensuring greater transparency for our customers.They will be dynamic years internationally, where we must once again demonstrate our great adaptability. Andbank is a global financial group with over 80 years' tradition in private banking. One of our main aims is to offer first class private banking services around the globe. Our bank is owned by the third generation of two families, ensuring that our strategy focuses on creating long-term value.
The current situation demands from us to be able to adapt strategy quickly. The strategy, management and risk profile of the Group was recognized for yet another year by the Fitch Ratings agency, which awarded us Long-term and Short-term Issuer Default Ratings (IDR) of A- and F2 respectively. Fitch also upgraded the outlook from negative to stable, thanks to the growth in volume, geographical diversification, low dependency on the Andorran retail market and a strong compliance structure.
The Group's excellent position in terms of business model, diversified AUM, solvency and liquidity means we can face the future with optimism. We are convinced we will be able to continue investing prudently in sustainable and profitable growth both for our shareholders and for our clients.
2. How does Andbank adapt to these changes?
Ours is a strategy rooted in efficiency, solvency and adapting to customer needs, where international diversification has proven to be key.
The group has responded well to this environment by adhering to a conservative yet dynamic business strategy: conservative in the sense of strong levels of capitalization and liquidity, yet dynamic in seeking out the best investment solutions for our customers. Moreover, we firmly believe in attracting and growing the best talent in the market.
2013 was another year of accomplishments. We further consolidated our international expansion, with magnificent growth across our international network, which posted record results. In particular, we are proud to point out on one hand, our successful entry in Spain, with eight branch openings in six locations and outstanding growth in AUMs (over €800m) in just nine months. Moreover, we bought and are currently in the process of integrating the private banking business of Inversis, one of the main Spanish financial players. On the other hand, we have the consolidation of our network in South America with the São Paulo-based financial institution LLA and our Mexican asset management company, Columbus as well as our recent acquirement of Swiss Asset Advisors, a Miami based wealth management firm.
The desire to maintain a solvent and flexible balance sheet is not always compatible with achieving short-term returns, but ours is a long-term vision. Solvency also requires a strict methodology when managing and mitigating the operational risks inherent in our business. With this firmly in mind, this year Andbank has further strengthened the resources and tools of control and corporate governance.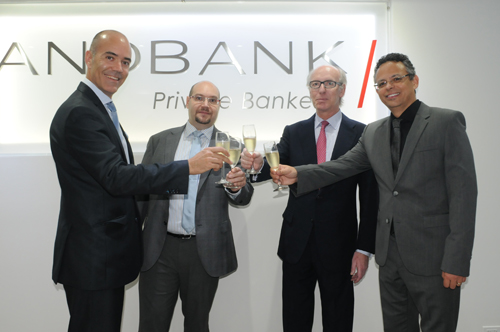 (Left to right) Andbank (Bahamas) Ltd. Management: Mr. Juan Iglesias, CEO; Mr. Manel Martínez Campos, Managing Director; Mr. Manel Cerqueda Donadeu, Chairman; Mr. Daniel-Marc Brunner, Head of Private Banking at the inauguration ceremony.


3. And in the Latin American market, what are the expectations?

We have high expectations in Latin America, it is our natural expansion market. Up to now we have been present in 6 countries and with growth prospects in all of them. Our bank, with a Latin culture, understands the peculiarities of customers in the area, which is why our presence as a leading private bank is increasing. In addition, with the advanced Inversis platform, our expectations are greatly increasing. Growth in this area is of vital importance to our institution. We have therefore been forming a network of talented collaborators, who are the ambassadors of our institution in Latin America.

At the beginning of this year, Andbank acquired the American adviser company, Swiss Asset Advisors, a firm founded in 2008 and led by Michael Blank. With this operation, Andbank has integrated into our office in Miami, Mr. Blank and the rest of the team of Swiss Asset Advisors.For 2014, we look forward to the official re-launching of our Bahamian office.

4. As a Chairman of Andbank, an Andorran Financial Group, why have you decided to establish yourselves in The Bahamas?

Back in 2000 we already saw the Bahamas potential and decided to open a subsidiary. The Central Bank of The Bahamas granted Andbank (Bahamas) Limited with a Banking License in 2001. The Bahamas offers great opportunities thanks to its ideal location (close proximity to North, South and Central Americas), good connecting flights and stable judicial and financial systems.

The business in The Bahamas has grown steadily ever since, and as of today, we want to increase our presence even more, to promote it and to make it grow. That is why we have invested in hiring a team of highly talented professionals who will lead the brand new offices at One Montague Place on East Bay Street.

5. In The Bahamas, there are already large institutions with many years of experience in private banking, how do you see competition for the Andbank Group?

It's good to have competition, it forces you to always be alert and improve our day-to-day offering and customer service.

We believe that our business model differentiates us as it allows us to offer a wide range of solutions to the customer, regardless of the jurisdiction in question or the depository or bank with which they want to operate. We operate more quickly, adapting to changes in the environment and taking advantage of opportunities that present themselves.

6. "Only Talent Performs" is the claim of the new Andbank logo. Why do you focus on it?

At Andbank we believe in talent. It is one of the core values of all businesses. For us it is a value that allows us to obtain advantages in many differences that we encounter in our journey towards the goal. With talent it is possible to manage and deal with many of the events and periods of change that we may encounter. Our institution requires a team of dedicated professionals in all the zones and areas where we are located, in order to manage this group in which we are all involved in, with effort and professionalism.

As I explained before, Andbank took a giant leap in its long-term commitment to The Bahamas last year by opening a new office at One Montague Place in Nassau. In the last 12 months, the local Bahamian office has doubled the number of staff. We are proud to count with a dedicated team of highly performing professionals including the new joiners Juan Iglesias (CEO of Andbank Bahamas), Daniel-Marc Brunner (Head of Private Banking), Werner Gruner (Private Banking Director), Wendell Gardiner (Head of Compliance) and Amanda Smith (Associate Manager) - all of them coming from leading private banking firms.

We believe that The Bahamas as an international financial center provides a solid political, economic and regulatory environment offering the ideal platform for our international clientele. In addition we recently co-sponsored through the Starlight Global Foundation and its founder Werner Gruner an exclusive event called "A Night of Inspiration." Andbank as main sponsor stands for its value "only talent performs" promoting international and local personalities from various sectors that have been an inspiration to others. We believe that our philosophy allows us to reach out to people on a broader scale than just within the financial sector.