Last Updated:

Aug 29, 2019 - 12:19:51 AM
---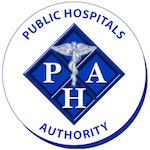 Nassau, Bahamas - The Public Hospitals Authority (PHA) regrets to advise members of the public that notwithstanding the injunction order issued by the Court on Tuesday August 27th, 2019 the Bahamas Doctors Union (BDU) continues industrial action, as a result services at the Princess Margaret Hospital (PMH), Sandilands Rehabilitation Centre (SRC), Rand Memorial Hospital and Grand Bahama Clinics are limited to emergencies only.
Emergencies are classified as the following injuries or illnesses that threaten life or limb, such as:
Gunshot wounds,

Chest Pains,

Head Injury,

Uncontrollable Bleeding,

Loss of Consciousness,

Major trauma or accident and

Asthma,

Severe allergic reaction,

Extensive burn injuries,

Fractures/broken bones,

Deep lacerations and cuts,

Psychiatric emergencies (suicidal ideation/attempt, aggressive behaviour)

Injuries or illnesses that are non-life threatening and can wait several hours for care are considered Urgent Care conditions such as:
Ear Ache,

Sore Throat,

Coughs,

Flus or Colds,

Allergies,

Sprains,

Strains



For persons unsure if they should seek care at PMH Emergency Department, please call 242.326.7014 and speak to healthcare provider.
The Authority deeply regrets the impact of the continued withdrawal of service by members of the Bahamas Doctors Union on hospital services and patient care.
The Authority thanks the public for their patience and will continue to keep members of the public informed as regards the full resumption of services.





© Copyright 2019 by thebahamasweekly.com

Top of Page