Last Updated:

Feb 6, 2017 - 2:32:04 PM
---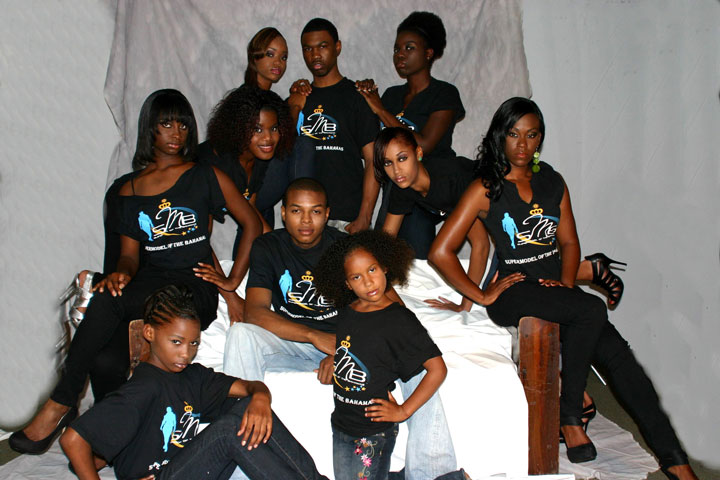 Nassau, Bahamas -

Supermodel of the Bahamas 2010

has become THE major Bahamian model search for The Bahamas and this year the event is bigger and better than ever, and will include 11 finalists from the family islands of

Eleuthera, Grand Bahama, and the Abacos

. A preliminary event took place in Nassau in March where the contestants

participated in a busy weekend of workshops, photo shoots, and video interviews. The schedule was exhausting, giving the contestants a realistic feel of the life of a model, experiencing a lot of hard work and not all glitz and glamour

; however the contestants went home ready and enthusiastic to prepare for their biggest day yet to come, that being the

final competition

on

Sunday, April 25th

at the British Colonial Hilton Governor's Ballroom at 8pm.



"This group of 21 finalists have been working hard, and with the expertise of our visiting judges I'm looking forward to our completion, because the Supermodel of the Bahamas title winners have already been recruited to appear in a runway show in New York in September of this year
," said founder and director of Supermodel of the Bahamas, Mr. OilinSha Coakley.
"The Bahamas is being seen more and more in the global fashion scene and this event will help get our faces out there.
I am proud to say that last year's winners have participated in New York Fashion Week, Islands of the World Fashion Week, and others runway shows. There's a bright future for The Bahamas."
Supermodel of the Bahamas is similar to America's Next Top Model in that it discovers new faces, most of whom have never modeled before. The candidates are then trained and pushed to perform, whereupon it becomes obvious after photo shoots, runway shows, and interviews, who is made for the life of a model.
The 21 final contestants are Peandra Knowles, Brittney Weech, Angel Rolle, Garrett Bowleg, Sonji Simmons, Sinardo Deleveaux, Delvonae Beckles and Kourtni Pinder

of Grand Bahama Island

; Christi Cadet

of Eleuthera

; Priska Pascal and Allita Bain

of the Abacos

; and Miguel Wright, Andreanique Johnson, Kieasha Adderley, Travante' Russell, Kenresa Pickering, Wayne Mackey, Carnesha Smith, Reashawn Davis, Keturah Cartwright, and Gabriella Moss

of New Providence

.
Leading up to the finals, a grand

Float Parade

will take place on

April 24th

featuring the garments of one of The Bahamas' top designer's, Mr. Cedric Bernard. The contestants will parade through the streets via motorcade from 12noon until 4pm, starting at RM Bailey Park, along Marathon to Wolff Road, past COB, around JFK, down the Cable Beach strip and finishing at the British Colonial Hilton.

Once at the Hilton, the contestants say farewell to the public and quickly ready themselves for their all important interviews with the international judges. This year the event is proud to be hosting

Beth Sobol

, founder of Miami Fashion Week;
Audrey Adams,
international radio talk-show host and former Wilheminah model;

Kendell Monroe

, the former manager of the late Michael Jackson; and
Natalee Duhaney

, international designer out of New York.


When the lights come up, and the contestants hit the runway on Sunday they will have their final opportunity to prove themselves capable of becoming a supermodel. One lucky but worthy young man, young woman, and child will represent The Bahamas internationally and help increase the awareness of the authentic and unique culture and beauty we embody.

Damian Humes, founder of The Street Team Magazine will co-host the show with international supermodel Bobby Roache, of LA Models and who is featured in many well-known ad campaigns (Mexx, Sean John, Coors Light, South Pole, Camel Actives, Bronx) and has appeared in Beyonce's music video

Irreplaceable

. *Bobby will be at the Juke Box at the Mall at Marathon
on Saturday, April 24th from 12noon to 3pm to sign autographs
.


Audience members of Sunday's show will be treated to live performances by Bahamian recording artist

Julien

who will sing his hit song,

Believe

and the LA-based, but Bahamian born international recording artist,

Brettina

will sing her world-wide released hit song,

Bahamian Girl.

Both of these artists will also be at the Mall at Marathon on Saturday the 24th with Bobby Roache, so come out and take the opportunity to meet all three of them.


Supermodel of the Bahamas' overall title winners (one male and one female) will be awarded with cash and prizes worth $3000.00, a complete portfolio, representation with OilinSha's Models, and will have the opportunity to compete in the "Top Model of the Universe" competition in Europe.

Directly after the "Supermodel of the Bahamas" (male and female), and the
"Little Supermodel of the Bahamas"
winners are announced, the event moves to

Club Luna

for an exciting after party.




Tickets for Sunday

are on sale and going fast. Persons are encouraged to take advantage of the Buddy Rates (groups of 3) which offer gifts from local sponsors along with your purchase. Ticket location are The Juke Box, Mall at Marathon; Bally Total Fitness; and Deco Bay Shoes.


The show will later be released as a

reality TV show to be featured again on JCN,

and is being produced by the creative team of "The Street Team Magazine.TV"
Supermodel of the Bahamas would like to thank all the sponsors for their assistance in making this year's Supermodel of the Bahamas 2010 possible. Our sponsors are TheBahamasWeekly.com - Deco Bay shoe store - Bally Total Fitness - Hollis Cosmetics & Day Spa - The Street Team Media - JCN broadcasting network - Jennifer Marshall Mackey of 102.9FM - Bennigans - Commonwealth Fabrics - Out Back Steak House - British Colonial Hilton Hotel - Duncan's Imaging - Apex Awards - Bahamas Air - American Airlines, American Eagle - Jubulee Bath & Body - Basheeva Eve La Maison De Bash - Lyndah Wells Photography - Vaughn Scriven Photography - Kurtz Ritchy Photography - Kim Hanna of 100Jamz - Mrs. Angela Hilton - Marcia Coakley - Illya Tinker - Devron Pinder of the Street Team Magazine - Miami Fashion Week - Abaco Beach Resort - Cigatoo Inn Eleuthera - The International Bazaar, Freeport - Total Fitness Gym Shirley Street Plaza - Pinkk Suga Creations - Tenisha Erskin of Baha Gala Creations - Friends and Family.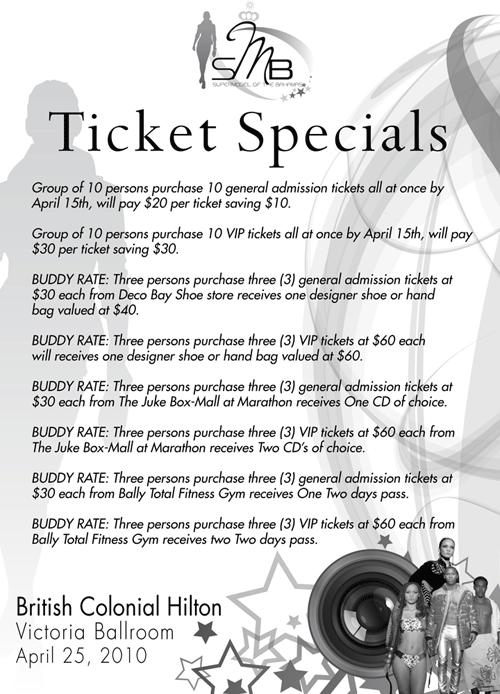 © Copyright 2010 by thebahamasweekly.com

Top of Page