Last Updated:

Feb 11, 2018 - 12:18:20 AM
---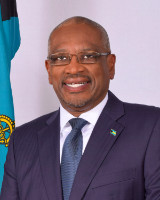 Nassau, Bahamas - Remarks Hon. Dr. Hubert Minnis Prime Minister of the Commonwealth of The Bahamas Good News Seventh-Day Adventist Church Great Britain Street, Flamingo Gardens. Saturday, 10 February 2018 10:00 A.M:

Members of the clergy, congregants

Good morning,

It is an honor to be with you this morning, and to help welcome Dr. Carlton Byrd to the Bahamas.

Dr. Byrd is well-known for his various ministries and as the host of Breath of Life.

As Senior Pastor of Oakwood University, he has come to know many Bahamians who have attended Oakwood, where, I am told, there are now some 30 Bahamian students.

Dr. Byrd:

I welcome you on behalf of the Government and people of the Bahamas.

Do enjoy the hospitality of this church and the wider community. We welcome you with joy and great affection.

May your time here be filled with abundant blessings.

As I have said on many other occasions to other visitors, please do return and visit some of the other islands of our far flung archipelago.

As you are no doubt aware the Bahamas and the United States of America are neighbors and friends.

We share many historic bonds, including ties of faith and kinship.

Dear Brothers and Sisters:

The Seventh-Day Adventist Church is an extraordinary gift to the Bahamas.

Your community of faith and fellowship is well-known for high ethical standards, including in your professional lives.

You have contributed to national development in many areas, including in education.

Bahamas Academy continues to produce fine young men and women, who receive a holistic education that molds minds, bodies and souls.

This holistic approach is part of the broader theology and moral worldview of your community.

This worldview guides your vision of human and spiritual development.

Your students receive not only noteworthy academic training but also ethical formation.

Also of note, is your deep commitment to family life and to family life ministry.

Mother Teresa once said:

"What can you do to promote world peace? Go home and love your family."

You understand well that the social health and well-being of a community or society requires healthy, loving families, which nurture children and which pass on values such as discipline, respect, good citizenship, gratitude and generosity.

Family is the refuge where we should first learn and where we should see practiced the healing gifts of forgiveness, reconciliation and mercy.

It is because of my family that I found the encouragement and discipline to work hard as a student, and to pursue my medical studies.

With the great privilege of serving as prime minister, there is hardly a day that goes by that I don't think of my family members who sustained me during my life journey.

My mission is to help provide for others, especially the less privileged in our country, the opportunities my family gave me.

After all, we are One Bahamas and we are one Bahamian family.

Dear Friends:

As a medical doctor, and as someone who is committed to regular exercise and healthy eating, I have always been impressed by your commitment to healthy living, including proper nutrition, exercise and general wellness.

As I have noted on other occasions, The Bahamas, like many countries in the world, is experiencing an epidemic of non-communicable diseases like hypertension and diabetes.

A very high percentage of Bahamians are diabetic or pre-diabetic. Many Bahamians are unaware that they are diabetic.

Hypertension and diabetes may result in all manner of health problems, which can be arrested through healthier living.

These diseases, and other health care concerns, are a financial burden on so many Bahamians, as well an extraordinary financial expense on the public health care system.

I cannot stress this strongly enough. The high rate of diabetes in the Bahamas leads to other medical problems such as kidney, heart and other diseases.

By promoting health and wellness among your members, including testing for breast, colon and prostate cancer, you will help to save lives.

May I suggest a broader role that the Seventh-Day Adventist Church can play in the Bahamas in terms of health education and awareness, particularly in terms of chronic non-communicable diseases.

Through your communications and literature and your food store, and through other avenues, you can play a role in helping your fellow-Bahamians to lead healthier lives.

Let me close by wishing you all two days of joyful fellowship and abundant blessings.

Dr. Boyd: May God touch your heart and spirit with grace and insights during these days.

May the God of life continue to bless your ministry.

It is a joy for us, for you to be here in the Bahamas.

Do return with your family, friends and associates to visit some of our other island jewels.

And may God bless our Commonwealth. Thank you and good morning.






© Copyright 2018 by thebahamasweekly.com

Top of Page