Last Updated:

Feb 11, 2018 - 9:53:43 AM
---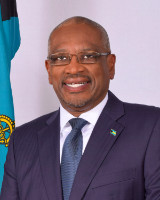 Nassau, Bahamas - Remarks Hon. Dr. Hubert Minnis, MP Prime Minister Leader of the Free National Movement at NMM Torchbearers Youth Association Installation National Training Center Gladstone Road:Saturday, 10 February 2018 7:00 P.M.:

Good evening,

It is an honor to be here with you for the installation of the new executive of the Torchbearers Youth Association.

Before the pinning ceremony, a few brief remarks.

The FNM's signature symbol, the torch, was initially recommended by Sir Arthur Foulkes, our former Governor General, one of the Founders of the Free National Movement.

Sir Arthur is also the grandfather of your President, Carlyle Bethel.

The FNM Torch represents many things. But primarily, the Torch represents the values and aspirations of our party.

It represents a commitment to the promotion of political and economic freedom.

It represents equality, justice and opportunity.

Equally important, the Torch is a beacon, a great light, which beckons all Bahamians to the big tent we aspire to be.

The FNM is a political home that welcomes all those who serve the cause of One Bahamas, united in love and service across our Commonwealth.

This is what the founders had in mind when they chose as the party's motto: All Together.

Within our party we do not create nor abide false distinctions about who is a Bahamian.

We are the party committed to the equality of all, no matter the country or circumstance of one's birth or one's religious creed.

We are a party that champions racial equality and is committed to a multiracial society.

We are a party that champions gender and constitutional equality, and women's rights.

We are the party that successfully ran the first female for the House of Assembly.

We are an intergenerational party that respects the legacy and struggle of those Freedom Fighters who have passed on to us a torch that must be re-ignited and sustained in each generation.

At the very birth of our party, we formed the Torchbearers to give voice to the aspirations and energy of young Bahamians.

We were the first major party in the country to create a youth organization.

In this modern age, we are a party committed to diversity, tolerance and mutual respect for individuals of different backgrounds and creeds.

Executives of the Torchbearers:

Bear this torch with pride.

Bear this torch with an abiding respect for the legacy and abiding values of our party.

Bear this torch in a spirit of collegiality, humility and the ability for self-correction.

Carry our message far and wide, especially to a new generation, who wish to join our Free National Movement.

Ask always for God's guidance.

It is now my great privilege as Party Leader to officially install the new executive of the Torchbearers Youth Association.








© Copyright 2018 by thebahamasweekly.com

Top of Page