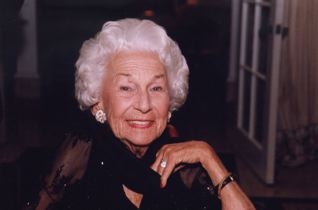 Successful stage actress, Patricia Francis


On July 2nd, 2008, Patricia Francis, widow, of Francis Francis, noted philanthropist, passed away at her son's home in Switzerland. She was 93 years old. Mrs. Francis was a prominent member of Bahamian society in the days of the "Bahamian Club" and the "Country Club". Her passing is yet another page turned towards the end of a glamorous and glittering era of the Bahamas.

She was born to Theodore and Elena Leonard on November 9th, 1914 in London. Her father came from Durban, South Africa and was an actor and her mother was from Melbourne, Australia, and was an opera singer of note in Australia. Shortly after her birth the family moved to Cape Town in South Africa where her brother Gerald Leonard was born. After a few years in Cape Town they moved to Sydney, Australia where Pat grew up and went to school. She moved to London with her brother and parents at the age of 17.

Born into a theatrical family she was automatically drawn to the stage, and shortly after arriving in London she became one of Andre Charlot's starlets, rose rapidly in popularity and soon became one of his leading ladies. The many playbills and newspaper cuttings she kept bore testament to her success on the West End stage in London during World War Two.

Married to Francis Francis shortly after the war, she moved to The Bahamas in the late 1940's. During the war Francis Francis bought an island in the Berry Islands from his sister Joe Carstairs (Marion B.) and after the war ended they traveled to The Bahamas to view and settle their private island. At first they lived on their freighter "The Mereghan", anchored off the point of Bird Cay, whilst the first buildings were built. The years that followed were amazing and the family has the photos and home movies to testify to the hard work and vision that took place to transform Bird Cay from a scrub bush deserted island into one of the most developed private islands ever in The Bahamas.

Bird Cay was situated just two islands away from the private island that Wallace Groves subsequently developed and lived on with his family, Little Whale Cay.

Pat happily gave up her fame as a theatrical star and in 1950 their son Craig was born, followed in 1954 by a daughter Kim. The Francis family settled into a routine of summer in Europe in their home on the Lake of Geneva, Chateau Solveig and winters on Bird Cay in the Berry Islands. Patricia had no difficulty juggling her life between the two properties and enjoyed the time spent in London, New York and the South of France between "taking up residence" in their homes.

Patricia Francis was a staunch champion of animals and children and her charity efforts were mostly to benefit those two causes. However, many individuals benefited from her kindness and generosity. She never made her kindnesses known, as it was sufficient enough for her to know that she had loaned a helping hand to make someone else's life a little easier.

She continued to live on Bird Cay until she sold the island in 2002. She loved The Bahamas dearly and especially cherished the time spent on Bird Cay, the beauty of the Berry Islands and the solitude of living in the Out Islands gave her great pleasure. Her brother Major Gerald Leonard predeceased her by two months passing away late March 2008; they were extremely close.

Her daughter Mrs. Kim Aranha is the President of the Bahamas Humane Society, and her son is Craig Francis, formally proprietor of Caribbean Shipping who now resides in Switzerland. Her nephew is Mr. Carey Leonard of the Grand Bahama Port Authority.