Last Updated:

Jan 27, 2019 - 12:50:51 PM
---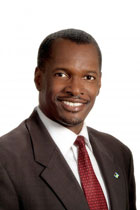 Nassau, Bahamas - REMARKS BY THE HON. THOMAS DESMOND BANNISTER AT THE OPENING OF THE 2019 MINISTRY OF PUBLIC WORKS' DISTINGUISHED LECTURE SERIES on 24th January, 2019:

Good Afternoon, and happy New Year.

THANK YOU:

Let me begin by thanking you for inviting me to open the Distinguished Lecture Series this year.

I consider it an honour because this series, in its first year, has grown beyond expectations; and especially because it is the product of the innovative minds of the employees of this Ministry.

The series has become a very special event in this Ministry, and my staff know not to schedule any events for me on Thursday afternoons because I want to have the opportunity to attend.

Likewise, I hope and anticipate that all of our staff would want to continue to enrich their professional experience by attending and participating each week.

Speaking for myself, I've learnt so very much, and I wish to publicly thank and commend the organizing committee for your time and your many sacrifices in organizing this event each week. Because of you, we are envied by the other Ministries; but more importantly, it shows that we can get together each week to share with and to learn from each other.

I know that P.S. Thompson and D.P.W. Roach have both been actively encouraging you, and that accounts has been supportive, so I want to use this opportunity to commend them, and to recommend to them that they ensure that you continue to be provided with all available resources in a timely manner so that this Distinguished Lecture Series will continue to grow and enrich our experiences at the Ministry of Public Works.

INCLUSIVENESS:

I also want to commend the organizers for hosting the year opening lecture on the Northern Compound.

* This is one Ministry.
* For too long we have been separated not by distance, since the Administration building is a short walk from this compound.

*We have permitted ourselves to be separated by a state of mind. The Ministry needs to become more inclusive this year

*Our Social Committee seems to have been disbanded, but there are things that we can do to have more activities that all members of our staff can participate in. Human Resources is about maximizing the potential of all of our potential, and I anticipate that we will organize inclusive social events that all of us would wish to participate in.

*I, therefore, look forward to the formation of a social committee that incorporates persons from all sections of the Ministry that will organize events that pull us together.

We have also separated ourselves from our family island offices. Too often they don't have the resources that they need; and they feel that it takes us too long to respond. This too has to change.

INNOVATION & INITIATIVE:

When I started out as Assistant Counsel in the Office of the Attorney General thirty years ago, I had a wonderful mentor by the name of Burton Hall, now former Chief Justice and currently a distinguished Judge on the United Nations International Criminal Tribunals that continues the work of the courts that conducted the trials on the Yugoslav Wars and the Rwandan genocide.

Back then he was the Solicitor General of the Bahamas, and he kept a little green fireman on his desk. Everyone who came into his office ended up asking him why that fireman was so prominently placed on his desk, and his answer always was that as Solicitor General it was his job to put out fires in our legal system.

I tell you that story because while I want you to know that while I'm extremely honoured to serve as your Minister, I want you all to note that this Ministry has been categorized for too long as the firemen of the Bahamas when it comes to infrastructural improvement in our country. In 2019 we must look beyond being the infrastructural firemen.

You will all appreciate from listening to at least one of our distinguished lecturers last year that even highly placed and experienced public servants do not know the true function and utility of this Ministry. We have to show them what we do, and what we can do to improve this country;
* and we have the talent in this Ministry to do it.
* So don't sell yourselves short.

Every day so many of you focus diligently on a diversity of tasks that when combined produces results that Bahamians see, touch and feel every day of their lives. What you do enhances the quality of life for EVERY single Bahamian.

*We are truly the Ministry of Everything.
Henceforth we will be the innovators in this country, not simply the firemen.

*In many instances we have to take instructions from other Ministries, but there is no reason why we should not be seen as the proactive leaders who make a difference.

*That means that we have to take the approach that has been championed by S.E. Lowe and focus on preventative maintenance in every department of this Ministry. I expect that the leaders of each department will develop a focused approach to inspecting facilities, infrastructure and roads so that we can recommend appropriate action to the relevant Ministries before they begin to experience problems.

*Air conditioning systems and elevators should not have to break down or come to the end of their useful life before we belatedly respond. I'm looking forward to us taking the initiative and adopting this approach throughout the Ministry, and I can also tell you that complacency will not be tolerated.

On this issue of complacency, I want you to appreciate that everything we do impacts people's lives. We have a duty to act promptly. We cannot let matters sit around for months without continuous follow ups. Regrettably, I have been confronted with exactly that challenge too often in the past few months.

PROFESSIONAL ADVANCEMENT:

In order for us to take this focus, we must continue to develop our professional competence. I anticipate that all of you who have titles that begin with the word "Assistant" have already begun to focus on your professional enrichment.

A Training and Development division will be created to assist you in obtaining your qualifications so that you may be promoted and hold your rightful posts in this Ministry.

*There are too many top technical posts that are vacant while we have filled al of the Assistant posts below them.

The Ministry will be supportive of those who are sufficiently ambitious to seek personal progress.

The path to your promotion is being provided;
and I shall be asking the senior officers to act as mentors for those who want to advance.

*Let me emphasize at this stage that there is no glass ceiling in this Ministry, so there is no barrier to you ladies moving up.

IMPROVEMENTS & ENHANCEMENTS:

The Ministry is also seeking to improve on many of the challenges that you face:

1. Many of you have received or will shortly receive personal communication devices at the expense of the government. The Ministry is to receive 80 of these devices. You will be able to utilize these to enhance your professional functioning. However, I must warn you that there are those who expect this initiative to fail because no other Ministry has been provided with these tools in anything close to the quantity that we have. We had to fight for you to get them. I trust that our maturity and responsibility in using these tools will confound these naysayers.

2. The Government has committed $1.6 million for vehicles for this Ministry this budget year. It is the first of what we expect to be a $3 million investment in vehicles for this Ministry. I appreciate that we need more vehicles than we are currently getting; but for the first time in many years we will have many new vehicles to distribute throughout the Ministry; and we will take care of those vehicles.

3. You will note that this past year we have actively recruited a number of highly professional officers at the top levels, such as Deputy Director Francis and Senior Engineer Clarke, as well as upcoming professionals such as Mr. Symonette. Be assured that there are many others who will be joining your ranks soon. Many hands make lighter work, so we will continue to increase capacity; but as the load lightens we expect that professional standards will continue to rise.

At the same time, I am painfully aware of the H.R. challenges. Many of them date back as many as 10 and as far as 23 years, so most of them will not be solved overnight; but we are dealing with real people who face real challenges in their daily lives, so I expect that H.R. will continue to show empathy while remaining professional, evenhanded, and employee focused as we seek to resolve the challenges.

4. I am not satisfied with the work environment that many of you have to face each day. That building is not the most welcoming place to come to. The exterior is unbecoming. The lobby is outdated. The staircase and railings need to be updated. Office space and equipment are not fitting for professionals. Only two wings have been updated. Machinery is generally outdated. Much of this northern compound has to be renovated; and quite frankly the telephone system stinks.

This year there will be incremental improvement in our facilities; however, we will also begin to plan for increased space for your work environment. You will all be consulted on the proposed improvements, and where work does take place, we are expected to keep it in pristine condition.

I will also say to you that I expect that Supervisors will keep me apprised of the conditions that impact our employees. If there is a fear of mold or some other danger, I want to know. We all want to have the best working environment for ourselves, and we should settle for no less for those that we supervise.

I will always be on your side as your advocate when it comes to improving your working conditions, but I have to know. So, please do not try to hide challenges from me.

IMPROVING OUR MINISTRY:

I need a few more minutes for some straight talk with you.

Over the years our Ministry has not had the best reputation.

We started an exercise in improving the perception of this Ministry last year, and we will continue to do so this year.
All the signs indicate that others are taking notice.

It can no longer be business as usual.
Bad practices need to be eliminated.
Where they occur, please stop them voluntarily before they are curtailed for you.

In this respect, I remind you that:
The world has changed; and
Information spreads instantly.

We must all say that the actions of the minority of bad apples, and they are a minority in this Ministry, will not be permitted to negatively impact our mission. I have high confidence that for the most part we have the right people who will ensure that we continue to enhance the reputation of the Ministry of Public Works this year and beyond.

For our part:

1. We have to take ownership of OUR Ministry. This is where we spend most of our time. We have to make it a special place for us and for our co-workers.

2. We have to show the country the impressive works that we do, and the skill that our staff have. We have outstanding Carpenters, Plumbers, Mechanics, painters and other highly skilled employees. The daily operation of this country and the livelihood of our people depend on what you do every day; but we take it for granted. We have to change that.

I go to the family islands to sign contacts because I want those communities to appreciate the significance and the quality of what you do to improve their lives.

Likewise, I need your help in promoting the work of this Ministry:


We must have a You Tube channel to highlight your accomplishments this year.
The significance of our work and our employees must be regularly featured in the media, especially in social media.
We must regularly develop and feature public service announcements such as the one that we produced for the Hawk traffic signals, and we must properly attribute credit to this Ministry and its outstanding employees. And we have to keep playing them. Our people need to be constantly reminded of how to use a roundabout, and other challenges. We cannot stop playing these P.S.A.'s.
At the end of the year we must produce a full colour brochure in hard copy and online to highlighting the accomplishments of this Ministry and its employees during the year. We must give credit where credit is due; and
By the end of the year this country must know the faces of many of you who make a daily difference in their lives. If we don't blow our own horn, I can assure you that nobody else will.

I'm closing by thanking all of you who have given your time and your talents to serve the Bahamian people at this Ministry. I want you to know that we appreciate each of you, even though it is not always said. We appreciate you, and in particular we appreciate innovation and leadership; and I want all of you to think of how we can continue to improve by being more innovative and creative.

People are beginning to notice the roadworks, the speed humps, the new signs and the green cat eyes. I enjoy the creative and innovative night works videos that Mr. Sidney Cleare continues to post online. I appreciate the diligence of all of you who go over and above the call of duty so frequently in the interest of the Bahamian people, and as a reward this year we shall call on all of you to do even more.

I'm looking forward to serving as the Minister of Public Works in the near term, and I assure you that the Ministry will be people centered. We will do our best to enhance your work environment so that all of you will look forward to coming here almost as much as I do every day, and I love coming to work.

This is going to be a great year for this Ministry and for the Bahamian people.

Thank you.

All of you












© Copyright 2019 by thebahamasweekly.com

Top of Page