Last Updated:

Feb 6, 2017 - 2:32:04 PM
---
Kedar Clarke Wins First Portrait Giveaway in The Celebrity Artist / The Bahamas Weekly Contest


By The Bahamas Weekly News Team
Mar 1, 2013 - 6:34:34 PM


Email this article
Mobile friendly page


Congratulations to

KEDAR CLARKE

who is our

FIRST Winner

in our

Portrait Contest

with

The Celebrity Artist

, Jamaal Rolle!

Kedar, of Nassau, Bahamas submitted the following photograph of his deceased friend and wrote, "Pictures capture memories that you hope will last a lifetime. On August 1st 2011, I lost my best friend, brother and confidant; this shook my entire world. Garvin was the most lively, d ependable and encouraging person I knew. Calling him a friend is an understatement because he became and remained my hero. Over the years I've received tons of compliments for my work, my strength and my focus on achieving my goals. It was during those years of the greatest challenges in my life that Garvin became my biggest support system and the sole person that I sought for counsel, aside from God.

Despite his physical absence, the lessons and love he shared still lingers with me and those memories can never be removed from my heart. The gift of this portrait isn't for me, but rather his loving mother Anna, as a visual reminder of the exceptional soul she once bore."

"Our selection team felt this was such a loving and touching story, that we had to select him," said Robbin Whachell, Editor, TheBahamasWeekly.com. The Celebrity Artist will now take the photograph of Garvin and draw a life-like
black and white portrait sketch valued at $1000.

Upon word of his win Kedar responded with what inspired him to enter the contest, "
As soon as I saw the ad for a photo by Jammal Rolle, I was so excited and anxious to have a chance to have him sketch my photo! I read the information and it was just around the time of my best friend's birthday and the words "memories" stuck out to me. I knew then that the photo wasn't gonna be of me, or for me. Just as Garvin gave so selflessly in life, I wanted to give this 'memory' to his beloved mother. I'm so happy my entry was chosen. THANKS BAHAMAS WEEKLY!"

Next could be YOU! We have FOUR MORE portraits to giveaway!



The Celebrity Artist has drawn and presented life-like portraits to Oprah, His Royal Highness Prince Harry, Sir Sidney Poitier, Johnny Depp and Justin Bieber just to name a few.

FIVE (5) portraits will be awarded. This promotion is open to anyone, anywhere in the world.

The promotion started on February 1st and ends July 1st, 2013. Here's how to enter for your chance to WIN!



You MUST be a SUBSCRIBER

of TheBahamasWeekly.com (see a left column) and LIKE our Facebook page.



Send us a photo

of yourself or one of a loved one that you want drawn, and explain to us "why you should be chosen," expressed in no more than 100 words.


Photo Submissions:

Please submit "high resolution" (head and shoulders) colour or black & white photo to Contests@thebahamasweekly.com with "Celebrity Artist Photo Contest" in the subject line. No watermarks please. Thumbnail images will be rejected.

Submissions without explaining "why" you should be selected will also be rejected.



Submit:

Full Name, Phone Contact, Address

The winner will be announced 1 month after commencement of the competition on the 1st of the following month.



Winners

will be

announced on the 1st day of each month

via Facebook and TheBahamasWeekly.com only. The winner has

48 hours to CLAIM their prize,

otherwise another winner will be chosen. The Bahamas Weekly will post The Celebrity Artist's winning black and white portrait sketch drawing will also appear on our website and Facebook page.



Please NOTE:

Winners are responsible for all shipping, handling and duties applicable.

This contest is

OPEN TO ANYONE

in the World.

The value of each portrait is $1000, and does not include framing.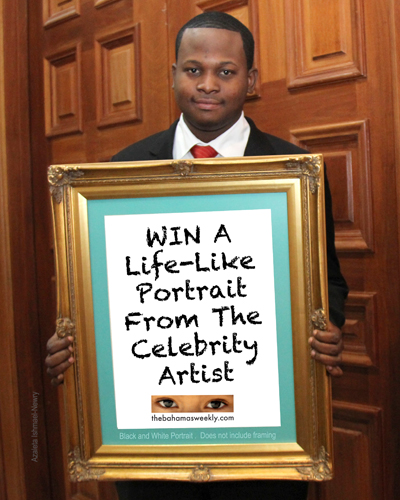 Jamaal Rolle: The Celebrity Artist Company Ltd.
www.thecelebrityartist.com
www.facebook.com/ thecelebrityartist
www.twitter.com/thecelebartist





© Copyright 2013 by thebahamasweekly.com

Top of Page