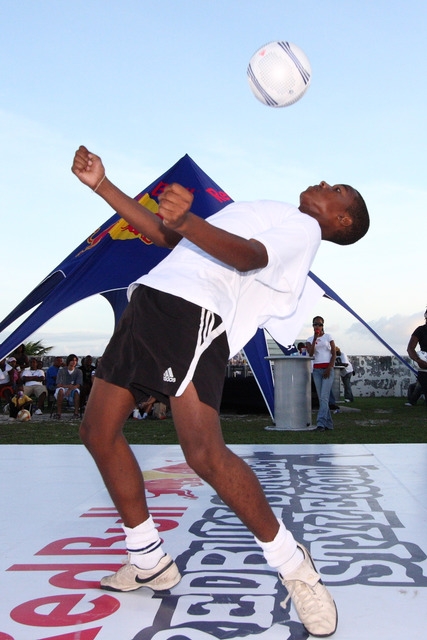 Terry shows off his juggling skills. Photo: Tim Aylen


Nassau, The Bahamas - The Bahamian weather pleased us with a sunny Sunday afternoon after days of scattered thunder storms and nearby hurricane warnings. After 2 hours of freestyle battling, 14 year old Terry Delancy "TJ" was the last man standing at the first edition of Red Bull Street Style in the Bahamas .
Despite the burgeoning popularity of soccer in the Bahamas , numerous freestylers came to entertain the crowd up at Fort Charlotte a National Historical Monument in Nassau built in the 1800's.
Delancy put on an amazing show with a variety of tricks and lots of style and control. Being one of the youngest in the competition, he impressed the Bahamian crowd with his finesse often bringing the crowd to applause and shouts.
"I am ready to go back to Brazil , I just came back with my soccer team from a soccer camp, and I am glad to go back representing my country", said Terry. "I will practice a lot to impress the Brazilian crowd".
The winner was determined by a panel of 3 well known judges, Stefan Davis, (Owner and Pro Airbrush Artist of Airbrush Junkies), judged creativity, Dwayne Whylly (Bahamas National Team – Goal Keeper) determined the best style and Steve Bellot (Bahamas National Team – Coach), evaluated ball control. MC Joey Edwards and DJ Crank were in charge of turning up the heat on stage.
Between competition rounds lots of non Bahamian put on a show with tricks that amazed all of us. This innovative event was a unique fusion of freestyle soccer and music on one stage at Fort Charlotte historical site.
Caribbean sounds and ambience crowned this wonderful night that will take us to Sao Paulo , Brazil on November 18, 2008 . This juggling competition will bring us again to this amazing island next year.
##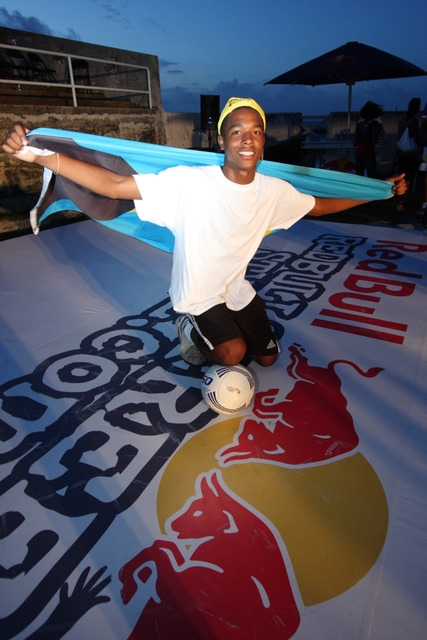 14 YEAR OLD TERRY DELANCY WON THE TITLE IN THE ENGLISH CARIBBEAN ISLAND. Photo: Tim Aylen
SEMIFINALS
Quade Smith defeats Denair Mitchell
Terry Delancy defeats Raymeus Johnson
FINALS
Terry Delancy and Quade Smith
More information, please visit www.redbullstreetstyle.com