Last Updated:

Jul 18, 2017 - 10:35:07 AM
---
Bahamas 2017 CYG Organizing Committee Chairman remarks at Official Opening Ceremony


By Wellington Miller Chairman - Bahamas 2017 CYG Organizing Comm.
Jul 18, 2017 - 10:25:40 AM


Email this article
Mobile friendly page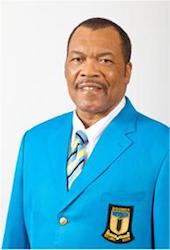 Remarks by Wellington Miller
Chairman - Bahamas 2017 Commonwealth Youth Games Organizing Committee
Official Opening Ceremony
Tuesday July 18th, 2017

Your Excellency, Dame Marguerite Pindling, Governor-General Commonwealth of the Bahamas; Baroness Patricia Scotland, Secretary General of the Commonwealth of Nations; the Honourable Dr. Hubert Minnis, Prime Minister of the Commonwealth of the Bahamas; the Hon. Mr. Michael Pintard, Minister of Youth, Sports & Culture of the Commonwealth of the Bahamas; Ms. Louise Martin, CBE, President of the Commonwealth Games Federation.

Ladies and gentlemen, the idea of hosting these Games came about as a result of a conversation we had in our office boardroom with Mr. Al Dillette our then office manager and Mr. Romell Knowles secretary. We talked about sports and Al came up with the idea of hosting a multi sports game. Naturally we didn't accept that. But the next morning, Al stopped in my office and said "Mr. President we should consider hosting a multi-sports game". The idea of having a multi-sports game stuck with me. I thought about the enthusiasm and fanfare that would come to this country and the major impact these games would have on our small nation, welcoming thousands of athletes, officials and visitors.

A wonderful opportunity then presented itself when I went to Samoa to attend the Fifth Commonwealth Youth Games and the idea for The Bahamas to host the Sixth Games was presented to me. I accepted this opportunity, came back and presented the plans to my executive team. They agreed and we began this historic journey.

Ladies and gentlemen you are now a part of our history as these Games are about to begin. Africa, the Americas, the Caribbean, Europe, Asia, Oceania, all the continents in the Commonwealth are represented here.

Bahamas, Andros, oh my Andros, Eleuthera, Freeport, Grand Bahama, the magic city, New Providence, Nassau the capital, Welcome to history. Enjoy these historic Games!









© Copyright 2017 by thebahamasweekly.com

Top of Page