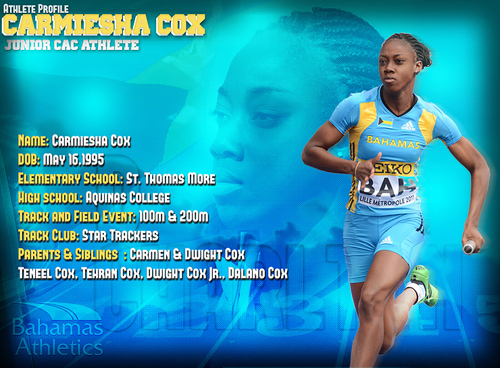 Nassau, Bahamas - The following Athlete Profiles are brought to you by Bahamas Athletics:

Track and field was not a passion early on in this young athlete's life but rather a hobby as she states. Carmiesha says it was until she was in the 8th grade and joined the track and field club Star Trackers that she began to take running more seriously. Carmiesha has racked up numerous prestigious awards in a very short period of time, they consist of gold medals won in the 200m and 4x100m at both last years and the most recent Carifta event. She was also apart of the World Youth Team and Pan American Team that also won a gold medal in 4x100m. Carmiesha claims that her favorite athlete and role model is Jamaican Sprinter and The World's Fastest Man Usain Bolt. Carmiesha says she admires Bolt because he too is of Caribbean descent and did not come from the most wealthiest of families but worked hard and took advantage of his opportunities and thus ascended him into the international track stage as The World's Fastest Man. Carmiesha aspires to graduate high school with honors and to attend a Division 1 school on a track scholarship to further develop her talents in Track and Field. She says outside of track her hobbies include singing and dancing, going out to parties and movies with her friends but she says she loves listening to music because it is a great stress-reliever for her. She is the daughter of Dwight and Carmen Cox and she has four siblings Teneel Cox, Tehran Cox, Dwight Cox Jr and Delano Cox.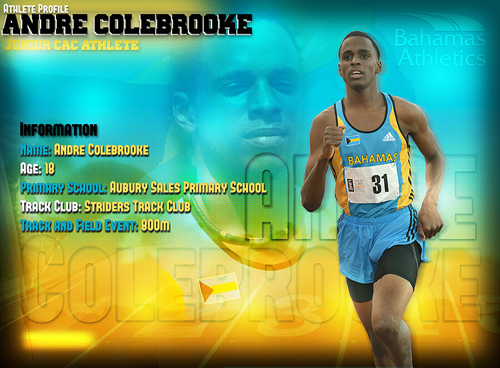 This profile is on the recipient of the BAAA 2011 All Bahamian Scholar Award, Mr. Andre Colebrooke. This 18 year old track star hails from the settlement of Central Eleuthera and is a member of The Striders Track Club. Andre says that he first became interested in the sport in the 2nd grade when his P.E. teacher at Aubury Sayles Primary School convinced him to start running. From there he competed in inter house track meets to strengthen his abilities. Andre claims that his favorite athlete and athletic inspiration is David Rudisha who is a world champion sprinter from Kenya and the world record holder in the 800ms which is Andre's event with a time of 1.41.01. Andre is no stranger to success being selected to the Carifta team three times (2010, 2011, 2012) and being a recipient of a bronze medal in the 800m in 2012. Andre says he is not to different from the average Bahamian teenager he loves social media he specifically mentions Facebook and BBM, he also says he loves to read and to draw. Outside of Track and Field he says his second passion is drawing, Andre aspires to go off to college on a track scholarship and study architecture. Asides from wanting to be an Olympic athlete in the near future he says that he wants to be an architect and help persons build their houses. Andre is the 4th of 5 children having 3 brothers and one sister and is the proud son of Ms. Bernadette Bethel. Andre says that his mother is his number one fan and this was clearly evident at his most recent event which was the B.A.A.A./Atlantis Junior Nationals where she could be seen and heard vigorously supporting her son from the side lines and cheering him on throughout the race. Andre is a future track superstar and he along with many other young athletes is planning to put The Bahamas at the forefront of the international Track and Field stage.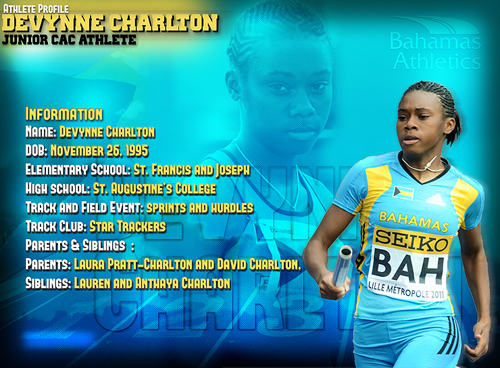 Devynne says she first became interested in Track and Field when she began accompanying her father to the track every day after school. Devynne is a very accomplished athlete having been selected to 6 national teams up to this date and has been the recipient of numerous medals. She has won 3 gold medals, 2 silver medals and one bronze medal. Devynne plans on attending college on a track scholarship and one day representing the Bahamas in the Olympics. Devynne says that two of her favorite Bahamian athletes are Debbie Ferguson and Chris Brown and internationally she admires Allyson Felix, Carmelita Jeter and Sally Pearson. Her hobbies include surfing the web, listening to music, watching t.v. and playing videogames. She is the proud daughter of David Charlton and Laura Pratt-Charlton and has two siblings Anthaya and Lauren Charlton.