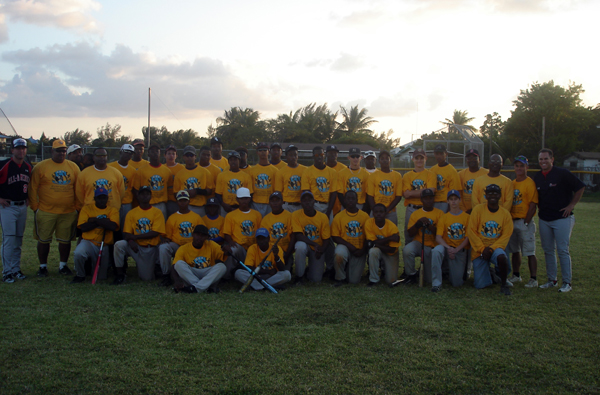 Group Photo of the Outstanding 14 year Old player with the older players (15-19) after their game on Sunday November 23rd 2008. Also included are the Coaches and at the Far left is Jim Gemler and the far right is Justin Roswell. Photo By: Terae Sweeting


The Bahamas Baseball Federation continues to meet its mandate of exposing its members to baseball opportunities.

The first weekend of its 2008 Winter Baseball Informational, Instructional and Prospect Showcase was a resounding success with 65 Young Men (5 from BIMINI) and (2 from Grand Bahama) being exposed to high-level baseball exposure.

Team One Baseball, "The Leader in Player Development & College Placement in the USA" Directors Jim Gemler and Justin Roswell gave the enthusiastic young men and their parents a very informative question and answer session on Friday November 21st at the Wyndham. The session was filled to capacity, as the Team One outlined in details the theme for the weekend "What must I do to Be Recruited". The parents were very pleased with the information provided, as it pertains to preparing their sons to excel and benefit from the sport of baseball on the next level.

Purpose of the 3 week sessions: With the enormous growth and development of the Youth & Junior Baseball Programs being experience throughout The Bahamas and the overwhelming desire by our young men too play baseball at the next level (High School & College), the BBF in conjunction with Pony Baseball-Nassau saw the need to bring the baseball expertise and recruiting to the Bahamas to give our young men an opportunity to showcase their talent to the various clinic educators.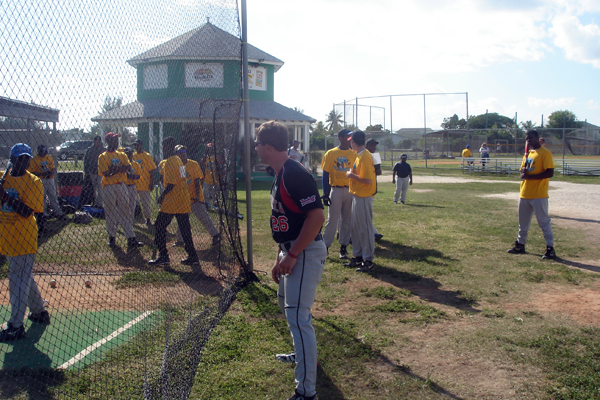 Jim Gemler giving hitting tips to one of the players at the clinic as the other players prepare to hit in the batting cage. Photo By: Terae Sweeting




The next session is scheduled for Friday, December 5th 2008 @ 7:30pm in the "Cat Island Room" Wyndham Nassau Resort & Crystal Palace Casino.
Saturday Session: Begin at 10:00am - Saturday December 6th 2008 @ Freedom Farm Baseball Complex Sunday Session: Begin at 2:pm - Sunday December 7th 2008 @ Freedom Farm Baseball Complex

Weekend Theme: "The Importance of Showcases and Camps"

Clinic will be conducted by:

Professional Scout: Mike Lord (Boston Red Sox)
College University from: Lyn University / Barry University / Florida Southern University

The Bahamas Baseball Federation would like too thank the Coaches from Freedom Farm & JBLN for their support and participation on Saturday & Sunday. Thank you to the JBLN Executive Team for the use of their Field of Dream Complex. A thank you & appreciation to Terran Rodgers - Pony Baseball-Nassau local Director and Patrick Knowles from Grand Bahama - Pony Baseball - Regional Director for their assistance and contribution to hosting a successful weekend.

Thank you to Thompson Trading (Gatorade) for the sponsorship of Gatorade for the players for the weekend activities.

Regards,
Theodore T. Sweeting, Secretary General
BBF
Tel: 242-302-8843
Cel: 242-454-7190