The fourth English Premier League Grand Bahama Soccer Camp was by common consent the best yet.

The biggest attendance, the best coaching and the most fun so far.
In fact the youngsters taking part enjoyed it so much that 120 of them still turned up before kick-off on Day Four despite torrential rain which had been falling without a break since before dawn. It continued through the day and so did the soccer, except when there was a thunderstorm nearby. Many of the kids even jumped in the pool – after all when you are wet through you can't get any wetter!
The bad weather continued through the last day but luckily held off for the awards ceremony where there was plenty to celebrate. Unfortunately Zhivargo Laing, Minister of State for Finance, missed it. He had kindly agreed to honour the camp by conducting the closing ceremony but instead sat on the tarmac in Nassau for two hours with his Bahamasair flight unable to take off because of the bad weather conditions.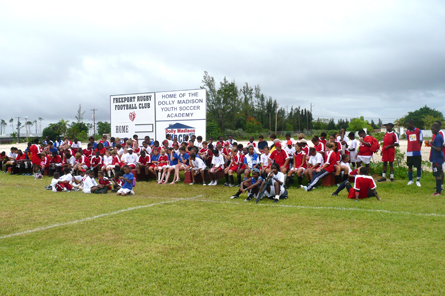 Over 200 excited kids aged seven to 17 attended this year's camp at the Freeport Football Rugby Club


The event was again hosted by Freeport Rugby and Football Club. It was the last to be held there before the ground expansion, partly funded by the Premier League, takes place. This will see the girls' development programme moving from its current Saturday venue at Grand Bahama Catholic School to join the midweek boys programme at the club.

The expansion will more than double the grassed area with a second pitch as well as a practice area, and a five-a-side soccer court where the old fire station used to stand.

The coaches included two regulars – Phil French, a leading UK sports administrator, on his fourth camp, and former international playing star Luther Blissett, on his third – and a new lead coach, Paul Nesbit. Paul proved a real livewire not only exciting the kids but inspiring the local coaches to new levels. All three want to return next year.

Even the closing party/dinner held at the restaurant at the Taino Beach Resort was a big success with the auction items – including a signed David Beckham England shirt – raising thousands of dollars. The proceeds of the dinner and the camp will all go to the development of youth sport on the island as it has in previous years.

Each of the visiting coaches commented on how they were impressed by the skill levels of the children and both Phil and Luther spoke in ZNS TV interviews of how they had seen dramatic improvements over the years.

The organisers would like to thank all those who supported the event – including The Bahamas Weekly which offered key media publicity. It would not have been so successful without the help of the many who gave their time and energy to give the kids a good time and to raise money for an important cause.

Grand Bahama Soccer Camp 2007

would like to thank the following local sponsors

for their generous support of the event:

Pelican Bay at Lucaya Hotel

Grand Bahama Port Authority

Polymer International

James Sarles Coldwell Banker Realty

The Bahamas Weekly

The Pub at Port Lucaya

The Westin and Sheraton at Our Lucaya

Star General Insurance Co.

Ken Farino

Jon Markoulis

Freeport Advertising & Printing

Cafferata & Co.

La Med

Silverjet Airlines

Shoreline

Grand Bahama Power Company

Coral Windows

J.S. Johnson,Municipal Motors, Franks Ice Cream, Big G's Plumbing, Freeport Animal Clinic, Prestige Auto, Island Bedding and Furniture, Sav-Mor Drugs, Holland family, Playtime Sports, Bullards Plumbing, Halt Industries, Graham Thompson, Sanitation Services, Foto Factory, Uniform Place, and Holiday Auto, First Caribbean Bank, Lucy's Swimming Pools.

The committee would also like to thank the English Premier League for its continuing outstanding contribution to youth sport on Grand Bahama with its sponsorship of the camp.

Auction Winners:

Duke Slaihem was highest bidder for the David Beckham autographed jersey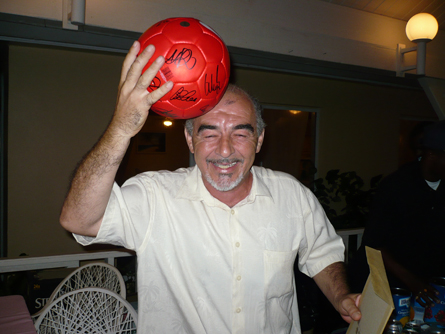 Hussein Dengizer bid highest for the Manchester United full-team autographed ball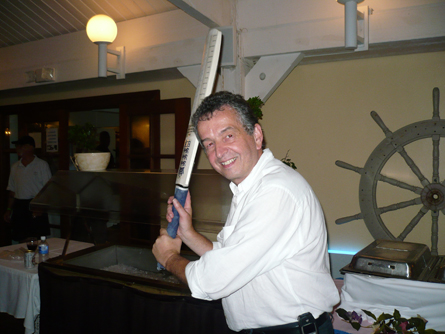 Nick was the highest bidder on the bat with the autographs of the entire England squad which beat Pakistan in last summer's test series