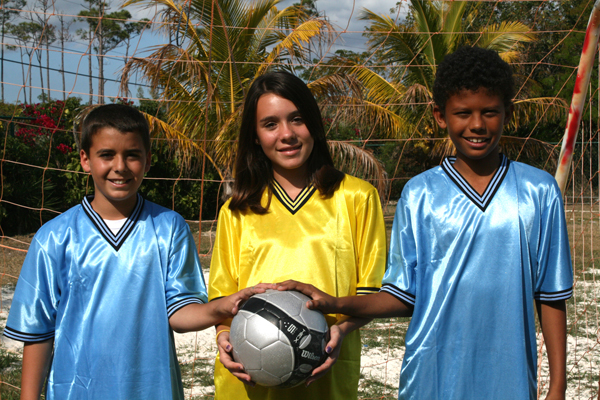 Annual Camp participants, Luca Borsetto, Jackie Blower, and Nicolas Olsen. Photo: The Bahamas Weekly


Hundreds of emails will be going out in the next few days giving parents the latest details and registration forms for their children for the upcoming Grand Bahama Soccer Camp.

They will be going to representatives of two leagues in the US – one in Florida and the other in North Carolina – which have inquired about sending groups of youngsters as well as to the homes of those from the island whose children have attended in the last three years.


The camp is eagerly anticipated and plans for the week are at a very advanced stage with the visiting coaches from the UK due to arrive in Freeport six weeks from today (Friday, June 19). Camp uniforms – see this year's colours modeled in photo – have been on the island for weeks.


Luckily they were being stored, along with camp t-shirts and training equipment, away from the rugby club in East Settlers' Way where the camp is held each year and therefore escaped being destroyed in the recent serious blaze at the club house.

"The low-lifes who torched the club could have dealt the camp a very serious blow but we were lucky to escape unscathed and we are delighted repairs will be completed in time for campers to use the place," said camp organiser Richard Malcolm.

"In fact the clubhouse once repaired will be better than it was before the fire."

"What they did succeed in doing though was to destroy a very large stockpile of cold weather clothing and sports uniforms donated by well-wishers in the UK and earmarked for distribution to needy parts of the island.

"With the help of kind sponsors, the camp has been able to offer scores of free places over the years to kids who otherwise could not attend and this will continue this year. The help and support given by the camp to needy communities in the east and west of the island and in communities like Lewis Yard has been a less well known part of the camp's contribution to local life, and that has now been nipped in the bud.

The fire consumed several very large boxes of cold weather clothing, including fleece tops and training bottoms, plus other boxes of sports jerseys.

The camp, for six-to-16 year olds, is being held from 9am to 3pm June 22 to June 26 and campers as usual will each get two free uniforms, a t-shirt, soccer and swimming each day, as well as lunch, fruit and as much water as they can drink.

Three professional soccer coaches – Jamie Godbold, Tom Hartley and Luther Blissett – will be leading a local team of assistant coaches and specifically this year will be focusing on really extending the skills learned at previous camps. But newcomers will be very welcome too, and are bound to have a great time, said Malcolm. Registration forms can be downloaded (SEE BELOW) from www.theBahamasWeekly.com and www.rugbyfootballbahamas.com or collected from Town and Country, Yellow Pine Street, or Animale, Port Lucaya Marketplace.

They can be returned along with the camp fee of $175 per child to Town and Country or Animale, or during registration sessions at the rugby club on the afternoons of June 20 and June 21.